Meet the Boss: Philip Davies, Real Travel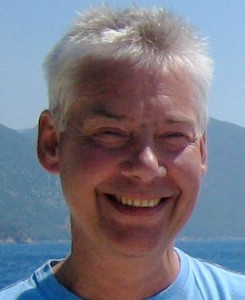 Each week at 101 Holidays we interview one of the people behind the UK's finest travel companies. This week we turn the spotlight on Philip Davies of Real Holidays.
Philip worked as a teacher and pop promoter before 1989 when he launched Real Holidays, an independent travel agency in Islington, North London, that pioneered the promotion of small specialist tour operators. Using his team's hard-earned knowledge of Italy, Greece and other destinations in Europe and Asia, Real Holidays now also puts together its own trips to hidden gems overlooked by the big tour companies.
• Where are you planning to go on holiday this year, and why?
Too often my holidays are inextricably linked to our growing tour operations and I've just come back from a few days looking at new properties in the Pelion, my favourite part of mainland Greece. To balance that, and demonstrate our Grecophile credentials further, my wife and I are sneaking off for a week next month to unspoiled Milos in the Cyclades to relive memories of the 1970's. Then it's a family and friends week in the Marche in late August before a big trip to southern India after Christmas where we have our Indian portfolio, although this will be covering a route I last took in 1980 – just upgrading the accommodation several notches this time round.
• What is your favourite bolthole in the UK, and why?
It's got to be north Cornwall where my wife's family are from. On a clear day the views around Trevose Head are equal to anywhere, and as her brother (Rick Stein) has several restaurants in Padstow, I get to eat like a king.
• If you could spend a long weekend in any city abroad, which would you pick, and why?
I went to New York for the first time last year and know I'll be going back for more but that sort of amphetamine rush has to be taken in doses, and it is Italian cities that are more within my comfort zone. Naples and Palermo win on liveliness and food, Rome on walking through different eras of history, but it's got to be Florence as the front runner with so much art to see and that lovely feeing of renaissance ghosts walking alongside you through its squares and over its bridges.
• Please tell us three items that are always found in your luggage.
I'm a sucker for guide books – one of those sad tourists you see comparing the Cadogan Guide's description of the Duomo in Orvieto with that of the Blue Guide.  My wife can't believe how many polo shirts I pack too, but they can look smart enough for a meeting and relaxed enough for the beach. Lastly, you'll find vast amounts of steroids that keep me alive, as I have Addison's disease.
• What one thing would most improve people's overall holiday experience.
Delays at the larger airports in the UK are a price most people are prepared to pay for getting to their holiday destination, but not the appalling customer experience and service that go along with that thanks to bankrupt BAA's poor management, cost cutting, and outsourcing. Grrr! I would force BAA to sell its airports.
• What has been your worst holiday experience?
Many years ago I was hitching back from Yugoslavia, as it then was, and after walking miles through the Karavanke Tunnel, I emerged in the mountainous Austrian border country in a midnight thunderstorm. Soaked to the skin, starving and nearing hypothermia, I clambered up the mountainside to a small farmhouse where I could see a light. Met by a double barrelled shotgun toting farmer speaking no English, I was ready to give up travel and life for good. Several plates of goulash later, and a night sharing the family bed (I remember at least four others bodies), I left refreshed the next morning convinced of the essential kindness of the human condition.
• Tell us your favourite hotel: in the UK; in mainland Europe; in the rest of the world.
My brother-in-law's Seafood Restaurant in Padstow wins for its food and views of the Camel Estuary, but last time I stayed at his simpler St Petroc's in the bed just vacated by the fragrant Delia Smith, which was equally satisfying.
It's a couple of years since I've been, but a stay at Le Silve di Armenzano (pictured top left), surrounded by the beautiful autumn colours of the Monte Subasio Natural Park near Assisi provided that rural simplicity that restores the heart and soul.
It's old fashioned in so many ways, and hipper Caribbean rivals like Carlisle Bay may leave it looking more so, but the lovely setting, sophisticated style, and charming staff of Jamaica Inn (pictured top right) would call me back any day I could afford it.
• What is the most exciting project your company is working on right now.
No secret project, but as that strange hybrid creature of travel agent and tour operator with our growing Indian and Italian Portfolios and budding Pelion  programme, it's getting the balance right between building up our tour operating arm and tailor-made holidays, and providing excellent service as a traditional travel agent, that is taking up our creative energy right now.
• Thank you, Philip.
Don't miss out...