Meet the Boss: Adele Garbutt, Calabash Hotel, Grenada
In our latest Meet the Boss interview, we talk to Adele Garbutt (pictured 2nd from the right), Director of Calabash, a delightful boutique hotel in Grenada, which we recommend on 101 Holidays. Adele's father, Leo (right), bought the hotel in 1987 and the entire family has dedicated itself to creating one of the Caribbean's little treasures. Calabash was one of the first hotels to introduce the "celebrity chef" concept, with Gary Rhodes heading up the cuisine in the main restaurant. Lovely touches include breakfast cooked to order and served on your private terrace or balcony each morning plus canapés delivered to your suite each evening.
Q. Please tell us about a great holiday memory from your childhood.
I grew up in Grenada and my dad is from the UK, so as a family we used to spend our summers in Norwich, where my dad is from. I always loved going to a proper English park with landscaped flower beds and people sailing miniature boats in the pond. It all seemed so neat and well put together.
Q. What three items are always found in your hand luggage?
Passport, headphones and moisturiser.
Q. If you could spend next weekend anywhere in the world, where would you go, and why?
Honestly, it would be in Grenada. I am lucky enough to live "on holiday", and I wouldn't want to be anywhere else.
Q. Please tell us about a particularly challenging booking your hotel has handled.
We had a guest who complained – she said that if she knew that there would be ants in the grass and sometimes on the sand (harmless black ants which don't bite), she would have never have booked a holiday in the Caribbean! She also mentioned that it was ludicrous that we hadn't cut down all the trees on property so that there were uninterrupted views of the sea. It was very difficult to know quite how to respond…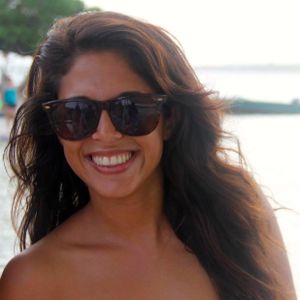 Q. What has been your most enjoyable holiday in recent years?
It's a tough choice between Grand Cayman and Barcelona – both are wonderful places in very different ways.
Q. And what has been your all-time worst holiday experience?
It has to be Paris. It's most people's dream city but my trip there was a surprise holiday on a budget and the sacrifice was made on the hotel.
Q. What luxury would you take to your desert island?
I'd take a boat – is that allowed?
Q. What one thing would most improve people's overall holiday experience?
Attention to detail. People love the service at Calabash – it's all about being observant and paying extra attention to make someone's holiday truly special. We always try to go the extra mile and it always helps when guests tell us if they have a special occasion to celebrate.
Q. Tell us your favourite hotel – one for business, one for pleasure.
I love The Pelham in London's South Kensington for business and, for pleasure, it has to be Cap Maison in St Lucia.
Q. What is the most exciting project your company is working on right now?
We're currently planning the upgrade programme for our Pool Suites, which is very exciting. It's a big project but it's always so rewarding to see the results and hear the feedback from our guests, many of whom are regular visitors year after year.
Thanks, Adele.
Don't miss out...