Meet the Boss: Felice Soru, Sardatur Holidays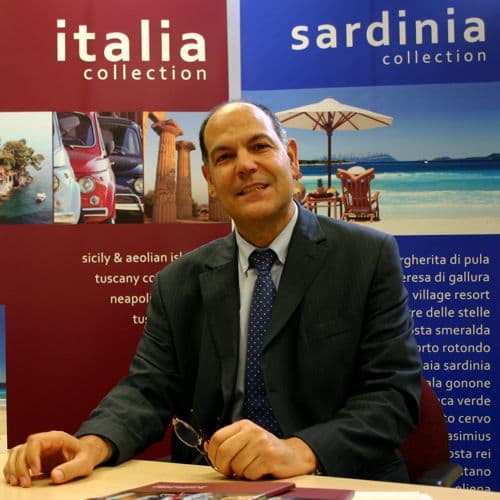 Our latest "Meet the Boss" interview is with Felice Soru, founder and Chairman of Sardatur Holidays, which next year celebrates 25 years as a tour operator. One of the leading UK operators to Sardinia, with its own BA chartered flights, Sardatur has recently expanded its programme to mainland Italy.
Felice Soru, born and bred in Sardinia, has been passionate about travel from a young age. From 16 he started working in the hotel industry and at 18 he began to travel the world. After living in the Seychelles for 7 years, in the early '80s he moved to London and founded Sardatur Holidays.
* Where did you go on holiday this year, and why? Any plans for 2012?
This Easter I was in The Seychelles, which is my favourite place in the world. It's really beautiful. I love the tranquil pace of life and the people. I visit Sardinia often because of business but also to visit family. Next year, I'm planning a trip to the South East Asia triangle; Vietnam, Laos and Cambodia.
* What is your favourite bolthole in the UK, and why?
Windsor Great Park. My daughter and I take walks on weekends to chill out and catch-up. There are some secret corners of the park, by Virginia Water Lake, which are great for escaping for a few hours. In autumn we go in search of porcini mushrooms, something we look forward to all year.
* If you could spend a long weekend in any city abroad, which would you pick, and why?
Always Rome – The Eternal City. Food, culture and beauty, Rome has it all.
* Please tell us three items that are always found in your luggage.
My SLR camera, a smart pair of shoes and some swimming shorts. As a rule I never go anywhere cold!
* What one thing would most improve people's overall holiday experience?
For me the flight is everything. It must be comfortable, with excellent service and on time. To make sure your holiday gets off to a great start it really is worth the extra investment in a reliable and full-service airline. We take a lot of pride in our British Airways services to Sardinia as it really does complete the whole experience for our customers.
* What has been your worst holiday experience?
We spent Christmas in Dar El Salaam, Tanzania, one year. The hotel had been over-booked and we ended up having to stay some 150 miles outside the city. It was a nightmare!
* Tell us your favourite hotel: in the UK; in mainland Europe; in the rest of the world.
In the UK, The Landmark London. In Europe, the Hotel de Russie in Rome and the Maia Luxury Resort & Spa in Seychelles.
* What is the most exciting project your company is working on right now?
We've decided to expand our flight programme once again next year. We'll be chartering British Airways flights from Manchester and London Heathrow to both Cagliari and Olbia, offering economy and Club Europe services.
* Thank you Felice – and congratulations on Sardatur's upcoming 25th anniversary.
Don't miss out...