Meet the Boss: David Seymour, Seymour Hotels of Jersey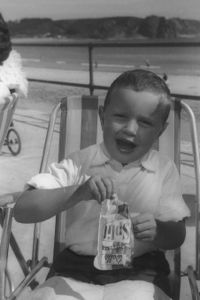 In our latest Meet the Boss interview, we talk to David Seymour whose company, Seymour Hotels of Jersey, has been family-owned since its founders, George and Ada Seymour, first visited the island on their honeymoon in 1919 and opened a small guest house shortly after. It is now the largest hotel group in the Channel Islands.
David is the fourth generation of the family to direct the group following his father, Robin, who retired in 1997 and remains Chairman today.
David has worked in various roles in the hotels since the age of 11. He attended school in Jersey and Scotland and obtained a degree in Hotel, Catering and Tourism Administration at the University of Surrey. He is a member of Jersey Tourism's recently formed Shadow Board of Directors.
The group presently operates three hotels; the Merton Hotel & Suites (home to the UK's first Flowrider®), the historic Pomme d'Or Hotel in the centre of St Helier and the delightful, traditional granite-built Greenhills Country Hotel & Restaurant which dates back to 1674.
David has been married to his childhood sweetheart, Tina, for 30 years and they have four grown-up children aged from 19 to 27. The whole family is mad keen on surfing.
Q. Please tell us about a great holiday memory from your childhood.
"I left school in Jersey at the age of 13 to go to a boarding school in the middle of the Scottish Highlands (don't ask!). My parents took me via the Isle of Mull for a short break before dropping me off at the school (guilt?). What was great though was it was the first time I had been on holiday with my parents without my two sisters and it felt that I had been singled out for a treat.
"Having hired a car in Glasgow and driven up to Oban we went by ferry to Tobermory and arrived in what simply seemed like a foreign land. The welcome we were given was wonderful wherever we went although I do remember being taken aback by the turn of the head and spit on the floor in local hostelries should we ever mention the name Campbell to a Macdonald or vice versa – a sure way to keep a 13 year old amused. Other fond memories of that holiday include pony trekking and playing my first ever round of golf – on a course which seemed to double up as grazing for hundreds of sheep. Sadly I learnt to swing my club further than I could hit the ball and have continued in the same style ever since."
Q. What three items are always found in your hand luggage?
"Headphones, Kindle, Jersey flag – it's a world domination thing, Jersey was part of the Duchy of Normandy when William defeated Harold at the Battle of Hastings in 1066 and as such we've always looked upon England as our first colony so I try to carry on the good work!"
Q. If you could spend next weekend anywhere in the world, where would you go, and why?
"I really want to go to Reykjavik in Iceland – I hear so much about the vibrant nightlife, the stunning scenery, the thermal pools, volcanoes, glaciers, northern lights, midnight sun, etc – I'm sure there's loads to do to fill a weekend."
Q. Please tell us about a particularly challenging booking your company has handled.
"Through our membership of what was then the British Incoming Tour Operators Association (now UKInbound), I managed to persuade the organisation to have their 1997 annual member's conference in Jersey using our Pomme d'Or Hotel as the host venue. Conference? No problem – it's our bread and butter.
"Except I had forgotten just how 'challenging' looking after 200 members of the travel industry can be. All I can say is that what goes on, on tour, stays on tour. It was a huge success both from a social and business perspective – given that our reputation, and that of Jersey, was on the line, the whole staff and management team at the hotel pulled out stops I never knew existed."
Q. What has been your most enjoyable holiday in recent years?
"Without a doubt it was New Zealand for the 2011 Rugby World Cup. My wife and I travelled with friends from Jersey and met up with other Kiwi friends. We were there for the duration (seven weeks) and 'did' New Zealand from top to bottom using every form of transport, staying in every type of accommodation and enjoying every activity available. The camaraderie of international rugby fans mixed with the fanatical rugby nation that is New Zealand was just amazing."
Q. And what has been your all-time worst holiday experience?
"This one is all down to me – I was travelling from Jersey to Norway via Gatwick. Unfortunately having arrived in Gatwick I then tried to check in for my flight to Norway only to realise I had left my passport in Jersey. Luckily I was able to change my flight timings as I then had to wait for someone to travel across from Jersey with my passport. However the person bringing my passport did not know me nor did I know them. As a result I had to stand at Gatwick arrivals holding a large card with my name boldly displayed on it – not really an issue but very embarrassing when nearly everyone else who came off the next Jersey flight knew me and asked why I was standing there looking so sheepish."
Q. What luxury would you take to your desert island?
"A surfboard."
Q. What one thing would most improve people's overall holiday experience?
"As an hotelier, it's any opportunity for us to change people who arrive as guests to leave as friends."
Q. Tell us your favourite hotel – one for business, one for pleasure.
"I can't possible answer this without saying our Pomme d'Or Hotel for business and our Merton Hotel for pleasure. Outside of Jersey it would have to be the W Hotel in San Diego which went out of its way to make business fun on a recent trip and for pleasure it would be Hudhuran Fushi in the Maldives as, for a family crazy about surfing, it is a sand between your toes, laid back surf paradise with bells on, together with a great team of staff and a fantastic bar overlooking the best left hand break in the Indian Ocean."
Q. What is the most exciting project your company is working on right now?
"We've recently been successful getting a number of major planning approvals through although start dates for these projects haven't yet been determined – that said our other interest at the moment is Jersey Rugby Football Club who are now playing in the English Championship and of which we are a sponsor. The club probably won't get to the Premier division but the interest in Jersey from fans coming to the Island support visiting teams that play Jersey RFC is significant and growing all the time – it's a great short break and good off season business."
Thanks, David.
Don't miss out...