Meet the Boss: Andy Perrin, Esprit Holidays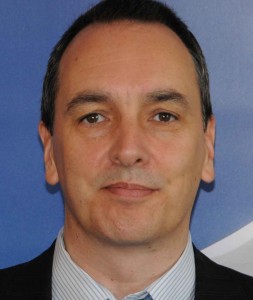 Each week at 101 Holidays we meet one of the people behind the UK's finest travel companies. This week we chat to Andy Perrin, managing director of the independent specialists Esprit Ski, Ski Total and Santa's Lapland.
Andy started in the ski business in the 1980s as a post-university gap-year resort rep in Austria. He worked for Crystal Holidays for 20 years, until it was sold, and joined Esprit in 2002. Andy lives with his wife, Sue, and two children in West Sussex.
• Where did you go on holiday this year, and why?
We have two teenage children, and finding the ideal holiday to tick everybody's boxes isn't always easy. This year we cracked it, though, with a safari and adventure week in Tanzania, followed by a few days bolt-on beach break in neighbouring Zanzibar.
And when it comes to winter, we've got our eyes on this year's new Ski Total chalets in Avoriaz (pictured). The busy winter for the business means we can only ever ski as a family right at the very end of the season, so we need to go high, and skiing literally to and from the doorstep is at the absolute top of my wife's wish-list.
• What is your favourite bolthole in the UK, and why?
We love Bailiffscourt Hotel (pictured top right) in Climping on the Sussex coast. It's close enough that a quick break is not ruined by the journey either end, has a lovely relaxing atmosphere, great food, and they also welcome dogs – even monster ones like ours. And the hotel grounds directly adjoin the beach and sand dunes, so you can walk for miles without having to drive somewhere first.
• If you could spend a long weekend in any city abroad, which would you pick, and why?
The journey time would make it a very long weekend indeed, but at the first opportunity, we're heading back to Sydney. We've two sets of close friends living there now – one ex-pat English family and one Australian – that we last visited a few years back, and loved Sydney's unbeatable setting, its multi-cultural buzz, and being hosted by friends who know the city inside out.
• Please tell us three items that are always found in your luggage.
My camera, tripod and flash-gun. Photography is my one real hobby, and I enjoy the challenge of trying to find a defining image that captures the heart and soul of a place, without being postcard-predictable.
• What one thing would most improve people's overall holiday experience?
The one thing I've seen spoil people's holidays over the years is unrealistic expectations. Holidays are just too valuable to ruin them before you've even started, by setting out with expectations so unfeasibly high that you're doomed to disappointment from day one. My belief is that the benefit of 'travelling light' applies just as much to the stresses you take with you as it does to your luggage.
• What has been your worst holiday experience?
Making the mistake of picking up a cheap late deal to Mallorca when the children were very young. The so-called "family hotel" was anything but, turning out to be full of drunken youngsters who thought the long, echoing, concrete corridors were the best place for prolonged and noisy goodnights throughout the early hours of the morning. One sleepless night with mounting blood pressure was enough, so we moved out the next day, and were lucky enough to find the 'real' Mallorca a few miles away, in a smaller hotel on its own tiny beach, surrounded by priceless peace and quiet.
• Tell us your favourite hotel: in the UK; in mainland Europe; in the rest of the world
We're not great ones generally for going back to the same place over and over again, but recent favourites have included St Martins Hotel on the Isles of Scilly. Another friendly hotel with a terrific restaurant, where you can walk straight from the hotel doorstep into beautiful scenery, or hop a boat from the jetty to head off and explore the other islands. It's one of those places where you can get four seasons' weather in a day, but when the sun is out, you can't beat it.
In Europe, we all love the Stanglwirt in Going in the Austrian Tirol. It was our 'local' when we lived in Austria for several years, and we've watched it grow into an iconic institution over the intervening time, still with traditional Tirolean charm and character, but now combined with genuinely world-class sports, leisure and spa facilities.
Worldwide, we stayed in several great places while travelling around Australia, but the most memorable was the Daintree Eco Lodge in Queensland. The 'rooms' are tree-houses set up in the canopy, all beautifully fitted out, and linked by rope bridges and walkways. Walk five minutes in any direction, and you can't see it or hear it – it's a real 'get away from it all' place, and we'll never forget it.
• What is the most exciting project your company is working on right now?
2009/10 will be a tough year for skiers, as indeed it already is for everybody just now. Recognising that, we're developing a whole range of 'Crunch-Buster' money-saving deals and added value offers for our guests, on both the Esprit and Ski Total programmes, to make sure keen skiers don't miss out this winter. The deals on Esprit for example mount up to savings of over £1,000 for a family of four, so we're excited by the prospect of really making a difference as to whether or not our guests can afford to ski this season.
• Thank you, Andy.
Don't miss out...