Follow in the tracks of the Tour de France
 By Dave Holcroft, Headwater Holidays
The 100th Tour de France, one of the greatest sporting events of the summer, gets underway in Corsica tomorrow. With interest in cycling in the UK piqued by Britain's continued successes in the sport, more and more people are getting on their bikes for pleasure as well as fitness.
Even without Sir Bradley Wiggins (who has withdrawn through injury), this year's Tour promises to be a thrilling spectacle which will doubtless inspire and motivate people to give it a go themselves, especially in that gorgeous mountain scenery.
Whilst the gruelling 3,404 kms of the Tour de France route is beyond anyone but elite athletes, there are some wonderful cycling holidays which take in sections of the route, to suit all levels from keen novices to regular cyclists.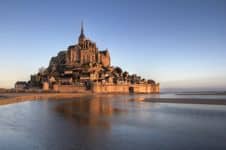 The 10th stage of the 2013 Tour will travel from Saint-Gildas-des-Bois to Saint-Malo, with the 11th a short time trial from Avranches to Mont Saint-Michel. This is a largely flat area on Brittany's Emerald Coast – a magnificent place for a gentle cycling holiday. Think white beaches, stunning cliffs, coastal trails and quiet countryside roads with the chance for a refreshing dip en route.
If you are looking for one of the best cycling holidays, the terrain further south, in Provence, is tougher yet still well within the reach of an intermediate and reasonably fit cyclist. The early stages of the 2013 route include a time trial around Nice and longer stages to Marseille and from Aix-en-Provence through to Montpellier.
Feel the sun on your back as you cycle past fields scented by purple lavender. After tackling the hillier areas, past olive groves and vineyards, stop off for an ice-cold glass of the local rosé and perhaps a pissaladière, the local pizza-esque onion and anchovy tart.
Cycling is one of the finest ways to explore France and we make it so easy for you – top quality bikes, well-researched route maps and notes, characterful hotels to stay in each night (many of them with a pool) and your luggage transported for you each day.
Find out more about Headwater's cycling holidays in France and the best holiday destinations in France.
About our author
Dave is the Marketing Manager at Headwater Holidays. Originating from the north west of England, his interests lie in sport and travel (looks like Dave's got the perfect job!). He is obsessional about golf, snooker, football, cycling, travelling, digital marketing, the great outdoors – and sunshine.
Don't miss out...