Best places in India to buy….

  By Balaji Kandasamy, Cox & Kings' India tours product manager
India is a shopper's paradise, famous for its fabulous silks, gems and jewels, silver, marble and leather. Few visitors return from a holiday to India empty handed, but with the enormous selection of products on offer it is important to know where to find the best value and quality. Generally, many of the more popular goods can be bought under one roof in India's main tourist cities. However, some of the best craftsmanship and value is harder to find. Here are my personal recommendations for the best places to go shopping in India – and top tips on potential pitfalls.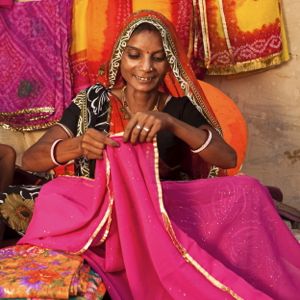 Textiles
Jaipur is an excellent place to shop for textiles, especially block printing. Here you will find a wide range of shops selling everything from quilts, parasols, scarves, throws, cushions and dresses – in fact everything made of fabric that you can imagine. The small town of Sanganer, just 16 kms from Jaipur, is definitely worth a visit for both textiles and beautiful handmade paper. In Udaipur, Ganesh Emporium on City Palace Road in the old town is highly recommended. It may appear a little tatty on the outside, but ask for Mr Manoj and he will take you down a side alley into a lovely old building, where he sells wonderful shawls, cushion covers, table cloths and much more.
Spices & tea
Set among the endless green slopes of the Cardamom hills, Thekkady is the spice-growing region of the Western Ghats and undoubtedly one of the best places to shop for spices. A guided tour around a spice garden is an excellent way to see how the different spices are grown, processed and packed. Cardamom, pepper, turmeric and ginger are the main spices cultivated here, with many others grown on a smaller scale. Further north, in the shadows of Anamudi, Kerala's highest peak, Munnar stands amid dramatic mountain scenery and is surrounded by rolling green tea plantations. A visit to one of Munnar's tea estates, established in the early 1900s by pioneering Scottish planters, is not to be missed.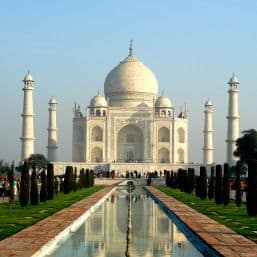 Marble
Marble products are reputed to be at their best in Agra, largely due to its association with the magnificent Taj Mahal. This relatively young city is not only home to the Taj Mahal and the stupendous 16th-century Mughal-built Agra Fort, but its bustling streets boast a thriving carpet industry, leather workers and marble and sandstone sculptors. You can visit Agra on a day trip by train from Delhi but we recommend you spend at least one or two nights there – to see the sunrise and sunset over the Taj Mahal is truly magical.
Silk
Kanchipuram is one of the most vibrant religious and cultural centres in Tamil Nadu – it is often referred to as India's 'silk town'. The silk trade here began when King Raja Raja Chola I (985–1014) invited weavers to migrate to Kanchipuram and today the city remains an important centre for hand-woven silk. Choose from a fantastic array of exquisitely hand-woven silk sarees and other silk pieces in vibrant colours. Cox & Kings can arrange a visit to a weaver's home to watch the intricate process of preparing silk brocade. There are also more than 150 working temples, including the Kailasanatha temple, a favourite amongst art historians.
Jewellery
Beautiful jewellery can be found in abundance in many of the main tourist spots in India. However, there are a few shops in particular where you can be guaranteed extraordinary quality and value for money. In Mumbai, Gems Star (shop number 37 and 38) in the Oberoi Mumbai Shopping Centre at Nariman Point is a safe bet – the owner Gary and his wife Ashi make an accomplished team. There are also several good jewellers in the Sunder Nagar market in New Delhi, in particular a shop called Jagan Nath Hem Chand Jewellers (7 Sunder Nagar market) – Mr Arun Sankhwal is the contact and he can recreate almost any piece from a photograph.
Find out more about Cox & Kings' holidays in India.
Of course, there are potential pitfalls – here's my lowdown on what to watch out for when shopping in India:-
Shopping hours –
These are usually Monday to Saturday from 9:30am to 6pm. In established markets, shopping hours usually stretch until nightfall. Because markets differ in their opening days, it is a good idea to double-check timings with your guide.
Prices –
Government emporia sell fixed price goods. In all other shops, prices tend to be subject to negotiation. If you would like to make a purchase, you are expected to haggle for a reduction.
Import duties & VAT –
If you buy goods worth over £390, you will be liable to pay VAT and duties on your return to the UK. If an object is too large to bring back, or if you commission a piece to be sent to the UK, you may have to collect it from Heathrow airport and pay storage fees for each day it is held there. Always check the levels of import duty for items you wish to purchase. Although shopkeepers may tell you no duty applies, this is not necessarily the case.
Freight handlers –
When having goods shipped or flown back to the UK, there will also be customs clearance, freight handling and, where necessary, delivery charges. Freight handlers will normally allow up to 2 days' grace before charging for storage as well. These costs should be considered at the time of purchase.
Carpets & antiques –
Unless you are an expert, be particularly careful when purchasing carpets and antiques. Items more than 100 years old require an export certificate from the government before they can be taken out of the country (it is illegal to take antiques out of the country and if you violate this you may be imprisoned). If you are in any doubt about the age of an item, ask the vendor for a certificate testifying to its age. If it looks old but is less than 100 years old, this will ease problems at customs on departure. Carpets vary enormously in quality, so do shop around – and leave plenty of time for the purchase process!
Animal products –
Do not attempt to buy any 'shatoosh' merchandise. This is made from the wool of the Tibetan antelope, a Class 1 protected species. We recommend you avoid vendors selling animal-derived objects such as tiger skins and elephant tusks because trade in most animal products is illegal. If you do want to purchase such merchandise, the Indian Tourist Office strongly suggests that you insist on seeing the vendor's permit to sell animal products and ensure you obtain a receipt.
Don't miss out...