Maldives weather in November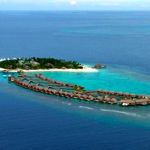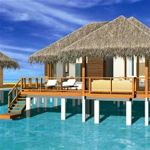 * Did you know you can save up to 40% on holiday prices? See all the latest deals.We publish new deals most weeks and you can get them delivered to your inbox by entering your email address below.
Maldives in November weather data
Average temperature: 31ºC
Daily sunshine: 7 hours
Rain-affected days: 11
November marks the end of the rainy season and the transition into the dry season. You can still expect a fair number of short, sharp showers, but these should only be brief interruptions to your holiday in paradise. The air temperature is a steady 31°C (it hardly changes from month to month) while the sea temperature is a fairly constant 28°C, perfect for bathing.
In spite of the rain showers, you can expect an average seven hours of daily sunshine in November, and the UV Index is very high (take plenty of sun block). More good news lies in the fact that November is one of the best months for price cuts to the Maldives. Once December starts and it moves into the high season, prices tend to rise.
To find out more about prices and options, see our recommend luxury holidays, budget hotels and all-inclusive deals in the Maldives. Our recommended tour operator is Inspiring Travel Company.
Try another month
January, February, March, April, May, June, July, August, September, October, November, December.