Maldives weather in March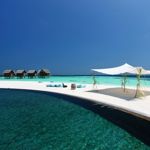 * Did you know you can save up to 40% on holiday prices? See all the latest deals.We publish new deals most weeks and you can get them delivered to your inbox by entering your email address below.
Maldives in March weather data
Average temperature: 32ºC
Daily sunshine: 9 hours
Rain-affected days: 6
March is one of the best months to visit the Maldives. It's the last month of the dry season, which brings low rainfall, and long days of sunshine to these paradise islands. It's also the start of the surfing season, if you fancy catching a wave.
Temperatures in the Maldives remain fairly constant at 28ºC to 31ºC throughout the year, and the key difference between months is the amount of rainfall. This isn't always easy to predict but in some months it can be as high as 225mm. In March you can expect around 83mm, which is relatively modest. Rain is possible, of course, but it's likely at this time of year to fall in short sharp bursts. The sea here stays warm year round.
If you want to book a holiday, check out our recommended operator, Inspiring Travel Company or find out more about all-inclusive deals in the Maldives and honeymoon packages.
Try another month
January, February, March, April, May, June, July, August, September, October, November, December.