What are the hottest Greek islands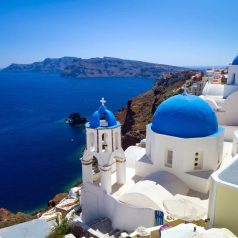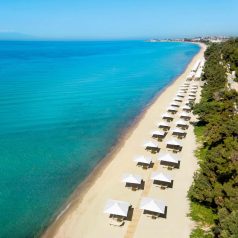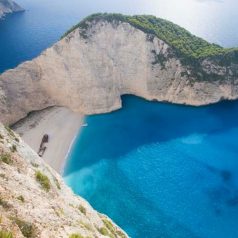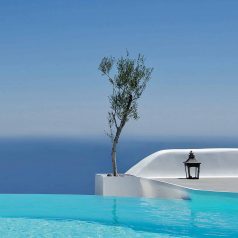 By Mike Gerrard
Some like it hot, which is why the Greek islands are such a popular holiday destination. In the peak summer season you're guaranteed hot, dry weather on most of the islands. You need to do your homework, though. On Corfu, for example, there's still a chance of rain in July and August. On Crete, the most southerly of the islands, there's a minimal chance of rain at that time of year, but the temperatures can soar. You might love the long, hot days but the long hot nights are less appealing if your accommodation doesn't have air-conditioning.
Here, then, is what to expect on some of the most popular islands at different times of year.
Quick links
December to February – March, April – May, June – July, August – September to November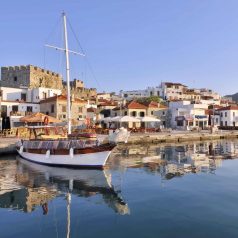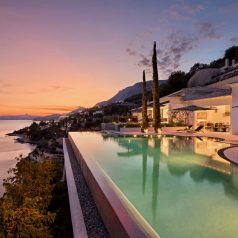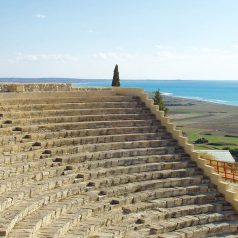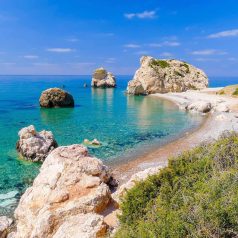 December, January, February
In the winter months some islands close down for visitors, with hotel and restaurant owners often returning to winter in Athens. Bigger islands like Crete and Corfu are less affected.
Weather-wise, Corfu and the other Ionian islands see maximum daytime temperatures of about 13-14ºC and you will still get an average of four hours of sunshine each day. Despite being much further south, Crete has similar daytime temperatures, with slightly more hours of sunlight in the day. Figures for other popular island destinations such as Mykonos and Santorini are pretty much the same.
Your best choice at this time of year is perhaps to choose a boutique hotel such as the Casa Delfino in a city like pretty Chania on Crete or in Corfu Town, where there are museums and other indoor attractions you can duck into if it rains. Another option is to stay in Athens, from where it's easy to take day trips to four different islands: Hydra, Poros, Aegina and Spetses. There's less rain in Athens than on the islands in these winter months too.
March, April
Early spring is when things start to look up and temperatures start to go up in the Greek islands. On Corfu and in the other Ionian Islands the daytime maximums will be about 16ºC in March and 19ºC in April – very comfortable. The sea won't yet have had time to warm up so look for a villa with a heated pool if you want to swim, or stay at a hotel with a heated pool.
In Crete the daytime temperatures are similar to Corfu, but there will be more hours of sunshine and fewer days of rain. By April, Crete sees an average of eight hours of sunshine a day, which of course means much longer than that by the end of the month. You'll also only have an average of five days on which it rains. Crete is such a large island with high mountains that there are obviously local variations, so head for the south coast for the best of the temperatures and consider a villa with a pool.
Santorini in the Cyclades has an almost identical climate to Crete in these months, as does Mykonos, so again look for villas or hotels with heated pools.
May, June
These are the months when temperatures start to heat up nicely. Temperatures in Corfu jump to an average high of 23ºC in May and 28ºC in June, so those beach resorts start to look appealing. May is actually quite hot in Greece averaging 11 hours of sunshine a day, though Corfu does see more rain that most islands.
The temperature on Crete will be similar to Corfu, and the hours of sunshine, the main difference being that on Crete you'll only have the chance of rain on three days in May. The size of the island means there will be many places that get no rain at all. This is a good time of year to try walking holidays, as the spring flowers on Crete are amazing to see.
In Santorini you're looking at an average maximum of 22ºC in May and 26ºC in June, 13 hours of sunshine a day in June, and the chance of one rainy day. By June the sea temperature is up to 22ºC, so you can start to enjoy the island's famous coloured beaches… and swim in the sea. Mykonos is very similar.
July, August
It's worth mentioning that the figures quoted are average temperatures, and in the summer months anywhere in Greece can experience heatwaves. Crete sees an average maximum of 29ºC in both July and August, but temperatures can easily get up to about 38ºC, perhaps hotter in extreme summers. It's a time of year for flopping by the sea or by a pool, and you might want to rent a villa so that you can easily retreat indoors from time to time to cool off. There won't be any cooling showers: Crete has zero rain in July and August.
This is one time of year when, contrary to what you might expect, Corfu is actually hotter than Crete. Daytime averages in both July and August are 32ºC, so expect some days to be much hotter. You'll be glad of that villa with a pool!
Even if you go to one of the more northerly islands in the Aegean, such as the lesser-known island of Chios, you won't escape the heat. It too sees average maximums of 28ºC in both months, and with 13-14 hours of sunshine per day. The Argentikon Luxury Suites come with a swimming pool, though you probably won't need the sauna.
September, October, November
If you don't like it quite so hot, early autumn is the perfect time to travel to the Greek islands, as temperatures start to drop. On Crete, for example, 28ºC in August becomes 25ºC in September, 22ºC in October and 19ºC by November, which is why walking holidays are also popular at this time of year.
Further north in the Sporades, the island of Skyros is a few degrees cooler: 24ºC in September, 20ºC in October and 17ºC in November. These are ideal temperatures for some of the more active holidays, such as those at The Skyros Centre.
Find the hottest Greek islands in October, November and September, and the hottest and sunniest places in Europe.
Last updated: 30 July 2020
Want to save up to 40% on holidays? Enter your email address below to receive a free weekly deals newsletter from 101 Holidays. You can unsubscribe at any time. View a sample newsletter.