Hottest Caribbean islands in August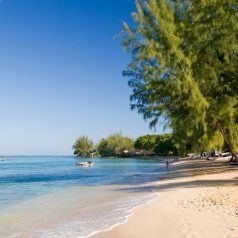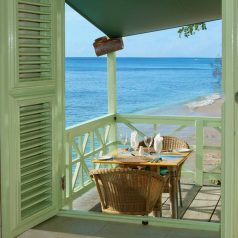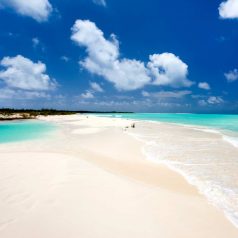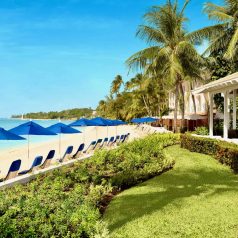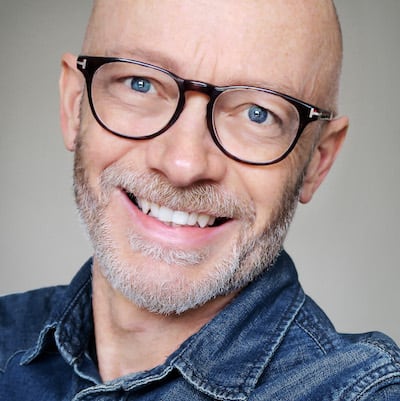 By Mark Hodson, Sunday Times Travel Writer
August sits bang in the middle of the Caribbean's official hurricane season (1 May to 30 November) – whilst storms are uncommon, you will find it more humid with some heavy rain showers overnight and sometimes in the afternoons too. Don't let any of that put you off. Statistically, the southern Caribbean – islands such as Tobago, Grenada, St Vincent & the Grenadines and Barbados – tend to have less storm activity, but weather patterns are hugely changeable the world over so there are no hard and fast rules.
Even though it's the school holidays, the summer months are low season for the Caribbean so you can expect some competitive prices when compared to the Med, especially in the more upmarket family resorts.
If you want a non-stop flight, Antigua, St Lucia, Barbados, Jamaica, the Bahamas and Cuba are served by frequent, some daily, services from a range of airlines and UK airports. You can fly direct (with one stop en route) to other islands such as Grenada, the Cayman Islands, Tobago and the Turks & Caicos.
Barbados
Average maximum temperature in August: 31ºC
Hours of daily sunshine: 8
Flying time from UK: 8 hours 30 minutes
Monthly rainfall: 150 mm
If you're looking for a family holiday during the August school holidays, Barbados is a sure fire winner. Choose from a wide range of family resorts – many of them with excellent kids clubs – or one of the impressive beachfront villas, many with a private pool as well as direct beach access and all offering exceptional value in the summer for larger family groups. There are loads of things to do for all ages, assuming you can drag your children off the beach or out of the pool. Take a train ride through the impressive Harrison's cave system, go snorkelling with sea turtles, say hello to the Green Monkeys and parrots at the Wildlife Reserve or take a dive on the Atlantis submarine. August is a popular month for honeymooners – you'll find some very romantic hotels on the more glamorous West Coast, some for adults only. In early August, you can catch the last few days of the annual Crossover Festival too. See the best hotels in Barbados.
Jamaica
Average maximum temperature in August: 32ºC
Hours of daily sunshine: 8
Flying time from UK: 9 hours 10 minutes
Monthly rainfall: 90 mm
Wherever you stay in Jamaica, you are guaranteed a warm welcome – this vibrant and intoxicating island nation is as quintessentially tropical as they come. The beaches are sensational, the scenery is lush and the list of things to do endless – from canopy rides through rainforest to bob-sledding in the spirit of Cool Runnings!. Sandals was founded in Jamaica and still attracts couples with its ultra all-inclusive resorts; they now have six resorts in Jamaica alone, including one with the Caribbean's first over-water suites. There are plenty more options to choose from, including some exceptional independent luxury hotels and quirky boutique hideaways such Geejam, Jakes and Strawberry Hill – i-escape has the best selection.
St Lucia
Average maximum temperature in August: 30ºC
Hours of daily sunshine: 8
Flying time from UK: 8 hours 45 minutes
Monthly rainfall: 210 mm
St Lucia is the number one Caribbean choice for UK honeymooners and the reasons are obvious. It's one of the lushest of the Caribbean islands, with splashes of colour everywhere you look from the tropical flowers to crystal clear Caribbean sea. Many of the hotels ooze romance and character and a number of them are for adults only. It's not all for the grown-ups though and some of the resorts have outstanding kids facilities. There's plenty to see and do from chocolate-tasting to snorkelling, zip-wiring through rainforest to bathing in mineral springs – and an evening soaking up the vibrant atmosphere of Rodney Bay, with its live music, street food and bars, is not to be missed. Whether you're looking for a romantic bolt hole, a family-friendly all-inclusive or a sophisticated resort, find the best hotels in St Lucia.
Antigua
Average maximum temperature in August: 31ºC
Hours of daily sunshine: 8
Flying time from UK: 8 hours 40 minutes
Monthly rainfall: 120 mm
Antigua is famed for its beaches – it claims to have one for every day of the year. This was Admiral Nelson's base centuries ago and the maritime traditions are still evident, with regular regattas and boat trips as well as the chance to soak up the atmosphere of historic English Harbour. If you want to party, head up to Shirley Heights on a Sunday afternoon for a 'jump up' with a view and, if budgets allow, take a day trip to one of the nearby islands such as Nevis, St Vincent or Bequia; Antigua is a great choice for an island-hopping holiday. Pretty much every hotel is bang on the beach – some have rooms which open directly on to white sand, turquoise ocean and swaying palm trees. Romantics might want to opt for an adults-only hotel such as the luxury all-inclusive Sandals Grande Antigua which has a prime position on Dickenson Bay. Carlisle Bay is a great choice for luxury-seeking couples and families who like a more contemporary style whilst Curtain Bluff is in a luxury league of its own.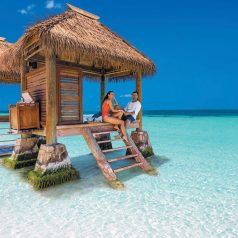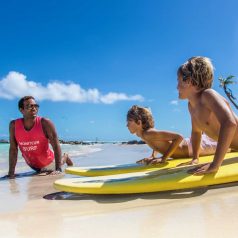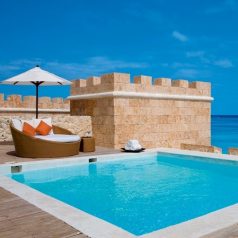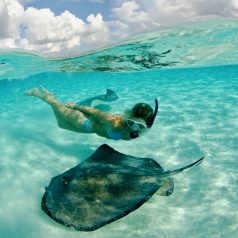 Cuba
Average maximum temperature in August: 32ºC
Hours of daily sunshine: 8
Flying time from UK: 9 hours
Monthly rainfall: 175 mm
If you want to simply fly and flop, Cuba has some sensational beaches, good quality all-inclusive resorts and exceptional value for money. However, it would be a shame to fly all that way and miss out on some time in the historic capital of Havana. Sip on a daiquiri in a side street bar, dance the night away, wonder at the faded grandeur of the city's architecture and Insta all those dreamy vintage cars in every colour of the rainbow. If you're explorers, talk to the experts at Cuba Direct who can arrange a multi-centre holiday – even a cycling tour – to include other Cuban gems such as Trinidad and rural Vinales. Find out more about holidays to Cuba.
Cayman Islands
Average maximum temperature in August: 32ºC
Hours of daily sunshine: 8
Flying time from UK: 12 hours (via Nassau, Bahamas)
Monthly rainfall: 170 mm
Three small but perfectly formed islands make up the Cayman Islands and they're a mecca for scuba-divers with some of the finest diving in the world and strict reef protection measures in place. It's a great place to learn to dive too with high quality dive companies and world-class equipment. Boasting some of the highest living standards in the world, the Cayman Islands are also a popular choice for holidaymakers wanting somewhere a bit more manicured. Grand Cayman is something of a culinary hot spot with an impressive range of restaurants and there are plenty of things to do and see when you're not lounging on the spectacular Seven Mile Beach. You will find some excellent hotels too, many of them located on the world-famous Seven Mile Beach, and regular flights via Nassau.
Anguilla
Average maximum temperature in August: 31ºC
Hours of daily sunshine: 9
Flying time from UK: 18 hours (via Miami)
Monthly rainfall: 100 mm
The very fact that you can't fly non-stop to the tiny island of Anguilla just adds to its allure. This charming and sophisticated destination is seriously relaxed as well as hosting some of the Caribbean's most impressive hotels such as Malliouhana and Cap Juluca. Whilst attracting the rich and famous from around the world, Anguilla isn't flashy, though – we love its laid back atmosphere, authentic welcome and astonishing beaches. The restaurant scene is really impressive as is the more laid back beach shack vibe on hotspots like Rendezvous Bay, Meads Bay and Sandy Island. Anguilla's colourful Summer Festival takes place in the early part of August.
Dominican Republic
Average maximum temperature in August: 32ºC
Hours of daily sunshine: 9
Flying time from UK: 9 hours 5 minutes
Monthly rainfall: 100 mm
Dom Rep is one of the most popular Caribbean destinations for a fly and flop beach holiday with great value all-inclusives and dreamy beaches. Most of the hotels are located in Bavaro or Punta Cana and then there's Casa de Campo – it's in a class of its own with five star luxury all the way, a choice of suites and villas and even its own championship golf course.
Last updated: 9 May 2022
Up to 40% off your next holiday
* Did you know you can save up to 40% on holiday prices? See all the latest deals.We publish new deals most weeks and you can get them delivered to your inbox by entering your email address below.