Holiday ideas for couples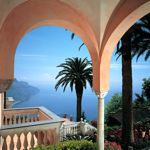 By Mark Hodson, Sunday Times Travel Writer and Editor of 101 Holidays
Whether you're a young couple looking for a romantic break or getting your first chance to travel alone now the children have left home, you'll find choices for all budgets in the best destinations for couples in the UK, Europe and further afield.
(You may also like to take a look at our holiday ideas for anniversaries or 50th birthdays if you have a special occasion coming up.) Note: all the travel companies featured are personally recommended by our editors.

* Did you know you can save up to 40% on holiday prices? Enter your email address below to join the 30,000 people who get my free weekly deals. You can unsubscribe at any time. View sample.
Quick links
UK – Across the Channel – Summer holidays – City breaks – Something different – Long haul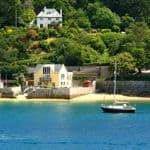 Couples holidays in the UK
1. Scotland is packed with short break options – check out McKinlay Kidd for some fabulous trips. Try a whisky tour on the island of Islay, keep your eyes peeled for Minke Whales, otters, seals and porpoises off the west coast of Scotland on a Mull Wildlife Experience or take a nostalgic trip on a steam train through the Highlands – otherwise known as Hogwarts Express.
2. Take a flight or ferry to the gorgeous island of Jersey which is easy to reach from across the UK and has a great restaurant scene, fascinating historical sites and sandy beaches. Stay at the Pomme d'Or Hotel in busy St Helier, or chill out at the Greenhills Country House Hotel.
3. Our writers love the family-owned Gilpin Lodge in the Lake District – it's a luxurious, relaxing hideaway with some thoughtful contemporary twists. It's a big draw for foodies especially, with 3 AA Rosette dining. Not far from Windermere, there are 22 acres of country gardens on the edge of moors and woodland.
4. Explore some of the beautiful canals and rivers that criss-cross Britain. Waterways Holidays rents out canal boats and sailing boats including some that sleep two. Check out the latest special offers.
5. You may think that you have to travel to France for a wine-tasting break but take a look at the Three Choirs Vineyards in Gloucestershire, one of England's leading wine producers. As well as gorgeous rooms, you can expect top quality food, 100 acres of quiet, scenic countryside and wine-tasting, of course.
6. If an active break is more your scene, Skedaddle has some great self-guided cycling trips – how about this Trans-Pennine ride from Cumbria to Newcastle?
7. For something a little different, join a small-group cultural tour with Martin Randall. Each tour is led by an expert in art, music or architecture. You could attend a classical music festival, visit some of England's finest stately homes, or follow in the footsteps of Sir Winston Churchill for example.
8. i-escape has put together a great collection of boutique hotels in the UK from a groovy guesthouse in Brighton to a luxury spa hotel in the New Forest, and a boathouse for two in the Lake District. See the latest special offers.
9. If you love walking in the woods, rent a luxury lodge in Sherwood Forest, Nottinghamshire with your own outdoor hot tub.
10. Head to Portreath on the north coast of Cornwall where the five-star Gwel An Mor has Lakeside Lodges with private hot tubs.
11. If you're a couple looking to celebrate a special occasion with other couples, friends and family, why not make like the cast of Downton Abbey and rent an historic house in England, Scotland or Wales. It's a great option for birthdays or anniversaries.
12. The superb Lucknam Park Hotel close to Bath, has an impressive Equestrian Centre – sooth those aching limbs after a countryside canter in the luxurious spa and indoor pool.
13. Set on the Shropshire-Wales borders, Pen-y-Dyffryn is a stylish Georgian country house hotel with cosy bedrooms, an excellent restaurant and great walking on its doorstep. See the latest offers.
14. Another superb place to stay in Shropshire is the Castle Hotel in the lovely market town of Bishops Castle. Think gastro food, 12 modern rooms and superb walking on your doorstep.
15. If you want to take your beloved four-legged friend with you, there are a number of places where dogs are welcome. Canine Cottages has hundreds of pooch-friendly properties dotted around the country, all with lovely walks on your doorstep.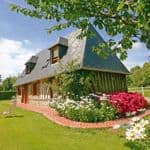 Across the Channel
1. Inntravel can always be relied upon to unearth some hotel gems on the continent – I love these gentle independent cycling breaks, such as this four-night option in the Loire Valley.
2. The markets of Nice on the Cote d'Azur are some of the most vibrant in France. With its warm Mediterranean climate, elegant streets, art museums and markets, Nice works as a short break destination at any time of year.
3. The canals and rivers of France wind their way through some of Europe's most beautiful scenery. There's no better way to soak it all in than on board a luxury hotel barge. Each barge sleeps between four and 20 passengers, in considerable comfort, and the price includes gourmet meals, fine wines, an open bar and all shore excursions. Most journeys are for six nights – take a look at Burgundy, Alsace-Lorraine, Bordeaux and the Canal du Midi.
4. Of course, there is a way to fly without any stress – and that is by private jet. Formalities are kept to a minimum, you get to select a convenient local airstrip and you can choose from a day trip or short break. Gather together some friends or family and you will find it surprisingly affordable, starting at less than £1,000 per person for a Michelin-starred lunch in Paris.
Find some great ideas for cruise holidays around the world. And see our guide to the best adults-only holidays.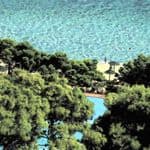 Summer holiday ideas for couples
1. The Greek island of Kos has a long summer season and a range of stylish contemporary four-star and five-star hotels such as the Michelangelo Resort & Spa and the all-suite Aqua Blue. Inspired Luxury Escapes has some amazing deals.
2. If you like to linger longer in s destination and really get under its skin, check out this selection of Journeys in SlowMotion holidays, many of them by train or boat – I love the look of the ideas in Norway.
3. If you like mountain air along with your summer sunshine, head to the Alps. Peak Retreats has a selection of "aparthotels" in some of the prettiest alpine villages – in some you can even enjoy try some summer glacier skiing.
4. For old-school Italian glamour and superb hotels it's hard to beat the Amalfi Coast – and the coastal road is one of the most dramatic and picturesque in the world.
5. Also ranking high in the glamour stakes are the Italian Lakes, where you'll find jaw-dropping scenery, excellent hotels and good food. Most lakes have a great public transport system for local sightseeing, and lots of boat trips are available. They are a particularly good option in the spring and autumn when the colours are vibrant – and there are fewer crowds.
6. The Italian island of Sicily is packed with atmospheric towns, fascinating historical sites and a gorgeous coastline. For great-value locally-owned hotels throughout the island, our writers recommend ExpertoItaly. For something on a grander scale, there's Sir Rocco Forte's Verdura Golf & Spa Resort which has rapidly emerged as one of the Mediterranean's most desirable hotels.
7. Crete is a superb island, offering much more than beaches. Stay away from the mass-market resorts and check into one of these gorgeous boutique hotels. Find more great holiday destinations in Greece.
8. The tiny Adriatic nation of Montenegro – about the size of Northern Ireland – is rapidly emerging as one of Europe's most attractive destinations, and it's great value compared to neighbouring Croatia. With lots of characterful places to stay, it has mountains that reach down to the coast, vast lakes, national parks, historic cities and dozens of tiny beaches.
9. The Catalonian coast is one of the most beautiful regions of Spain, packed with unspoiled fishing villages and pretty coves as well as some sandy beaches. These self-guided cycling holidays include a selection of routes – some very gentle – and your luggage is transported each day to await you at your next hotel. You can also combine it with a beach break.
10. Wide empty beaches with unspoilt countryside, mountains, historic medieval towns and vibrant cities….if these are all on your tick list, you might not realise that they can all be found in Northern Spain. Not to mention great food and wine, good-value hotels and friendly local people. Check out these villas in Galicia.
11. Another way to explore the "real Spain" is a self-drive holiday in the fascinating region Extremadura, home of jamon iberico and packed with medieval walled towns and national parks. This 8-night self-drive tour from Seville to Madrid includes overnight stays in historic Paradors.
12. When the Portuguese want to escape the holiday crowds, they head to the Alentejo, a beautiful region that is like an undeveloped version of the Algarve. You'll find some lovely places to stay close to white-sand beaches, medieval towns, vineyards, lakes and a stone circle that is older than Stonehenge. See this selection of holiday ideas.
13. It can be hard to find a villa for two but villa specialist, Vintage Travel, makes the search easier with a selection of properties throughout the Med that are suited to couples – and all have a private pool.
14. Simpson Holidays has a great selection of hotels, cosy private villas and cottages ideal for couples. They are particularly strong in Corsica, Greece, Turkey and Mallorca.
15. In Tuscany, we've found a great selection of villas for two set in beautiful countryside and each with a private or shared pool.
16. I rate Turkey – particularly its Aegean coast – as one of the best destinations for young couples who want to laze in the sun in a stylish boutique hotel – and for anyone with even a passing interest in ancient history. The region is packed with archaeological treasures. The best resort is Kalkan but you should also consider Kas, Akyaka and the relatively undiscovered Bozburun Peninsula.
17. If you want to escape the world, head to DDG Retreat, a chic hideaway set within a national park in the hills of Andalucia just an hour's drive from Malaga airport. Rent a casita for two with private pool.
18. Malta has a long season – it's arguably a bit too hot in August, but you can expect glorious sunshine as early as March and long into October and early November. Don't miss a ferry trip to its lazy neighbour Gozo (or head straight there for a sublimely chilled week).
19. Buckle up and explore Portugal by car, staying in a selection of historic pousada hotels. A self-drive tour starts at just £445 including flights. Best regions to visit include the Algarve and the lesser-known the Alentejo.
20. Slovenia is another great country to explore by car. It's incredibly scenic, uncrowded and easy to negotiate. This 8-day fly-drive holiday will take you to all the best spots.
21. Croatia is one of Europe's gems with a gorgeous coastline studded with islands and great-value hotels.
City breaks for couples
1. Florence is one of Europe's must-see cities, packed with art and architectural treasures. I recommend you avoid the height of summer and take a short break in spring or autumn. Our recommended tour operator is Sardatur Holidays.
2. In winter take a short break to visit one of Europe's greatest Christmas markets. Most interesting and romantic destinations include Cologne, Munich and Prague, as well as smaller German towns such as Freiburg, Koblenz and Wiesbaden.
3. Madrid is a great city to spend a few days. It's packed with world-class art galleries, lovely bars and restaurants, pretty squares and charming hotels – prepare to eat late, like the Madrilenos. Stay at the The Ritz Madrid or the boutique-style Hotel Orfila. Or head down to Barcelona which boasts the works of Gaudi, Miro and Picasso as well as fabulous restaurants and a beach.
4. Head to Prague at any time of year for a heady dose of gothic and Art Deco architecture, an atmospheric cafe scene and head-turning cityscapes in every direction. Indulge yourselves with a stay at The Augustine, a stunning hotel in a former monastery
5. Lisbon is a lively spot for a city break and great value. Think hipster restaurants, designer galleries, street art, classical mansions and cool bars. See our tips for the best accommodation.
6. Head to the Carnival of Venice in February where you can hire a costume and get invited to masked balls and grand dinners. In the summer months, the Verona Opera Festival features candlelit open-air performances of operas such as Aida and Carmen in the city's spectacular Roman arena.
7. The city of St Petersburg is unmatched for its opulent sights and artistic heritage. Go in summer for the White Nights when the sun never sets, or wrap up warm for the romance of winter. Find more holiday ideas in Russia.
8. Las Vegas is not just about gambling. The city has some gob-smacking hotels, big shows, gourmet restaurants and fabulous shopping.
9. Budapest is excellent value. It's actually two cities, ancient Buda and the more modern Pest across the Danube river. Both are packed with history, cheap places to eat and historic spa hotels. Find out more.
10. Cairo is a great city, rich in cultural treasures. Combine it with a luxury Nile Cruise.
>> Visit our homepage for more holiday ideas. Or check out our tips for the best holidays for young couples and for older couples.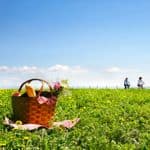 Do something different
1. A glimpse of the Northern Lights is on many people's bucket list. Head to Iceland for a good chance of viewing this amazing phenomenon, combined with jaw-dropping natural wonders, including glaciers, hot springs and geysers, volcanic craters, lava flows and waterfalls. Reykyavik is a great choice for a city break with a difference.
2. Sweden is stunning in summer – a land of sparkling lakes, midnight sun, beautiful design and great food. On this Seascapes and Forests fly-drive you can stay in a 400-year-old castle, sunbathe on the white sand beaches on the Baltic and explore the cities of Gothenburg and Stockholm.
3. If you love nature, the Galapagos Islands should be on your list. The chance to enjoy up-close encounters with turtles, giant tortoises, seals and exotic birdlife is truly unique, and the sheer pristine beauty of these protected islands will enchant you. Combine it with a trip to mainland Ecuador where you can take a thrilling train ride into the Andes and visit the Amazon rainforest.
4. Norway is a stunning year-round destination, but best seen under the Midnight Sun or in winter when you can witness the Northern Lights. An independent summer tour of fjords, lakes and mountains will highlight many of the country's natural wonders, or take to the water on a coastal voyage used by local people. You could take a four-night Roof Across Norway break including Europe's highest railway, or cruise through the gorgeous and little-known Lofoten Islands.
5. I've found some wonderful wine and gastronomy breaks in Spain including walking tours and road trips from Barcelona to Bilbao.
6. Inntravel offers a terrific choice of self-guided hotel-to-hotel walking holidays. Stay in charming locally-owned hotels and inns, armed with detailed route maps and notes – your luggage is transported for you each day to your next destination. Try the Costa Vicentina coastal walk in Portugal, the Lycian Way in Turkey and or Waterways and Flowers in Madeira.
7. Explore Europe on two wheels on one of the many cycling holidays offered by Headwater. Choose from a range of itineraries with varying levels of exertion to suit you – whether you want to meander gently or tackle more challenging routes. I can't think of a better way to burn off those calorie-rich pasta lunches than on the Gastronomic Barolo cycling holiday, for example.
8. If you love nature, wilderness and island hopping, how about the Faroe Islands, which lie only an hour's flying time north of Edinburgh. Go exploring on a fly-drive break or tailor-made holiday.
9. How about a golfing weekend? If you don't both play, there are many hotels with other daytime distractions, such as Sir Rocco Forte's Verdura Resort in Sicily. Check out the latest offers from Elegant Golf Resorts.
10. Are you ready for some serious bonding? How about the two of you joining an overland truck adventure, spending between five days and 40 weeks exploring the depths of Africa, South America or Central Asia.
See more unusual holiday destinations and our selection of the best adventure holiday ideas.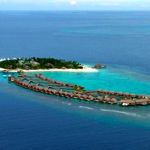 Long-haul holidays for couples
1. Bali is one of the world's most beguiling holiday destinations. Our favourite hotels include the Alila Ubud near Ubud and – for spa junkies – the COMO Shambhala.
2. A safari in Africa is one of the ultimate holiday treats. For luxury, isolation and incredible game viewing, head to Botswana. Or choose from a great selection of safari camps in Kenya. Here's one for the bucket list: join a thrilling gorilla tracking safari in Rwanda.
3. The four-hour flight means it's certainly not long haul, but Lanzarote does boast year-round sunshine, making it great for a winter sun break. You can find some charming villas with pools.
4. An intoxicating taste of Brazil, Portugal, Africa and the tropics awaits in the Cape Verde Islands. Only a six hour non-stop flight away, located in the Atlantic ocean west of The Gambia and Senegal, you'll find a good choice of hotels, diverse restaurants and dreamy white sand beaches with guaranteed winter sunshine. It's a surfer's paradise too.
5. Explore the glorious landscapes of Canada by road or rail. Don't miss a ride on the Rocky Mountaineer, for one of the world's most famous rail journeys. If you prefer to drive under your own steam, how about the 8-day Mountain Express fly-drive holiday from Calgary to Vancouver which takes in the Rockies, Banff and Jasper National Parks.
6. Discover the delights of Sri Lanka – a wealth of fascinating cultural sites, superb beaches, beautiful hotels, great food and epic scenery from lush tea plantations to arid parkland, home to wild elephant and even leopard. Try this selection of unique experiences.
7. Cuba is a good-value winter sun destination. But although it has stunning beaches, there is so much more. You should spend time in the capital Havana (where I recommend the Saratoga Hotel), and the colonial city of Trinidad is charming.
8. Enjoy the best that India has to offer on a private tour with chauffeur-driven car with TransIndus. The best regions to explore include the Golden Triangle and Kerala.
9. Head to Argentina to see the beautiful city of Buenos Aires, the glacier fields of Patagonia and the wild pampas regions.
10. After suffering a devastating earthquake in 2015, Nepal is bouncing back. Take a private tailor-made holiday or join a small group tour to explore colourful Kathmandu, the lakeside paradise of Pokhara and Bardia National Park.
11. St Lucia has some great hotels for couples. The adults-only Rendezvous is ideal for a romantic getaway.
12. Bermuda combines knockout beaches with quirky colonial style. It's a great long-haul destination for spring, summer and autumn (too cold in winter) with fast direct flights and the option to combine with New York.
13. The ultimate long haul beach destination? How about the South Pacific. Explore the pristine beaches and lagoons of Tahiti, Fiji and the Cook Islands.
14. There are few destinations more exciting right now than Cambodia. The mysterious and beautiful temple complex of Angkor is a "must see before you die" while the capital of Phnom Penh is an exciting, buzzing city. Great food, world-class beaches and friendly people complete the picture.
15. For something different, how about a fly-drive in Namibia? Not only is it Africa at its most starkly beautiful, but it's also a safe country with a superb road network. This Essential Namibia itinerary is perfect for first timers.
16. The most popular way to experience New Zealand is now on a fly-drive holiday. Take your pick from one of these inspiring itineraries and if you want to turn up the adventure dial, consider renting a motorhome.
Last updated: 9 April 2019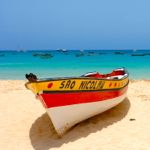 Know when you want to travel?
January – February – March – April – May – June – July – August – September – October – November – December