Winter sun holidays with a toddler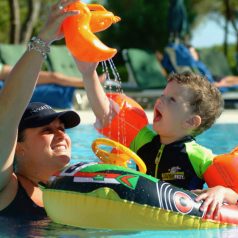 Q. We've got a pre-school toddler and desperately need a holiday this winter. Where do you recommend for a family-friendly winter-sun escape?
By Amanda Statham, Editor
For the nearest, almost-guaranteed winter sun it's got to be the Canary Islands. The archipelago is an ideal choice for toddlers – with warm, sunny weather year-round, you can travel outside the busy school-holiday season and still enjoy great beach weather.
If the prospect of a four-hour-plus flight with a fidgety toddler fills you with dread, check out these tips for flying with kids. Actually, you might well find a flight to the Canaries with tots quite relaxing. The popularity of the islands with older folk usually means there's no shortage of sympathetic grandparents on board!
My top choices would be Tenerife and Lanzarote.
The Abama Golf & Spa Resort on Tenerife has just the right mixture of professional childcare and adult pampering that weary parents of toddlers yearn for. As well as the outstanding Club Abami (one of the largest kids' clubs in Europe), a family pool and babysitting service, the five-star resort is pushchair friendly and even boasts a golden-sand beach. You can also take advantage of the exclusive Nanny Too programme from Tots Too, which provides a local nanny to care for your children. Grown-ups are spoilt with no less than 10 restaurants, five bars, an 'Out of Africa' themed spa and spectacular rooms with king-size beds and stylish bathrooms.
While you're on holiday in Tenerife with a toddler, I recommend a visit to Loro Parque in Puerto de la Cruz, where you'll find the world's largest collection of parrots, as well as a breeding colony of penguins. Another great day out, Siam Park waterpark is awash with adrenaline-charged thrill rides, but also has plenty of placid-water attractions like The Lost City – an adventure pool with a fortress, bridges and waterfalls.
On the island of Lanzarote, the Princesa Yaiza Suite Resort is a great choice for young families. The resort has wonderful views over the white-sand beaches of Playa Blanca towards Fuerteventura.
You can choose from interconnecting rooms or family suites, while facilities include several pools and restaurants, a kids' club and Thalasso spa.
Still need inspiration? We've got more ideas for toddler friendly holidays, as well as family holidays in November and family Christmas holidays.