Can we visit Santa and see the Northern Lights?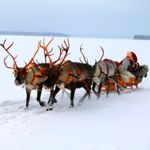 Q. Our kids want to visit Santa; my husband and I want to see the northern lights. What's the best way to combine both?
By Amanda Statham, Editor
Try Finnish Lapland. Not only will you find Father Christmas there, but it's also a prime location for witnessing the Northern Lights. Santa's Lapland offers three- and four-day breaks. Both options include a snowmobile ride through the wintry forest, followed by a private family meeting with Mr Claus at his log cabin.
The Northern Lights are more difficult to track down and there's no guarantee you will see them at all. It only takes a couple of cloudy nights to scupper your chances. That's why the four-day Santa's Aurora is your best bet – it gives you that all-important extra night above the Arctic Circle.
The magic begins the moment you touch down at Ivalo airport. Santa's mischievous elves will be there to greet you, along with a team of reindeer led by a traditional Sami handler. From the airport, it's only a 25-minute coach ride to Saariselkä where you check into your cabin or hotel and get kitted out in polar suits, boots, gloves and hats. Day two is Adventure Day, with optional activities ranging from a Snowmobile Safari and downhill skiing to husky sledding and a Reindeer Sleigh Ride. Kids will also love Saariselkä's toboggan run – the longest in Finland 
at 1.2km. In the evening, the Northern Lights Adventure takes you by snowmobile out into the wilderness (children travel in a sleigh towed by the guide's skidoo). With luck, you'll see the heavens pulse with ribbons of lime and crimson…
More wide-eyed wonder is guaranteed the following day when you set off in search of Santa. There's a special gift from Father Christmas for children under 13 and all activities like husky sledding, reindeer sleigh rides, ice fishing, kick-sledding and snow hockey, as well as fun and games in the new Igloo Fantasia are included. There's a festive feast back at your hotel and a final glimpse skywards for the northern lights.