Recommended tour operator: Santa's Lapland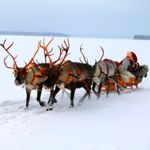 Santa's Lapland says
A personal message from Santa……
good value
outdoor activities
trip of a lifetime
Please take a magical trip to come and visit me at my snowy Lapland home this December.
I have been working with my good friends at Esprit for many years now, and have chosen them to run my personally-selected Santa's Lapland trips for me.
My elves and helpers do a wonderful job, making toys, keeping all the Christmas stocking lists up to date, and looking after Rudolph and the other reindeer.
But we are all so busy every December getting ready for Christmas Eve, that I have asked Esprit to help us, by flying all my visitors out to Saariselkä to meet me at my home.
You can be sure that all the key ingredients for an unforgettably festive family break are in place for you.
First and foremost, I absolutely guarantee that you and your family will have your own private meeting with me in my little log-cabin home, deep in the snow-laden forest.
Secondly, all the very best snow-adventures, from reindeer sleighs and husky-sleds to riding behind a snowmobile and mini-skidoos, are included in the price.
My trips are extremely affordable too, with thousands of free places for children, and a choice of really lovely hotels and cabins to stay in. Choose from the traditional Santa's Magic experience and the longer Santa's Aurora (which includes an amazing Aurora Wilderness dinner and a stay in the luxurious Santa's Star Arctic Hotel).
I know that if you choose to visit me, Finnish Lapland will leave its magical mark on all your family too.
Click here to find out more about three- and four-day breaks to come and see me this December.
You may also like: