The best self-catering holidays for families
By Amanda Statham, Editor
Family self-catering holidays are more popular than ever, partly because of the pandemic. If you rent a cottage or villa, you'll have space to spread out, a home-from-home atmosphere, flexibility and independence.
A self-catering family holiday also offers great value and incredible choice. Here's my pick of the best options at home and abroad this year.
Quick links
UK cottages – Villas – Apartments – Holiday Parks – Boats and motorhomes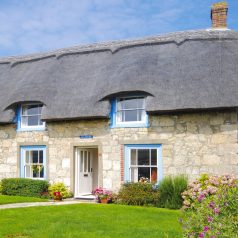 Cottage holidays in the UK
Splitting the costs of renting something bigger can also be a good way to save money on a self-catering cottage holiday. Oliver's Travels has chateaux for rent in France, while The Big Domain has a worldwide portfolio of large properties sleeping between 10 and 56 guests – so you can not only take the whole family on holiday but your friends and neighbours too!
If it's something smaller and more intimate you're after, there are numerous holiday cottage agents. Classic Cottages are experts on holidays in Cornwall (and also have some charming places to stay on the Isle of Wight).
Also check out Helpful Holidays for cottages in Devon, and holidaycottages.co.uk for working farm holidays in the West Country.
Rural Retreats is the best company for dog-friendly cottages in the UK and Ireland, while Sykes Cottages has the best properties in the Lake District.
Other regions I recommend for family cottage holidays: Northumberland, Norfolk and the Jurassic Coast of Dorset (where ITV's Broadchurch was filmed). Also consider a cottage in the Cotswolds or the Brecon Beacons in Wales.
What's particularly exciting about the cottage holiday industry is that many agents are diversifying into trendy glamping options. For example, you can now book a stay in a shepherd's hut, airstream caravan, safari tent or wooden pod with Classic Cottages.
Or hop over the Channel and pick from this wonderful (and good-value) collection of family hideaways in rural France. Options include an eco-villa in the Ardèche and these rental homes on a working domaine in the Languedoc with tennis courts, infinity pool, spa and restaurant.
Family villa holidays
For many families, a villa with a pool somewhere hot and sunny is the simple basic recipe for a self-catering holiday. There's a huge range to choose from, but here are my top picks:
All villas offered by Vintage Travel have private pools and you can choose from destinations right across Europe, from the Canary Islands to Italy. There's even a search facility for villas with children's pools.
For an interesting alternative to the Spanish Costas, Vintage Travel also has a great collection of family villas with private pool in Northern Spain. The beaches in this part of the country are superb.
Further south, Sitges, a pretty beach resort close to Barcelona, is a bit of a hidden gem, with stylish shops, great restaurants and a great collection of family villas.
CV Villas also have a great selection of family friendly properties. Take your pick from over 450 luxury villas in destinations including the UK, Greece, Italy, France, Spain, Portugal, Turkey, Morocco and the Caribbean. All of them have private pools (many fenced or gated, giving parents with young children peace of mind), and some have the added bonus of table tennis or a pool table. I particularly like their houses in Corfu.
GIC The Villa Collection has spent 40 years developing a portfolio of the very best properties in the Ionian and Sporades Islands, as well as Crete and Cyprus. Villa Nichola is a great choice on the island of Kefalonia – it's near a beach, shops and taverna, so you won't even need a hire car.
This collection of stylish places to stay in Cyprus includes budget self-catering suites in a pretty rural setting.
If you want a villa on the coast, Croatia is a good choice. For example, five-bedroom Villa Natulia has private ladder access to the sea as well as its own pool.
Focussed on the fashionable corners of Sardinia, Sardatur Holidays has a great collection of villas for families.
Also try Oliver's Travels for family villas in Italy and the Dordogne in France, i-escape for villas in Portugal, Vintage Travel for villas in northern Spain, Corsican Places for a wide range of villas and apartments on the Mediterranean island and Peak Retreats for family chalets in the French Alps. Try Abercrombie & Kent for luxury villas in the Algarve.
In Sicily, i-escape has a wonderful collection of rural hideaways including these self-catering villas in historic Cefalù and these chic self-catering apartments, tucked away in a pretty valley with plenty of outdoor space for kids to play.
Vintage Travel also has useful pages listing villas with air-con, children's pools, fenced pools and villas near beaches.
Renting a house is also a great way to do the theme parks of Florida. Check out these houses for rent in Orlando.
Also see my tips on how to book the best villa holidays.
Family apartments
A self-catering apartment can make good sense for a family city break – it not only makes city travel with kids more flexible and affordable, but you get a lot more space to relax in than a hotel room. Check out these family and apartments from i-escape.com. Its ideas include a stylish loft in Paris, a canal boat in Amsterdam, an apartment in Lisbon and an architect-designed home in Barcelona.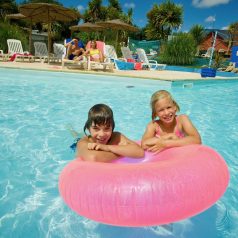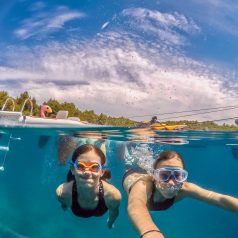 Family holiday parks
Siblu takes the hassle out of self-catering. Its holiday villages can be found in some superb spots across France, from Normandy to Provence, and each one is packed with family facilities such as free kids' clubs, swimming pools, restaurants and sports activities.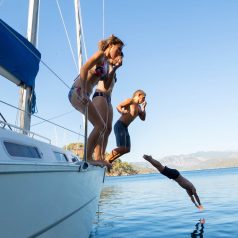 Motorhome and boating holidays
With bedroom, kitchen, playroom and car rolled into one, motorhomes give you the flexibility and independence to cover large distances – without inducing the levels of protest you might expect from children on long road journeys. The United States is another prime destination. Tour Alaska, California, the Rockies or striking out on Route 66… Check out Frontier Motorhomes for your RV (recreational vehicle) requirements.
Take the wheels off a motorhome and you (sort of) have a narrow boat – with all the same levels of comfort and free-roaming appeal. Waterways Holidays offers a range of cruisers for exploring the UK's inland waterways. Some vessels can sleep up to 12, so why not press-gang another family or two into joining you on holiday?
On the canals and rivers that criss-cross France, you can rent a cruiser that sleeps between three and 12 people. The slow pace is perfect for meandering through the scenic French countryside, perhaps taking time out for cycling, swimming, walking, and sampling the local food and wine. Find out more about a family boating holiday in France.
Last updated: 5 April 2022
* Did you know you can save up to 40% on holiday prices? See our latest travel deals and enter your email address below to get updates every fortnight.