Recommended tour operator: Best Served Scandinavia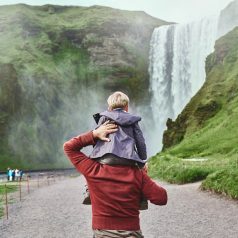 Best Served Scandinavia says
From snowmobiling to Viking fjords, Scandinavia is an ideal destination for the adventurous family. With their effortless natural beauty, cool Scandi culture, pristine landscapes, spectacular coastlines and wildlife, Sweden, Norway and Lapland have fast become three of our most popular family destinations – and both summer and winter are fantastic times to visit.
outdoor adventure
wildlife encounters
winter and summer
Each and every itinerary is bespoke to suit your family, tailor-made from scratch by our team of well-travelled and knowledgeable experts. The options are endless, but to inspire you, here's a taster of what we can do.
Winter in Scandinavia doesn't get much more iconic than a trip to Lapland. And, on our curated itinerary, your family will explore this frozen wonderland on everything from snowmobile and dog-sled rides to snowshoe trips and campfire evenings under the Northern Lights. The hearty full-board dining even includes lunch at an ice restaurant and a festive dinner.
For something even wilder, follow in the footsteps of Philip Pullman to Svalbard. Star of the 'His Dark Materials' trilogy, this Arctic wilderness is known for its polar bears, glaciers and snow-capped peaks. On our Northern Lights itinerary, you'll visit glacier caves, go husky sledding and head out to a wilderness camp in search of the Aurora Borealis.
Those looking for adventure should consider Tromso and Malangen Resort. It's the chance to marry a fjord getaway with an Arctic city break, offering plenty of opportunity for husky sledding and snowmobiling, with a chance of viewing the Northern Lights.
Of course, the chance to meet Santa Claus in Lapland is a once-in-a-lifetime dream for every child – and a magical experience for the whole family, grandparents included. We offer three-night Santa breaks from 21 November to 13 December and exclusive escorted departures right up to 20 December.
In summer, it's all about the great outdoors with long, sunny days and exciting activities on tap.
If you and your family have energy to burn, look no further than our Active Fjord Adventure. Moving out from Bergen's historic charms and cable-car rides, you'll explore Norway's mountains and fjords with kayak adventures, boat rides and downhill cycle rides. You'll even be treated to one of the world's greatest train journeys – the Flåm Railway.
For something more relaxed, make like the Swedes with a log-cabin escape. On our Summer Adventure in Swedish Lapland you'll get away to a remote island archipelago, exploring with wilderness skills and kayaking sessions before returning to full-board dining with the emphasis on local ingredients. It's all made that bit prettier by the Midnight Sun.
We have also created a family adventure holiday in Iceland, making the most of its Viking heritage, explosive geysers and mighty waterfalls. You'll stay in a luxury apartment (complete with private hot tub) and explore with your own 4WD.
Our expert team will put together the best-value breaks that the region has to offer. Discover our full range of family holiday ideas in Scandinavia.
Note: All the travel companies featured on this site are personally recommended by our editors. Companies pay us a flat annual fee, which funds the upkeep of our site, so we can keep it current and reliable. See more about how we work.
Copyright © 2022, 101 Holidays Ltd