Recommended tour operator: Casas Cantabricas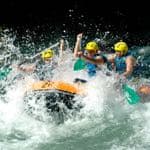 Casas Cantabricas says
Babes in arms, energetic teenagers, mum and dad, grandparents too – there's something to suit you all when you holiday in north and west Spain.
characterful accommodation
self-drive options
villas with private pools
It seems to us as if Cantabria, Asturias, Galicia, Navarra and Salamanca provinces were specially planned with family holidays in mind – and, with our in-depth knowledge and know-how, we'll help you find the perfect spot for you to stay and discover the myriad delights of these very special corners of Spain.
Start with endless miles of stunning coastline, of unspoilt beaches, silver sands or rocky coves, seaside resorts or remote strands. Add beautiful countryside, high mountains, remote farming villages, bustling market towns and grand historic cities.
Canoe the rivers of Asturias, take the cable car up into the craggy Picos de Europa, walk the Cares Gorge or stand on the edge of the western world at Cabo Finisterra. The new Heidi trilogy is currently being filmed in the Picos de Europa – you heard it here first!
Walk in a dinosaur's footprint on Asturias' Jurassic coast, climb the Roman lighthouse Tower of Hercules in A Coruña, see lions, tigers and bears among the limestone crags of Cabarceno Wildlife Reserve and explore caves, cathedrals and Celtic villages.
Local restaurants and markets are excellent value and provide delicious regional fare, so cook in or dine out as you please.
Best of all, just relax and enjoy the family-friendly ambiente of rural Spain, staying in one of our carefully selected villas, some with a private pool, or traditional small hotels.
Our Caminos programme offers a range of one- and two-week independent touring holidays either with your own car or a hire car. We now offer self-drive holidays not only in Northern Spain but also in the Spanish Pyrenees, central Spain and Andalucia.
Find out more about our family holidays in Northern Spain.
« Return to homepage
Copyright © 2017, 101 Holidays Ltd