Family holidays in February half-term
By Amanda Statham, Editor
It's not too soon to start planning a family holiday in February half-term 2023. Scroll down to see short-haul and long-haul options, along with holidays in the UK.
All the travel companies featured are personally recommended by our editors. Follow the links below for prices, dates and booking terms.

* Did you know you can save up to 40% on holiday prices? See our latest travel deals and enter your email address below to get updates every fortnight.
Quick links
Europe – Long haul – UK holidays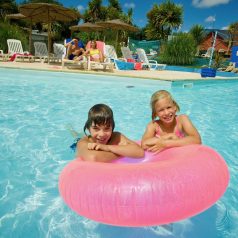 Half term holidays in Europe
The Mediterranean is still a bit chilly in February. You may get some sunny days if you head south, but the sea will be cold and you could be unlucky and get some rain. The best strategy is to go to a hotel with plenty going on. Look for sports facilities, indoor pools and lots of organised activities.
The weather is likely to be very good in the Canaries – arguably the best short haul destination at this time of year. I recommend the Abama Golf & Spa Resort in Tenerife and the Princesa Yaiza Suite Hotel Resort in Lanzarote which has kids clubs from babies up to 16 years of age.
In the Algarve, you could rent a luxury villa with private pool. Examples include Quinta Nautica which has a children's play area, pool table and heated pool. Or join the kids on a tennis holiday at the five-star family friendly Pine Cliffs. The Annabel Croft academy offers top-notch coaching for kids and adults.
It's also worth considering a villa in Mallorca or Corfu or Catalunya, or one of the five hotels that make up the beautiful Sani Resort in Halkidiki, Greece. If you're travelling with a large family group, you could rent a chateau in France and take advantage of low-season prices. See the latest special offers.
Cyprus is far enough south to promise warm sunshine in February. The Almyra Hotel has a stylish contemporary design which belies a very child-friendly attitude. This collection of characterful places to stay includes an all-suite beach resort and a boutique guesthouse in the foothills of the Troodos Mountains.
February half term is peak period on the ski slopes of Europe. If you are happy to pay premium prices. Take a look at Peak Retreats for good value skiing in France.
If your kids love snow but you don't want the faff of a ski holiday, how about one of these family holidays in the snow in Austria or Norway, with lots of fun outdoor activities and cosy hotels with heated indoor swimming pools.
Iceland is only a three-hour flight away. You have a good chance of seeing the Northern Lights while touring this dramatic country – try an off-road trip in a 4WD Superjeep to get up close to natural wonders such as waterfalls, bubbling mud pools and exploding geysers.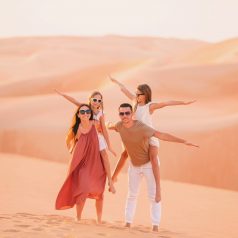 Long haul holidays in February half term
You don't need to fly great distances to find decent weather. Fleewinter has some great family itineraries in Morocco – check out this combination of Marrakech, the Essaouira coast and the Atlas Mountains. Or try the more adventurous Moroccan Circle, which includes a journey into the Sahara.
Six hours flying time gets you to the Arabian Gulf where you can expect 27ºC and 9 hours of daily sun in late February. I recommend Abu Dhabi for a combination of culture, family facilities and high-quality hotels at very sensible prices. See the latest offers.
If you'd rather explore desert dunes and historic forts, head to Oman which has the same climate but more ancient Arabian culture. The best hotels for families include the Shangri-La Al Bandar and the Al Bandar.
February is a great time of year to visit South Africa. You can do it in a week with overnight flights, no jet lag and no anti-malarials required. This week-long Cape Town and Eastern Cape holiday has been designed for half-term week and includes off-road safaris in Kariega Game Reserve.
The Caribbean is perfect in February. For facilities, kids clubs and entertainment you can't beat the all-inclusive Beaches Resorts. You'll also find some great family hotels in Antigua including the all-inclusive Blue Waters and the five-star Carlisle Bay. If you have very young children, check out Tots Too.
It's summer time in Mauritius where this collection of family hotels has special offers and free kids clubs with lots of free sports, including water-skiing. All-inclusive terms are also an option.
If your family are keen on active holidays, you could set off together on an adventure in Vietnam with Selective Asia, or combine elephants, jungles and beaches in Sri Lanka.
British Airways now has direct flights to Costa Rica which offers thrilling activities including zip lining, white-water rafting, canoeing, surfing and rainforest walks. I recommend this Costa Rica for Families tour.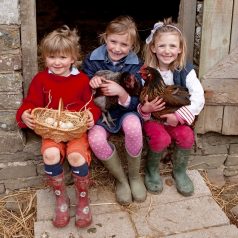 February half term holidays in the UK
February is a great time to rent a cottage in Cornwall – see this selection of 350 family-friendly properties.
Other great British holiday options include adventure holidays  and summer camps in England, Scotland and Wales with PGL, and the gorgeous Sands Resort Hotel in Cornwall.
If you want an authentic farm experience, staying in a cosy cottage or converted barn on a working farm, try Holiday Cottages. Or take a ferry to the Isle of Wight and stay in one of these gorgeous cottages.
<< Also see my recommendations for the best family holidays at Easter, during May half-term week and in August.
Last updated: 26 May 2022