Family holidays in August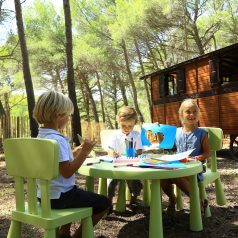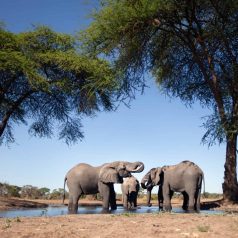 By Amanda Statham, Editor
Are you looking for family holidays in August 2022? We expect this to be a very busy month for both staycations and overseas holidays, so it is important to book early. Follow the links below for prices and dates.
Quick links
UK – Villas – Budget sun – Luxury Med – Activities – Countryside – Long haul – Adventure
UK family holidays in August
Self-catering is the most popular option this summer, and fortunately the UK has thousands of family-friendly cottages to rent, but the best ones are going fast, so book soon.
You could opt for a cottage in Cornwall – see this selection of 350 family-friendly properties and these baby-friendly cottages. The specialist company, Helpful Holidays, has a great selection of self-catering accommodation across Devon, including the gorgeous South Hams.
You could stay in Brecon Beacons National Park – with hiking, mountain biking, rock climbing and caving on your doorstep – staying in one of these family cottages. If you want to breath some sea air, try these cottages on the Northumberland Coast and these on the Norfolk coast.
i-escape has some delightfully quirky self-catering options such as Foxham Boutique Barn in Wiltshire which is set in 200 acres of woodland and meadows with its own private lake for wild swimming plus a jetty and rowing boat. You could opt for an eco-lodge on Islay or a bell tent on the Elmley Nature Reserve.
In Dorset, you can rent a holiday cottage on the Jurassic Coast, where ITV's Broadchurch was filmed. Or discover the chocolate-box beauty of the Cotswolds.
How about one of these working farm holidays or you could sign up for a family activity holiday with PGL. We've found more than 200 dog-friendly cottages around the UK, along with tsome great cottages on the Isle of Wight.
On the north coast of Cornwall Sands Resort Hotel is superb for families with lots of activities for kids and family-friendly rooms. Check out the latest special offers.
In the Channel Islands, the Merton Hotel in Jersey has everything that parents and children could wish for. The large suites and serviced apartments are perfect families with facilities that include an Aquadome (pools, slides, fountains, sauna and steam room) along with a superb outdoor pool complex, including a Flowrider where kids can learn to surf.
Activities Abroad has a six-night activity holiday in the Lake District for children age 10 and over with hiking, rock climbing, scrambling, abseiling, canoeing and sailing.
See our full guide to the best family holidays in England.
Villa holidays in August
The Mediterranean is ideal for family holidays in August. Renting a private villa is a great option. I recommend the north-east corner of Corfu which has lovely beaches and a selection of villas with private pools. Another option is Kefalonia where many of the villas are within walking distance of beaches and tavernas. The gently-shelving beaches and direct flights make this an excellent choice for families.
In Spain I've found some great villas in Mallorca and on the mainland in Catalunya (see the special offers).
If you want childcare in the mix, Simpson Travel has introduced its own bespoke crèche and kids' activities at a hand-picked selection of villas and hotels in the Greek Islands and Mallorca.
Croatia is a good choice if you want to stay on the coast. For example, Villa Mlini is within a short walk of sandy coves, bars and restaurants and you can take a ferry to nearby Dubrovnik, so a hire car isn't necessary.
If you're looking for an alternative to the Spanish Costas, head to Galicia in the North for uncrowded white-sand beaches and a great collection of family villas.
In France, the Dordogne is one of the most popular regions for British families. It's a great area to explore with river kayaking, gentle cycling and pretty villages and châteaus to explore. See this selection of family villas in the Dordogne. There are some great options for larger groups, too.
If you have a generous budget, consider Sir Richard Branson's Son Bunyola estate in Mallorca where three stunning villas are set in 680 acres of beautiful countryside. You'll get your own private chef, along with a concierge service.
Budget sun in August
If you're on a budget, take a look at Siblu, which has a selection of villages in France that have comfortable mobile homes plus large swimming pools, free children's clubs and sports. See the latest offers.
i-escape.com has handpicked some outstanding family hotels and apartments. It recommends renting a designer apartment in a European city – it's often cheaper than staying in a hotel, but offers more freedom, space and privacy. You could stay at a loft in Paris, a canal boat in Amsterdam, a stylish apartment in Lisbon or a designer home in Barcelona.
Luxury hotels in the Med
If you're looking for a luxury hotel in the Mediterranean, check out the stylish child-friendly Almyra in Cyprus. In Puglia, in the south of Italy, I recommend the award-winning Borgo Egnazia.
Maybe you have happy memories of parties in Ibiza before children arrived? If so, head to the stylish Nobu Ibiza Bay Hotel just two miles outside Ibiza Town. It has a lovely sandy beach, spa, yoga pavilion, fitness centre and beach club – plus a free club for kids aged 4 to 14. If you want to get away from it all, try the 7Pines Resort Ibiza which boasts a world-class spa.
In Greece, the MarBella Corfu is a luxury hotel that is totally designed for families. The outstanding child care options include a creche for babies from four months, along with snorkelling expeditions for older kids and classes ranging from pottery to robotics.
Sardinia has amazing beaches, along with superb hotels including Forte Village and Chia Laguna Resort. The latter is popular with Italian families and runs a packed programme of activities and experiences including a Dance Academy and Football Academy in August, for ages 5 to 14.
The French island of Corsica has a wonderful selection of hotels, villas, apartments and residences.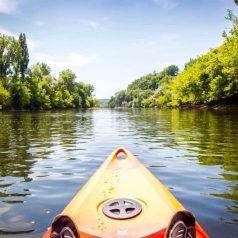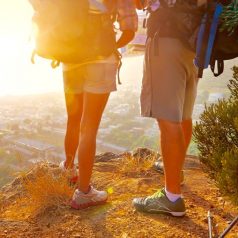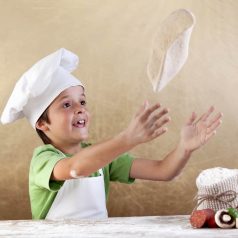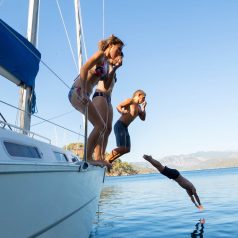 Family activity holidays in August
If your kids enjoy riding bikes, why not consider a self-guided family cycling holiday in an unspoilt region of Europe. Your luggage is transported each day for you, and there's a friendly family hotel (usually with a pool) at the end of each day. Our top recommended destinations are Mallorca  and Catalonia.
Or you could putter along the canals and rivers of rural France on a family boating holiday exploring Brittany, the Loire Valley or Canal du Midi. The fleet of boats sleep between 3 and 12 people and no experience is necessary.
Iceland is only a three-hour flight away. In summer you can bathe in geothermal lagoons and go whale watching. Take an off-road trip in a 4WD Superjeep to get within touching distance of waterfalls, bubbling mud pools and exploding geysers.
In Madeira, this Adventure Week includes whale watching, a jeep safari, hiking, swimming in lava pools and a chance to snorkel with dolphins.
Another option is a Mediterranean beach club such as Mark Warner's new Phokaia Beach Resort in Turkey. It has a range of water sports and Kids Clubs from ages 2 – 17 (see the special offers).
For a more exclusive adventure, take the children on a guided gulet cruising holiday along the coast of Italy, Greece or Turkey. You'll be on a traditional Turkish gulet which is perfect for visiting deserted coves and swimming in clear seas. A guide will show the family around local cultural sites.
If you want a big all-singing, all-dancing ship packed with activities for children, check out these family cruises.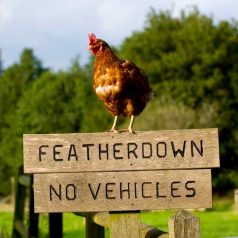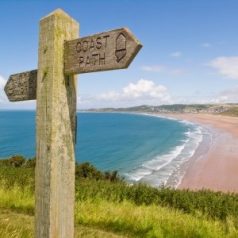 Family holidays in the countryside
You could take an independent family walking holiday with Inntravel, where you walk from hotel to hotel with no fixed itinerary as your luggage is transported for you. Popular destinations include Spain's Catalan Coast and the Italian Dolomites.
This collection of family hideaways in rural France is superb. For example, these houses to rent on a domaine in the Languedoc share tennis courts, a huge infinity pool, spa and restaurant.
If you're travelling with a large family or group of friends, you could rent a chateau in the French countryside – for example, Chateau Camelot in the Lot Valley sleeps up to 16. See the latest special offers.
If you have older children, try these activity holidays in Spain.
The luxury tour operator, Best Served, has put together some amazing trips to Sweden, Norway and Lapland where you can experience natural wonders, outdoors adventures, Scandi cool and midnight sun. In Norway, you can explore mountains, fjords and cities on boats, trains, kayaks and cycles on this Active Fjord Adventure.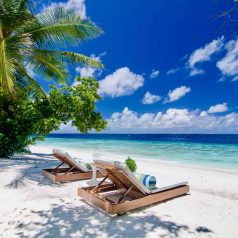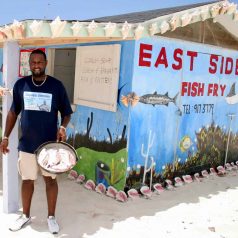 Long haul beaches
This can be a great time of year to spread your wings and go long haul. Unlike in Europe, you won't pay a premium for travelling in the school summer holidays, and lots of places enjoy good weather in our summer.
Beaches Resorts in the Caribbean offer outstanding facilities, kids clubs and family entertainment. Children of all ages absolutely adore them. See the latest special offers. Also, take a look at these family holidays in Antigua.
It's the best time of year to visit Mauritius and the journey is easy: direct overnight flights and just a three-hour time difference. The hotels provide a wonderful welcome for children, plus you have superb beaches and natural wonders. Stay at the family-friendly Victoria Beachcomber Resort & Spa with optional all-inclusive terms. See the latest family offers.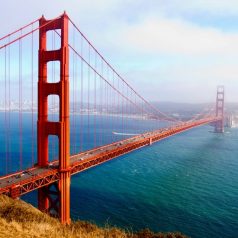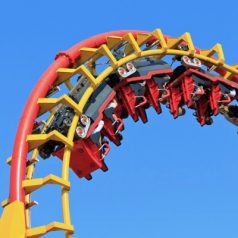 Long haul adventures for families
Kenya is one of the best African destinations for families in August. Try this 13-day Kenya and Mauritius safari and beach combination: stay at the Kichwa Tembo tented camp in the Maasai Mara followed by some real luxury in a two-bedroom villa with private pool at the Constance Belle Mare Plage in Mauritius.
If you don't want take malaria tablets, go to South Africa where you can view the Big Five in malaria free safari reserves such as Madikwe which is known for its excellent children's programmes.
Few kids ever turned their noses up at a holiday in Florida. Even cynical parents soon catch the bug and have the time of their lives. For maximum theme park action, stay in Orlando where you can choose from a hotel or a house with private pool. With teenagers, go for a family fly-drive holiday to combine Orlando with Miami, the Keys, the Everglades and the Gulf Coast.
Japan is a non-stop whirl of excitement. Children of all ages love the high-tech, neon-lit cities where they can discover the home of manga comics, anime and Hello Kitty. Ride the bullet train, visit a Samurai castle and explore the wooden buildings of ancient Kyoto. See more family holidays in Japan.
Sri Lanka is great for kids and August is the low season – you might get some rain showers, but they are usually short and sharp. There is so much to see and do – and great beaches. This Classic Sri Lanka packs in all the key sights plus an elephant safari.
In India, Cox & Kings has a two-week Kerala Family Adventure that works well in August. It includes a visit to an indigenous tribe, tracking elephants, leopards and tigers in Nagarhole National Park, a houseboat stay and dolphin-spotting.
In the American West, you could taste the life of a cowboy on a resort ranch. In South America, it's the dry season in Ecuador so a good time to strike the Galapagos Islands off your bucket list. Check out this sensational Discover Galapagos tour for families.
It's the dry season in Borneo – the best time of year to visit. This is a great destination for adventurous kids, combining orang-utans, rainforest, tribal culture, hiking and beaches. See this family adventure holiday in Borneo.
It's also a good time to visit Thailand where I recommend these family adventure holidays. Head to the steamy south for a Beach and Jungle Adventure, or go to Northern Thailand for lower temperatures and hill tribe encounters, river rafting and a hot air balloon ride.
Few destinations in Asia are more thrilling than Vietnam – a vibrant, welcoming country with bustling cities, colourful temples, white-sand beaches and exciting street food. It's low season in July, so not too crowded.
Or push the boat out and enjoy the Maldives where you'll find a surprising number of family-friendly resorts.
Find more family holiday ideas, and holidays for teenagers.
When is the August Bank Holiday?
In 2022, the August Bank Holiday falls on Monday 29 August.
Last updated: 5 April 2022
* Did you know you can save up to 40% on holiday prices? See our latest travel deals and enter your email address below to get updates every fortnight.