Holidays with teenagers in America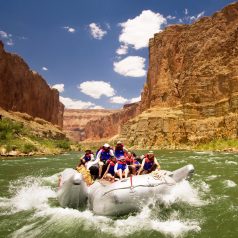 By Amanda Statham, Editor
Q.  We want to visit America in summer but we don't like heat or long car journeys. Where can we keep everyone happy?
We are a family of five – the kids are 17, 12 and 10 – so the last few years have been a bit tricky with the teenager – he measures up to all the stereotypes and more. I love cities and over the years we have been to Paris, Barcelona, Prague, Budapest, Amsterdam, Rome, Bruges, Antwerp and most successfully New York.
We've had a number of holiday parc experiences (or endurances) in France and more recently have stayed at villas in Mallorca. Our average spend on flights, car hire and accommodation is about £7,000.
We are looking at East Coast America. I love the beach but husband does not. We like self catering and a pool is a requirement.
A.
Florida is going to be hot, so you'd need a villa with a pool. I recommend CV Villas or Oliver's Travels. If you fancy a hotel in Florida, try Teletext Holidays.
You could combine the theme parks of Florida with a few days in New York City.
Alternatively, you could look west to this road trip in Utah and California. With a bigger budget, you could indulge in this fabulous Canyons and California trip with Scott Dunn.
If you're looking for quirky places to stay, check out this selection from i-escape. Or you could really up the "wow" factor in Alaska and Hawaii. Or if you like horses, how about a ranch holiday.
You could consider the beaches at Cape Cod or Rhode Island (the sea is chillier than Florida though).
For a bit of action (and car-free travel) cycle the Cape Cod Rail Trail, stopping off at sandy beaches and the occasional historic lighthouse. This combines well with Boston – a good point of entry for the holiday and an interesting city for families to explore – you can take a duck tour in an amphibious landing craft or go whale watching, and the city itself has lots of historic appeal.
I'd also recommend an excursion to Acadia National Park where you could sign up for a sea kayaking expedition which might be a good opportunity for your children to meet other kids (the two-person kayaks are also great for a bit of child-parent bonding, and your teen will hopefully be able to team up with someone of a similar age).