Holidays for large families: 3 kids or more, big age gaps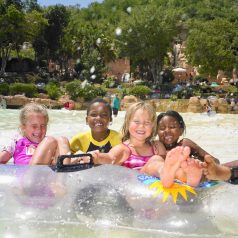 By Mark Frary, Travel Writer and dad of three
Families are a little like potatoes: they come in all shapes and sizes, some are old, some are new and some of them love to get covered in mud.
The world of travel often seems to forget this and it can be enormously frustrating to be faced with the words "No properties found" when searching for a hotel.
Happily, there are a number of holiday companies and hotels ways that embrace the spud-like nature of families, as we explain below. Follow the links below for prices and dates.
Families with three or more children
When you decide to have more than two children or you find yourself blessed with more babies than you expected, life changes. The world is designed for families with two children so things start getting tougher – you probably need to get a bigger car, the parents get outnumbered when deciding what to do as a family and it suddenly becomes much more difficult to find hotels.
What's the answer? A number of hotels offer dedicated family rooms or suites that cater for big families.
Sands Resort near Newquay is the perfect hotel for larger families and offers a number of accommodation options, including interconnecting rooms and apartment suites, for families of up to seven people. The hotel also has extensive leisure facilities, including swimming pools, a tennis court, crazy golf and a maze. The bodyboarding beaches of north Cornwall are a just a short distance away.
Jersey's family-friendly Merton Hotel has a different way of dealing with larger families. Right next door to the hotel it has a block of self-catering suites for the larger family but with the benefit of full service from the hotel. The Merton's Trinity Suite is actually three interconnecting suites that can sleep up to 12.
Self-catering is a popular option among larger families. If your brood is into biking and mountain biking, you could rent one of these cottages in the Brecon Beacons. Another great option is the Cotswolds.
i-escape.com has handpicked a stylish collection of family hideaways in rural France and they're great value, too. How about this eco-villa in the Ardèche which sleeps up to eight, or one of these four-bedroom houses on a working domaine in the Languedoc which share tennis courts, a huge infinity pool, spa and restaurant.
Sicily has some charming places to stay in the countryside, many part of the agriturismo scheme. See the full collection of accommodation.
Puglia's Borgo Egnazia, overlooking the Adriatic, consists of a traditional five-star hotel, a village of townhouses as well as 28 three-bedroom villas with their own private pools for larger families. For the very largest groups, these villas can be interconnected. The 49-acre grounds sit between ancient olive groves in the Valle d'Itria hills. See our guide to the best family hotel suites with private pools.
Another option for a larger family is to rent a large holiday home overseas. Oliver's Travel has chateaux in France and houses in Tuscany for example while Sitges Hills Villas has an impressive collection of properties overlooking the Med near Barcelona.
If you want a trip overseas but money is tight then look to France. Siblu has 17 luxury campsites with pools and entertainment facilities across the country and its mobile homes sleep up to eight people.
How about a family boating holiday in France? Rent one of these motor cruisers (they sleep up to 12 people; no experience required) and you can putter along canals and rivers exploring the beauty of rural France with time for cycling, swimming, walking, fishing and plenty of wine drinking. Locations include Brittany, Burgundy, the Loire Valley and the Canal du Midi.
Peak Retreats, meanwhile, offers summer and winter breaks in smaller resorts in the French Alps in apartments. Its focus on the lesser-known resorts means you get more bang for your buck (or should that be euro?).
In Florida, you could rent a house with private pool as a base to explore the theme parks and other attractions of Orlando.

Families with children of big age gaps
A lot of families follow the traditional model of having two children (40% of British families) but do not follow the traditional two-year gap between the two kids, either out of choice or because nature sometimes gets in the way.
Increasingly too, there are families made up of one or more divorced parents who may bring children of different ages to the new family.
This can be a challenge when organising a holiday as you have to think about how to keep the different age groups occupied.
Activity holidays can be a good answer to this problem. Mark Warner is a leader in activity breaks. At its resorts around the Med, there is childcare for different age groups ranging from two to 17 years as well as activities for everyone – splash pools, kayaking, SUP boarding, sailing and tennis.
Sani Asterias in Halkidiki has spacious bungalows around the resort which are great for family groups. For the age mix, there are football and sailing academies, art classes and even a beach babysitting service that is free for the first 30 minutes. There is plenty of entertainment in the evenings too, a must-have for mixed groups like this.
Other overseas options we like for larger families because of their villa accommodation include the Six Senses Zighy Bay in the wonderfully family-friendly country of Oman.
Extended families
When you travel with members of the wider family, grandparents, uncles and aunts, things can get complicated because of the very different activities that appeal to different generations.
Staying in a cottage is a great holiday for a multi-generational group. Everyone from the kids to great aunt Nora can chip in with the catering and a county like Devon means there is a huge amount of things to do on the doorstep, from trips to the British Riviera resorts and the sandy expanses of Woolacombe to walks on Exmoor and sites for animal-lovers including Paignton Zoo and Sidmouth Donkey Sanctuary. Helpful Holidays has the best selection of cottages in Devon.
Over the border in Cornwall, Classic Cottages has a huge range of properties; holiday ideas including surfing on the northern beaches, a trip to the Eden Project or the Lost Gardens of Heligan and walks along the craggy coastal paths and out to Land's End for the photo opportunity.
You could rent a family cottage on the Jurassic Coast of Dorset, where ITV's Broadchurch was filmed, and one of the UK's best spots for fossil hunting.
The Lake District has a similarly broad range of activities – messing about on boats, family hikes in some of the country's best scenery and interesting days out to places such as the Derwent Pencil Museum, the Puzzling Place and the World of Beatrix Potter. Sykes Cottages has a wide selection of places to stay locally.
A British stay with a family-friendly twist is available at some of the country's working farms from Scotland to the South West. Think animal petting, helping with the milking, great local food and stunning walks in the countryside and you get the idea.
You'll also find some wonderful cottages to rent in Norfolk and Northumberland whether you want to be close to a beach or tucked away in bucolic countryside.
A step up from the holiday cottage is the big party house, such as offered by the specialists at The Big Domain. Places like this are ideal for spending a big family birthday – granny's 70th with the extended family, for example.
If you don't need childcare, then Virgin Limited Edition's beautiful catered villas in an unspoiled part of Majorca are ideal.
If you prefer self-catering, GIC The Villa Collection has a portfolio of beautiful villas across the Greek islands including Kefalonia which is a great choice for families because it has direct flights and gently-shelving golden-sand beaches.
Oliver's Travels has some lovely houses in Croatia including many with a private pool – you can find them on the coast or within walking distance of local villages.
If Spain is more to your taste, try these from Vintage Travel in Catalunya or Mallorca or Galicia in the North.
Last updated: 8 April 2022
* Did you know you can save up to 40% on holiday prices? See our latest travel deals and enter your email address below to get updates every fortnight.