Recommended place to visit: Efteling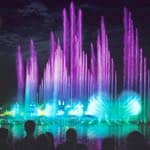 Efteling says
Efteling is Europe's third largest theme park. Surprised?
Suits all ages
Thrilling rides
great value
Located in the heart of Holland, our park is open 365 days a year with a distinct lack of concrete. Efteling is set in and around beautiful countryside.
Our rides and attractions are themed around fairy tales, dragons, ghosts, elves and trolls – but Efteling is not just for little ones.
From toddlers to young teens (and grown up kids), Efteling has a range of rides and attractions.
We have the world's only talking tree. The Fairytale Tree lives in the middle of the Fairytale Forest – it's a 13m-high tree whose branches and leaves flutter whilst it tells fairy stories to enthralled children. Little ones will also love the monorail, play areas, carousels and our steam train.
At the other end of the adrenalin scale, our attractions include wicked roller coasters, featuring a new dive coaster, water rides and an incredible bob sleigh ride amongst others.
There's live entertainment throughout the day. Aquanura, for example, is Europe's largest water show, with a daily performance featuring fountains, fire and lights set to a rousing musical backdrop.
To mark our 65th birthday in 2017, the brand new Symbolica: Palace of Fantasy attraction opened. Enjoy an audience with the King, be entertained by the court jester and travel through the palace's secret corridors and royal rooms in a unique Fantasy-craft.
On site, you will find the Efteling Hotel and Bosrijk Village which offer a self catering option, and group accommodation for 12-24 guests, ideal for multi-generational family breaks.
You'll be pleasantly surprised by the cost too. A family of four can stay at the Efteling Hotel (sharing a family room) with breakfast and two-day park entry from only £280.
There's a wide choice of restaurants and cafes from traditional Dutch pancakes to Thai cuisine – all reasonably priced with enticing children's menus.
Efteling Theme Park Resort is a great alternative to other European and UK theme parks – and it's just 30 minutes from Eindhoven, 45 minutes from Rotterdam and 75 minutes from Amsterdam.
Find out more about family breaks at Efteling.