Recommended company: Nicols Boating Holidays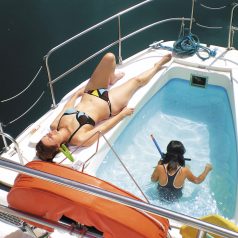 Nicols Boating Holidays says
A family boating holiday in France offers that perfect mix of relaxation – after all, moving at a slow pace is the only option – with a wealth of activities on tap, such as cycling, swimming, walking and fishing.
ideal for 3G families
modern boats throughout France
no experience needed
France's extensive network of canals and rivers runs throughout the country with unspoiled villages, glorious countryside and wildlife galore along the banks.
As specialists, we operate from 20 starting points in 12 regions of France including Brittany, Burgundy, Alsace, Aquitaine, Franche Comte, the Loire Valley and the renowned Canal du Midi and Camargue.
Our fleet of 500 sleek and comfortable boats – all built in our own boatyard to our specification – can accommodate up to 12 people. All have a large living area, spacious cabins (some en suite), a well-equipped kitchen, bedding and outdoor furniture. It's easy to move around on board too, making Nicols boats popular with all the family from grandparents to little ones.
You don't need any boating experience or a licence – our local team will show you the ropes (literally!) and everyone can help en route from steering to holding the mooring ropes and operating the lock gates. Armed with our helpful maps and notes, each day's itinerary is entirely up to you – lazy days anchored up somewhere that takes your fancy or stocking up with local goodies before setting off to explore more of your chosen river or canals.
You can opt to pay a little extra for one of our unique towable splash pools, filled with heated and filtered water – they are ideal for younger children especially. If you need to stay connected, you can also hire a device which gives you wifi on board (available from most of our bases).
In addition to our heartland of France, we also have bases in Germany, Portugal, Holland and, new for 2020, Hungary.
Find out more about our boating holidays in France and our latest special offers. You can also download or order a copy of our brochure – it contains details of our entire fleet and all the routes we offer.
Note: All the travel companies featured on this site are personally recommended by our editors. Companies pay us a flat annual fee, which funds the upkeep of our site, so we can keep it current and reliable. See more about how we work.
Copyright © 2022, 101 Holidays Ltd