Best post-GCSE holidays for teenagers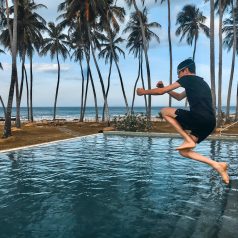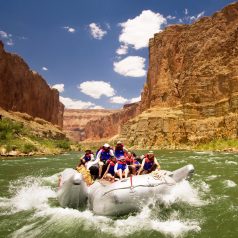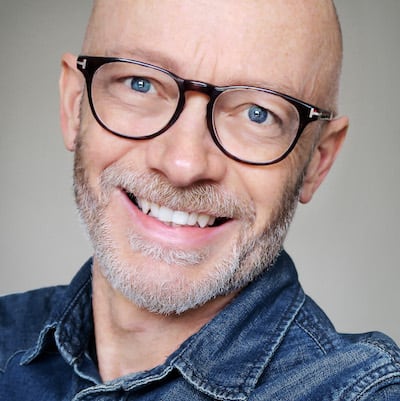 By Mark Hodson, Sunday Times Travel Writer
Exams are stressful and hard work. After months of revision and then weeks sitting GCSEs, your teenagers will have earned a holiday, but what, where and how? Should you let them travel with friends and, if so, where can they go? If you prefer to go on holiday as a family, what are the most suitable destinations and best deals?
If you want to travel together, start planning early. If you can, it's a smart idea to go away soon after the exams end, before the start of the school summer holidays in mid-July. You can save a lot of money travelling in June or early July, rather than August.
Perhaps some negotiation will be required. For example, attending the Reading and Leeds Festival in late August has become a rite of passage for post-GCSE students. You might decide to allow your teen to attend if they agree to accompany you first on a more conventional family holiday. Fair deal?
Teenagers travelling without parents
If you're thinking about letting your 16-year-old go away on holiday with friends, there are a number of factors to consider, and not just fears about drink, drugs and bad behaviour.
Many airlines – including BA, Easyjet and Ryanair – will allow 16-year-olds to fly unaccompanied, but a lot of holiday companies won't accept a booking unless one passenger is at least 18. Airbnb says: "It's against our Terms of Service for anyone under the age of 18 to create an account to travel or host". If a parent uses their account to book, they would be liable for the cost of damages, as well as breaking the terms.
UK holidays may be easier. Some camp sites will take bookings from a group of under-18s (others won't). And it's sometimes possible to find a friend with parents prepared to host in their holiday home, though it would be sensible first to have a discussion about house rules and who's going to pay for any breakages.
Boardmasters, the music and surfing festival in August near Newquay, Cornwall, is another huge draw for teenagers. Some parents would be happier with that than a fortnight of drink-fuelled carnage in Zante or Crete.
Family holidays in the Med
There are a number of destinations in the Med where British families with older teens like to holiday because their kids can hang out together in a relatively safe space. The north-east corner of Corfu, for example. It's a long way from the boisterous package resort of Kavos, but there's plenty for teens to do. These villas with private pool aren't cheap but they are gorgeous. Another example is the upmarket golf-and-tennis Vale do Lobo resort in Portugal.
A high-end all-inclusive resort will usually keep the whole family happy. Teenagers enjoy the freedom of coming and going within a safe and comfortable environment, while parents are spared the chores of shopping and cooking. For value, we recommend the IKOS Resorts group which has dine-around options in local restaurants, so you won't feel confined to quarters. Try IKOS Olivia on the Greek mainland, IKOS Aria on the island of Kos or IKOS Andalusía on the Costa del Sol.
The Italian island of Sardinia has superb white-sand beaches and a sophisticated charm. The best places to stay for families with teenagers include the laid-back Chia Laguna Resort and Forte Village Resort, which is ideal if your kids like sports.
Croatia is a good option, and you can rent some gorgeous villas. High-tech Casa Jarilo has mini-golf, a heated pool, billiards room and multi-purpose sports court, while Villa Pharia on the hip island of Hvar has steps directly into the sea.
Cyprus will be HOT and has some quirky places to stay including a stylish design hotel on the coast and these cheap self-catering suites in the countryside.
Catalonia is a great region for teenagers. There is Dalí's Theatre-Museum in Figueres, plus Barcelona with its beaches and buzzing nightlife. Check out these family villas in the hip resort of Sitges near Barcelona.
If you want something a bit more unusual, the coastline of Northern Spain is beautiful. It has wild beaches, great food and lots of activities including mountain biking and white-water rafting. It's good value and you can fly or take an overnight ferry. Book a family villa with pool.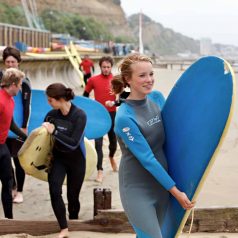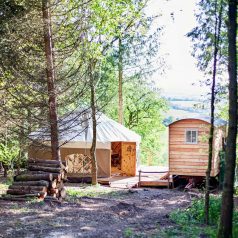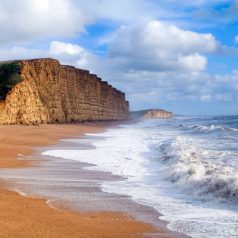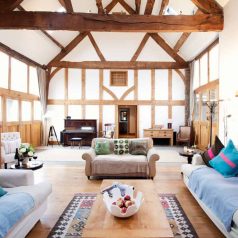 Teen-friendly holidays in the UK
Devon and Cornwall are the holiday hot spots for post-GCSE teens. It's hard to beat the glamour of the surf scene, whether or not your kids want to do battle with the waves, and you've got a good chance of sunshine and warm temperatures in late June and early July.
Renting a holiday cottage is the ideal solution, but think about transport. How near do you want to be to busy resorts with bars and nightlife? Are you happy for your teenagers to be out alone in the evening, and are you prepared to operate a late-night taxi service? (It's not easy to order an Uber in Newquay).
Try these cottages in Cornwall and these rentals in Devon. If you're heading to Devon, the most popular area for teenagers is the South Hams with lots of watersports and sailing.
You could rent a cottage in the Lake District particularly if your kids will join in outdoor activities. You can scale peaks, explore slate mines, go mountain biking in Grizedale Forest, and go kayaking and wakeboarding on the lakes.
If you want to team up with other families, you could rent a large house with different communal spaces for both adults and teens. Check out The Big Domain for options.
PGL (known as "Parents Get Lost") runs multi-activity summer camps in the UK for children up to the age of 17. The company also offers low-price family adventure breaks in the UK and France.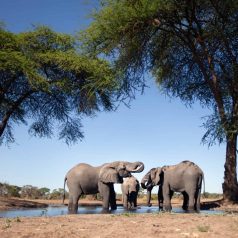 Adventure holidays for teens
This might be the time to plan a big, exciting long-haul adventure, not just as a post-exams treat, but also because it might be one of the last chances you get to travel together as a family. After A-levels, they might just want to do their own thing. Here are some of the best destinations to consider.
Sri Lanka ioffers cultural encounters, wildlife safaris, friendly people and great beaches. This teen-friendly Family Adventure includes a stay in an eco-resort in the jungle, safaris, jungle trekking, canoeing, white-water rafting and wild elephants.
India is packed with sensational experiences. This two-week Taj, Tigers and Beaches private tour includes watching the sun rise over the Taj Mahal, tiger tracking in Ranthambore National Park and washing and painting elephants in Jaipur.
Costa Rica offers rainforest, wildlife encounters and active volcanoes. Activities include zip lining, white-water rafting, canoeing, horse riding and surfing. This 10-day Costa Rica for Families trip is ideal for teenagers.
Iceland is only a three-hour flight away. In June and July you can experience the Midnight Sun, bathe in geothermal lagoons and go whale watching. Take an off-road trip in a 4WD Superjeep to experience waterfalls, bubbling mud pools and exploding geysers.
In Morocco, you can explore the souks of Marrakech, go surfing in Essaouira and go hiking in the beautiful Atlas Mountains.  
Borneo offers non-stop thrills with wildlife encounters, rainforest and white-sand beaches. You can meet orang-utans and stay in a tribal long house. This family adventure holiday hits the spot.
How about a safari in Africa? For the classic Big Five encounters, head to Kenya  and the Masai Mara. This Lakes and Landrovers private tour has everything you'd expect plus a visit to the flamingoes on Lake Naivasha.
If you prefer the idea of a self-drive safari holiday, head to South Africa. This 11-night trip to Kwa-Zulu Natal aims to teach teenagers about conservation and anti-poaching efforts, along with the thrills of Big Five game drives. Or take your pick of these a malaria free safaris.
South America is so packed with exciting experiences that it can be daunting. Don't try to do it all, just pick one country, such as Brazil, Argentina or Peru. Design your ideal trip with Dehouche, a local operator based in Brazil set up by British expats.
Another option in South America is the Galapagos Islands with its unique flora and fauna. This tour includes a cruise on a small expedition ship and the chance to swim amongst sea lion, turtle, dolphin and orca. Combine it will a trip to mainland Ecuador.
Last updated: 7 April 2022
* Did you know you can save up to 40% on holiday prices? See all the latest deals.We publish new deals most weeks and you can get them delivered to your inbox by entering your email address below.