Best holiday kids clubs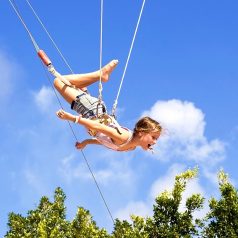 By Amanda Statham, Editor
Kids' clubs are like Marmite – you either love 'em, or loathe 'em. To some parents they represent the antithesis to what a family holiday should be all about (spending as much time with your children as possible during those precious couple of weeks holiday). To others, they provide much needed "me time" for relaxation and perhaps a spot of pampering.
Whatever your view, something that's often overlooked is that kids' clubs have come a long way since the days when hotels plonked a plastic slide or a sandpit in the garden and called it the "children's entertainment area".
Nowadays, kids' clubs buzz with imaginative activities, enthusiastic staff and stimulating play areas. Check out my recommendations, below, whether you've got a baby or toddler in need of a professionally-run crèche, school-age kids in search of non-stop action, or teenagers looking for cool places to hang out.
* Although this article is divided by age category, many properties and operators offer kids' clubs across a range of ages, from babies to teenagers.
Quick links
Babies and toddlers – Ages 4-12 – Teenagers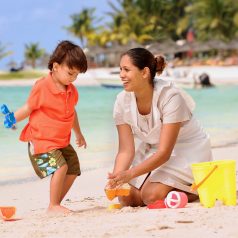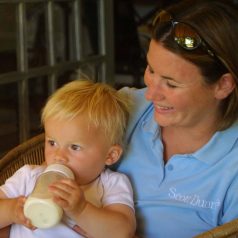 Best kids clubs for babies and toddlers
One of the best solutions is offered by Simpson Travel which has its own bespoke crèche and kids' activities at some of its villas and hotels in the Greek Islands and Mallorca. It's a wonderful solution: you can stay in a hotel, or in your own villa with a private, fenced pool and there's a crèche on site staffed by qualified English-speaking nannies. The Hatchlings Crèche caters to babies and toddlers aged 6 months up to 3 years. I especially recommend Mousses a family-friendly villa resort on the island of Lefkada.
P&O Cruises has great facilities on some of its ships, including an in-cabin baby listening service plus a night nursery for children aged six months to five years, open every day from 6pm – 2am. The best ships for families with babies and toddlers include Azura and Ventura, which has one of the best kids clubs afloat and a play area for under-twos. Find out more about family cruises and see the latest offers.
Also getting a gurgle of approval from nappy-bound travellers, Sani Resort on Greece's Halkidiki peninsula has a choice of five hotels and features Ofsted-standard crèches (from age four months), run by British childcare specialists. Also in Greece, the IKOS Olivia is a luxury family-friendly all-inclusive with a creche for ages four months to four years.
In the Caribbean, Beaches Resorts offers world-beating facilities, clubs and entertainment for young children, including interaction with Sesame Street characters. The beaches are sensational too. If you're looking for five-star luxury, the Carlisle Bay hotel in Antigua has a Cool Kids Club for all ages from babies to teenagers.
In the Maldives (yes, really), the chic NIYAMA Private Island has supervised care for children aged 12 months and over. See more family holidays in the Maldives.
Best kids clubs for 4-12 year-olds
Kids this age not only need to burn off energy, they also like to be challenged, both physically and intellectually.
Mark Warner splashes out on activities for this age group. At the new Phokaia Beach Resort in Turkey, it has childcare included in the price for ages 2-17. Children can enjoy watersports, tennis and a host of other activities, supervised by experienced waterfront staff and tennis coaches.
Simpson Travel's bespoke kids clubs offer lots of entertainment and outdoor activities for children aged 4-11.
Sporty families should also consider Forte Village on the pristine Italian island of Sardinia. On the same island, the Chia Laguna Resort is a huge hit with Italian families for its exciting range of activities and experiences. There are four good-value hotels to choose from, along with nine restaurants, eight bars and five pools, four kids clubs for different ages and a dedicated children's restaurant.
The five-star Verdura Golf & Spa Resort in Sicily is part of the exclusive Rocco Forte collection. It has a free kids club for ages 4-12 along with a two-tier swimming pool, tennis academy, Juventus Camp football academy, bike hire and golf.
Tenerife's five-star Abama Golf & Spa Resort boasts one of the largest kids club in Europe with zones dedicated to science, astronomy, crafts and gardening.
If Mum and Dad still hanker after the days of clubbing and chill-out lounges, head to the stylish Nobu Ibiza Bay Hotel, which has a kids club for ages 4 – 14 with activities ranging from cooking to DJ workshops
In Dubai, the One and Only Royal Mirage The Palace has great facilities for kids including a play centre and a free programme for ages 4 to 11 years. Atlantis, The Palm has its own Aquaventure Waterpark, an open-air aquarium and kids clubs for ages 3-12 and 13-18 years.
Neighbouring Oman is rich in natural beauty with adventure, culture and some great family hotels including the Shangri-La Al Bandar which has an Adventure Zone for ages 4 to 17.
Beachcomber Tours offers a choice of four all-inclusive hotels on Mauritius, each with a complimentary Bob Marlin Mini Club for ages 3-12.
Closer to home, Siblu Villages has free kids clubs at its holiday parks in Normandy and Brittany, The Languedoc, the Loire Valley, Charente Maritime and Aquitaine. The Pirate Club, for 5-9-year-olds, inspires teamwork through arts and crafts, treasure hunts, water fights and sports.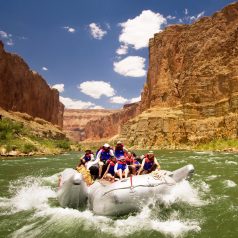 Best kids clubs for teenagers
In the Caribbean, Rosewood Little Dix Bay has great activities for teenagers, plus a superb club for young kids and a weekly Pirates Party. Find more family options in the British Virgin Islands.
Beaches Resorts have gone all out to cater to teens with facilities including an XBOX Play Lounge and Club Liquid nightclub.
Last updated: 15 February 2022
* Did you know you can save up to 40% on holiday prices? See our latest travel deals and enter your email address below to get updates every fortnight.