The best family holidays in Spain
By Amanda Statham, Editor
For many families, Spain is a no-brainer when it comes to choosing a holiday. Not only does it boast stunning beaches and almost guaranteed sunshine, but it's also fun, friendly, great value and straightforward to reach, thanks to the plethora of low-cost flights from the UK.
You can avoid the crowded Costas and rowdier resorts by combining quieter stretches of coast with adventure activities in the mountains of the Pyrenees, Sierra Nevada or Picos de Europa. Or you could travel off-season to year-round destinations like the Canary Islands. With careful planning, Spanish cities like Barcelona and Seville make rewarding short-break destinations for families, while the cultural and wildlife hotspots of Andalucia combine well with beach time on the Costa del Sol.
Quick links
Catalonia – Andalucia – Balearic Islands – Northern Spain – City breaks – Adventure – Canaries
Family holidays in Catalonia
From the orchid-speckled meadows of the Pyrenees to the buzzing streets of Barcelona – and all those sun-drenched beaches in between – Catalonia has something for all ages, whether you have 10-year-olds in search of mountain adventure, teenagers looking for city chic or toddlers content with sand and sea.
In the Spanish Pyrenees, the Parc Nacional d'Aigüestortes is a real beauty – soaring peaks reflected in placid lakes and loads of opportunities for mountain adventures, such as hiking, biking and rafting. Roads unravel from the mountains to an equally dramatic coastline – the Costa Brava – crinkle-cut with rocky coves and pine-fringed bays.
Vintage Travel has a wonderful selection of family villas all within an hour's drive of Girona Airport, or two hours from Barcelona. Each property has its own swimming pool and many are just a short stroll from unspoilt hidden coves and child-friendly sandy beaches.
Or head to the chic beach resort of Sitges close to Barcelona where you'll find cobbled streets, art galleries, historic buildings and great restaurants. Check out these family villas.
Els Pins is a stunner. Located on a wooded hillside above the fishing village of Tamariu, the four-bedroom villa has a gated and heated pool and is only 400m from a sandy cove.
Family holidays in Andalucia
Like Catalonia and Cantabria, Andalucia offers far more than simply a 'crash out on the Costas' style family holiday. As well as the lofty Sierra Nevada, other beach-free highlights include the exquisite Alhambra, the clifftop 'white town' of Ronda, the wildlife-rich wetlands of the Coto Donana and the mighty Gothic cathedral, flamenco dancing and tapas in Seville.
Don't miss the Moorish palace of Alhambra in Granada. Kids will want to make a beeline for the rugged 13th-century Alcazaba fortress at the western end of the complex where they can climb the Torre de la Vela for epic views of the Sierra Nevada. However, try to steer them towards other, subtler highlights such as the Salón de Embajadores, a sumptuously decorated throne room, and the Patio de Arrayanes, a peaceful courtyard with a long rectangular pool reflecting the graceful arches of surrounding arcades.
If you want a good-value high-quality all-inclusive resort, try the recently-opened IKOS Andalusia on the Costa del Sol. If you prefer self-catering, rent a villa with private pool.
Family holidays in the Balearic Islands
Once you cast your net beyond the mainland, deciding where to go on a family holiday in Spain suddenly gets a whole lot harder. The Balearic Islands have something for everyone – from action-packed resorts on Mallorca to stylish Ibiza and the quieter, beaches on Menorca and Formentera. Whichever island you opt for, however, children will find no shortage of activities – both on and off the beach – while accommodation ranges from plush villas and rustic farmhouses to lively resorts with waterparks.
If you want childcare, check out Simpson Travel's bespoke crèche and kids' activities  in Mallorca, catering to children aged 6 months up to 11 years old. There's also the option of a private nanny service.
If you yearn for the cool chic of Ibiza, head to the Nobu Ibiza Bay Hotel, a stylish new hotel just outside Ibiza Town which is aimed squarely at families. It has a kids club for ages 4 – 14 with activities ranging from cooking to DJ workshops.
If you want to be far from the action, head to the five-star all-suite 7Pines Resort Ibiza which welcomes children but also has a world-class spa.
Vintage Travel has a handpicked portfolio of private villas in Mallorca – all with private pools and dreamy locations in the more tranquil, picturesque corners of the island. Sleeping up to ten people Sa Marina is only a ten-minute drive from the cove-dimpled resort of Cala d'Or and within walking distance of two stunning beaches. Sitting pretty in nearly nine acres, the villa boasts a large swimming pool, table tennis and five en suite bedrooms.
Another property with 'wow' factor, Les Roques de C'an Guixe has five bedrooms and sits between the medieval towns of Pollença and Alcúdia, with a glorious backdrop of the Tramuntana mountains. Also see Oliver's Travels villas in Mallorca.
If you're looking for luxury, you must see Sir Richard Branson's Son Bunyola estate in Mallorca where just a small handful of villas are set in 680 acres of unspoilt countryside. As well as paying for splendid isolation, you also get a private chef and concierge service.
Family holidays in Northern Spain
It might struggle to rival the heat and sunshine of the Mediterranean Costas, but the Atlantic coast of Galicia oozes family-holiday appeal with its golden-sand beaches, a spectacular mountainous hinterland, pretty fishing villages and local markets.
With low cost flights and overnight ferries to Santander it's easy to reach and you'll find a great collection of family villas with private pool.
There are also caves to be explored – many with prehistoric paintings. The most famous are the Cuevas de Altamira where images of bison, deer and horses were sketched on the walls some 14,000 years ago. You can also see animal drawings and hand prints at the Cuevas del Castillo – home to cave dwellers from as early as 130,000 years ago.
Your own des-res in Northern Spain is likely to have a few more creature comforts. Vintage Travel offers a range of villas in the region, each with a private pool.
City breaks in Spain
The inspirational Kids Collection from i-escape also features fabulous places to stay in towns and cities throughout Spain. With panoramic views across Barcelona, Gran Hotel La Florida has an amazing L-shaped indoor-outdoor pool and superb dining (for both kids and adults). It's also near the theme park on Tibidabo Hill. The super-luxurious Casa Capella is more centrally located and features all mod cons in an architect-designed, contemporary apartment.
There's plenty to keep families busy in Barcelona for several days. Take a stroll along La Rambla with its colourful pavement mosaics, cafés and street artists; visit Port Vell, which has an excellent aquarium, IMAX cinema and even a submarine. Boat trips are available, while sandy beaches can be found at both Port Vell and Port Olímpic. A combo of funicular and cablecar on Montjuïc Hill leads to Castell de Montjuïc with its military museum, while Parc Güell showcases the colourful imagination of Gaudí with its weird and wonderful pavilions, benches and archways.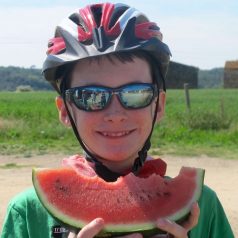 Family adventure holidays
If you want to get away from it all, Inntravel has a range of family cycling holidays, including a seven-night itinerary on the Catalan coast, following easy trails to a succession of sandy beaches and staying each night in a family-friendly hotel with a pool. Your luggage is transported each day to your next hotel.
The Canary Islands
From waterparks and whale watching to riding camels and climbing volcanoes, there's never a dull moment in the Canaries. Nor is there anywhere better in Europe to plan a winter beach escape with the kids.
There's some exceptional family-friendly accommodation in the islands. Highly recommended from Tots Too, the Princesa Yaiza Suite Hotel Resort in Lanzarote presides over the white sand beaches of Playa Blanca and offers a choice of suites, including Kiko Royal Family Suites, with two bedrooms, PlayStation and a couple of hours of free babysitting each day. Kids' clubs for babies up to 16-year-olds host activities such as treasure hunts, five-a-side football, theatre performances and discos. There's a gorgeous pool, spa and choice of themed restaurants – not forgetting the ice cream parlour.
Equally desirable, The Ritz-Carlton, Abama offers family-friendly, five-star luxury on Tenerife's unspoilt west coast. The rooms, family suites and villas have large balconies, marble bathrooms and stunning views of the ocean, pools or golf course. Kids will quickly discover the unlimited sweet treats and drinks at reception. The children's cinema nights on the beach are also a highlight, while childcare includes the superb Abama Kids Club – the largest in Europe with zones covering everything from science and astronomy to crafts, gardening and cookery.
In Tenerife  Activities Abroad offers a range of multi-activity holidays with white-water rafting, canyoning, mountain biking and kayaking.
Last updated: 18 March 2022
* Did you know you can save up to 40% on holiday prices? See our latest travel deals and enter your email address below to get updates every fortnight.