Best family adventure holidays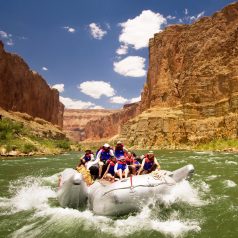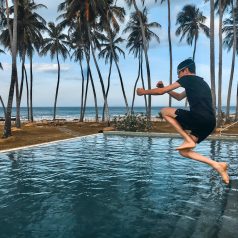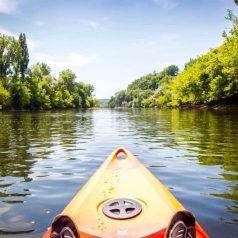 By Amanda Statham, Editor
There's never been a better time to take your kids on a family adventure. The world has become an enormous adventure playground where children can sample tamed-down versions of all the things that got their parents whooping it up as backpackers 10 or 20 years earlier.
Several tour operators now have dedicated family adventure programmes, which not only offer a bewildering range of destinations and experiences, but also peace of mind for parents, thanks to their expert knowledge, rigorous safety standards and highly experienced guides.
Whether you fancy taking your tribe trekking in the Atlas Mountains, horse riding in the Canadian Rockies or Komodo dragon spotting in Indonesia, you'll find that a family adventure holiday is not only exciting, but also hugely educational.
Quick links
Europe – Africa – Asia – Americas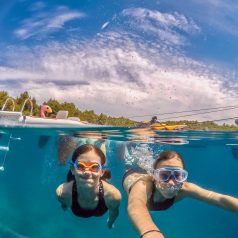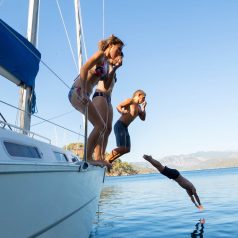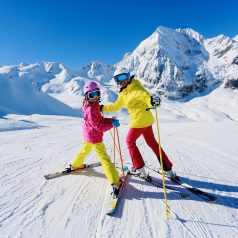 Family adventures in Europe
Don't worry if your idea of adventure doesn't extend to a long-haul flight with children. There are plenty of family adventures to be had in Europe.
One of the most exciting adventure destinations in Europe is Iceland (a 3.5-hour flight from London). More 'back of beyond' than 'back to the beach', the Land of Ice and Fire is Europe's ultimate adventure playground, where you can go whale watching one day and ride snowmobiles across an ice cap the next. It's ideal for self-drive – making it particularly appealing to independent-minded families – and it can also be visited year-round. Regent Holidays has a range of fly-drive options. Go in winter and you can also see the incredible Northern Lights.
In Sweden, Norway and Lapland you can experience 24-hour daylight during mid-summer – happy days for kids who like fishing, kayaking, hiking and getting away with later bedtimes. How about this Active Fjord Adventure in Norway, exploring mountains and fjords on kayaks, boats and cycles.
On this Summer Adventure in Swedish Lapland you'll stay on a remote island archipelago, learning wilderness skills, kayaking and dining on local ingredients.
Nip across to France and you could spend a week of the summer holidays hiking, biking and glacier skiing in the Alps. Peak Retreats features some 35 adventure-packed resorts with a great range of activities and summer skiing.
For a winter wonderland experience, try one of these family holidays in the snow in Austria or Norway with the chance to try ice skating, fat-biking, dog sledding and snowshoeing.
How about a themed adventure in Europe? Inntravel has some wonderful self-guided family cycling holidays – its most popular destinations are Mallorca and Catalonia where you'll explore quiet back roads, discover secret beaches and stay at charming country hotels with pools.
Don't forget you can have an adventure without doing very much at all. Exploring the beautiful coastline of Turkey or Greece on a traditional sailing gulet, occasionally venturing ashore to visit an archaeological site or flopping overboard to snorkel in a hidden cove, is perfect for families in search of a relaxed week or two on a sailing holiday laced with a sense of discovery.
* For more ideas, see our guide to the best family activity holidays. And this selection of unusual family holidays.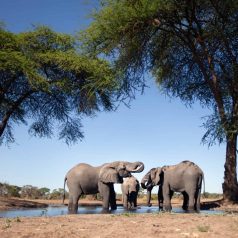 Family adventures in Africa
For sheer diversity of adventures, South Africa is hard to beat for families. It offers everything from malaria free safaris to superb self-drive routes linking breathtaking coastlines and vast swathes of wilderness. You can squeeze Cape Town and the Eastern Cape into a half-term week. It works for February, May and October.
Rainbow Tours recommends this 11-night Kwa-Zulu Natal family holiday which not only includes Big Five game drives, but the chance to learn about conservation efforts and anti-poaching methods. Mahlatini has options in the Eastern Cape and north of Johannesburg at game reserves including Madikwe and Pilanesberg.
Although you need to take precautions against malaria, Kenya and Tanzania make excellent family adventure destinations. That's largely down to the irresistible bush and beach combo on offer in both countries – spend a few days on safari in iconic reserves like the Masai Mara or Serengeti, then head to the Indian Ocean coast for snorkelling, diving and other watersports. I recommend this 13-day Kenya and Mauritius safari and beach combination.
If you want a family trip that's big on adventure, but only feel like dipping a toe outside the 'comfort zone' of Europe, then Morocco is an excellent choice. Cross the Straits of Gibraltar and you will find yourself transported into a world of exotic new sights, sounds, smells and tastes. The souks of Marrakech may well leave you reeling, but Morocco has plenty of other less frantic highlights – from family-friendly trekking in the Atlas Mountains to surfing on the Atlantic coast. This family favourite  combines all three.
Family adventures in Asia
With its crowded cities, chaotic transport systems, feisty cuisine and encounters with abject poverty, Asia can send even the most hardened traveller reeling. So why even consider taking your children there?
There's no denying that Asia is a master of the cultural body blow, but it also has modern, sophisticated cities like Tokyo, Hong Kong, Dubai, Abu Dhabi and Singapore; there are fabulous tropical island resorts in Thailand and Malaysia, and everywhere you go you'll usually experience a spontaneous warmth and affection from locals – particularly if you're travelling with children.
Ultimately, though, Asia makes a wonderful family adventure destination for one simple reason: your kids will never forget it. Whether it's trying to outstare a terracotta warrior in China or meeting the smouldering gaze of a tigress in India; from trekking in the foothills of the Himalayas and riding elephants in Thailand to exploring caves in Borneo and riding a ferry beneath Hong Kong's skyscrapers, Asia makes big impressions on little travellers.
In Thailand, I recommend this Southern Beach and Jungle Adventure, which features elephant encounters, jungle treks and canoeing and includes stays at luxury family-friendly island resorts on the islands. It's excitement all the way on this Northern Thailand private tour with cycling, hill tribe encounters, rafting on the Mae Taeng River and a hot air balloon ride. See more family holidays in Thailand and the latest offers.
Sri Lanka is great value and you can get a lot out of this compact island in two weeks. You'll find  superb beaches, elephant encounters, whale watching and exciting activities such as white water rafting. This Family Adventure includes a stay in a jungle eco-resort, safaris, jungle trekking, canoeing, rafting and a chance to witness the gathering of elephants at Minneriya.
Cox & Kings has a range of private family adventures in India including the 12-day Taj, Tigers and Beaches and this amazing Kerala Family Adventure.
Japan is a mind-bogglingly exciting destination from its futuristic cityscapes to Samurai castles and geisha girls. Explore the hip districts of Tokyo, discover manga art and anime cartoons, ride the bullet train and eat strange food at hidden high-rise cafes. Take your pick of these family holidays in Japan.
Like many countries in Asia, Vietnam has that winning family-friendly combination of adventure and beaches. The journey from Hanoi to Ho Chi Minh by road is not only a classic adventure, but you can stop en route to enjoy Hoi An's coast and sandwich the easy-going journey with a boat trip on Halong Bay in the north and a visit to the floating markets of the Mekong Delta in the south. There are also wildlife encounters to be had at the turtle and primate conservation centres at Cuc Phuong or Cat Tien National Park where you can stay in luxury safari tents. Selective Asia can tailor-make family adventures in Vietnam, providing an experienced guide as well as a private driver and vehicle.
Indonesia is another incredibly diverse destination in Asia for an adventure holiday. In Borneo you can combine wildlife, rainforest, tribal culture, hiking and beaches. You can search for wild orang utans on the Sukau river, cycle around the Lipad 'mud volcano' and ride the world's longest inter-island zip wire on this Borneo family adventure.
If you want a shorter flight – just six hours – consider Oman in the Arabian Gulf. It's a superb winter destination with stunning hotels, but the main attraction is the rugged beauty of the countryside, with desert dunes, mountains, dry river beds and pristine beaches. Best places to stay include the Shangri-La Al Bandar and the Al Bandar.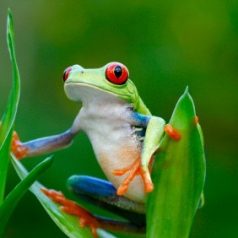 Family adventures in South and Central America
Latin America is ripe for adventure – the opportunities are almost endless. Saddle up for some gentle horse riding from a hacienda in Argentina or Ecuador; experience the jungles of Costa Rica from the comfort of an ecolodge, or snorkel with sea lions in the Galapagos Islands straight from the deck of your expedition cruise ship. Kids can delve into the ruins of ancient civilisations and experience the vibrant cultures of the Andes and Amazon. For something more challenging, join a trek or mountain biking trip in Patagonia or the Sacred Valley of Peru; go sea kayaking in Baja California or plan a full-blown Amazon adventure, staying in a jungle lodge and exploring the rainforest on foot and by dugout canoe.
Brazil is vast – and it's not all jungle. The coastline has some idyllic beaches, plus there's the water wonderland of the wildlife-rich Pantanal and the mesmerizing cataracts of Iguacu Falls. Dehouche focuses on the Costa Verde and Pantanal in its family itinerary. After a few days at the coast (enjoying activities like jungle treks, boat trips and sea kayaking), you fly to the Pantanal for a stay at a working cattle ranch – an exciting base for safaris into the wetlands by jeep, horseback and boat. As well as spotting caiman, capybara and the elusive jaguar, kids can go piranha fishing or try some cattle herding.
In Ecuador, this Discover Galapagos tour is the most popular with families. It begins in Guayaquil, Ecuador's largest city, where you can relax and visit Las Iguanas Park, before a short flight to board the Galapagos Legend, a boutique expedition ship. Among the trips many highlights: you'll get the chance to swim with sea lion, turtle, dolphin and orca, see marine iguana, greater flamingo, Galapagos penguins and giant tortoise.
Costa Rica has not only established itself as one of the world's leading ecotourism destinations, but it is also developing a reputation for superb family adventures. It's relatively compact, but squeezes in a fabulous range of environments – from volcanoes and cloud forests to mangroves swamps and tropical beaches. There's a good range of high quality accommodation to choose from, plus an adrenaline-charged cocktail of adventure activities. One day you could be flying through the rainforest canopy on a zip wire or plunging through rapids on an inflatable raft; the next you could be horse riding, canoeing, mountain biking or searching for nesting sea turtles. This Costa Rica for Families trip hits all the right spots.
If your children have always wondered what Paddington Bear's home was like, Peru should be a real eye-opener for them.
Latin America specialists Dehouche can customise a holiday to suit your family's interests – whether you're keen to take on the challenge of a guided trek to Machu Picchu, visit the floating reed islands of Lake Titicaca, watch condors soaring through the rugged maw of the Colca Canyon or ride bikes through the Sacred Valley.
Last updated: 7 April 2022
* Did you know you can save up to 40% on holiday prices? See all the latest deals.We publish new deals most weeks and you can get them delivered to your inbox by entering your email address below.