Active holiday with a baby and toddler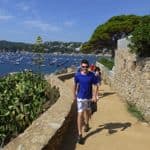 By Amanda Statham, Editor
Q. Where can we go for an active cultural holiday with two young children?
Since having children we have struggled to satisfy my husband's travel bug. A resort holiday is his idea of a nightmare but at the same time we need to take into account our children's needs, and I don't want to make life too difficult!
We want to go away in late June and have a 17-night window in which to go. We have two children (a girl aged 3 and a boy who will be 7 months). Where do you recommend that will be active and include cultural experiences? Our budget is £4,000.
A. Stay in a villa in Northern Spain or Southern Italy. Or go cycling in the Loire Valley
A villa always works well with kids of that age range – you can make it home-from-home, maintain your children's sleeping routines and make meals when it suits you (or head out somewhere local). Your budget might be stretched if you want to fill all 17 days, but there should be plenty to choose from for a two-week holiday – particularly as you plan to go outside the school holidays when prices are lower.
That takes care of your husband's aversion to resorts, but where to go for that mix of 'active' and 'culture' that's suitable for children aged 3 and 7 months and also satisfies an adult travel bug? My top picks are:
Northern Spain: you could take the overnight ferry (a mini adventure with the potential for whale and dolphin watching along the way), and base yourself on the coast, close to sandy beaches but within range of the Picos de Europa for some gentle walks and cable car rides. A hire car will enable you to tour some of the region's family-friendly highlights, from caves to cathedrals. Stay in one of these family villas with pool.
Puglia: lots of cultural highlights in the heel of Italy (perfect for some gentle touring) and you could stay in a fairytale trullo – one of the traditional, conical-roofed dwellings found in the region. Not blistering hot in June either, which will suit your littl'uns. Pick a property with a pool as the beaches aren't the best in the Med. I recommend the Kalidria Thalasso & Spa Resort a good option for families with younger children. It has excellent babysitting and a fabulous spa for mums who want some pampering.
The Loire: feeling energetic? Why not hook up kids trailers to some bikes and tackle part of the Loire a Velo, a network of cycling tracks weaving through gently undulating chateau country. Several operators can kit you out with bikes, provide route maps and picnics and transport your luggage ahead of you to a succession of comfortable hotels. Your 3-year-old girl will think she's found Sleeping Beauty's castle when you reach Chateau d'Usse.
Other thoughts…
101 Holidays editor David Wickers adds: "I would suggest the Amalfi coast because the hotels are very child friendly, have decent pools for down time and there's lots of cultural interest including Pompeii and Herculaneum. Try Citalia. If you don't want a hotel, you could stay at a villa or apartment on the coast with CV Travel."