David Wickers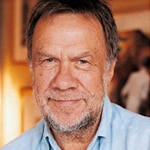 David is editor and co-founder of 101 Holidays. According to The Sunday Times, where he was Chief Travel Correspondent for 17 years, he is "the most respected and knowledgeable travel writer in the UK". On three occasions he was voted Travel Writer of the Year, and in 2009 he received the Award for Outstanding Contribution at the Travel Press Awards in London.
David's passion for travel has spilled into magazines, guide books and tour operating. As well as writing extensively, he is co-founder of the long-haul specialist, Bridge & Wickers, and Travel Editor of Good Housekeeping.
Before turning to travel, David wrote children's books and comedy scripts for TV. He is now married with three children and his favourite destinations include Italy, Greece, the Seychelles, Kenya, New York, Canada, New England, the Caribbean and Australasia.