Recommended tour operator: Regent Holidays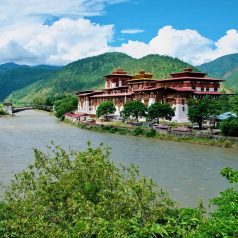 Regent Holidays says
The tiny mountain Kingdom of Bhutan is roughly the size of Switzerland but what it may lack in size it more than makes up for with its unique culture, spectacular scenic beauty and refreshing approach to life. This is the country that measures its success on a scale of Gross National Happiness and, to quote our Bhutan specialist, Stefanie Studley: "Bhutan packs a big punch in terms of travel experiences."
Unique culture
Emerging destination
Private & group tours
Tourism is growing but admirably slowly to ensure the best possible visitor experience and minimum impact on the environment and way of life. New hotels have opened, some offering world-class levels of luxury but all with an authentic feel for Bhutan and its culture.
Explore and soak it all up on a tailor-made private holiday or join our escorted small group tour, which takes place in October each year.
A private journey gives you the freedom to set your own pace and our Bhutan expert will create an exclusive itinerary for you which precisely matches your interests. There's a wide choice of places to stay, to suit most tastes and budgets. We've created some suggestions to inspire you.
Highlights of Bhutan is a 14-day trip that starts in Kathmandu and includes visits to all of Bhutan's most iconic sites including the Tiger's Nest Monastery and rarely-visited Haa Valley.
For a more in-depth exploration, Bhutan from West to East is a 19-day journey. It offers real insights into rural life – from forested valleys to traditional farmsteads, impressive dzongs to a remote corner of the Himalayas.
With so many remote areas, Bhutan is best explored on foot – holidays such as our Grand Walking Tour are particularly popular amongst those who want to really get under the skin of the country. You will need to be reasonably fit.
If a small group tour is your preference, find out more about or Bhutan In Depth tour, departing in October.  Timed to coincide with two spectacular annual tsechus (festivals), it's a fascinating insight in to Bhutanese cultural heritage and way of life in the 21st century.
The best time to travel to Bhutan is between September and May.
Find out more about our holidays in Bhutan.
Note: All the travel companies featured on this site are personally recommended by our editors. Companies pay us a flat annual fee, which funds the upkeep of our site, so we can keep it current and reliable. See more about how we work.
Copyright © 2022, 101 Holidays Ltd