Best time to visit Venice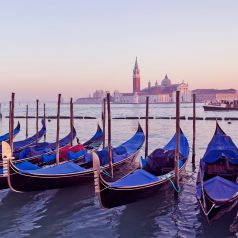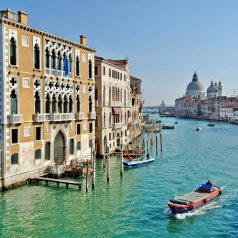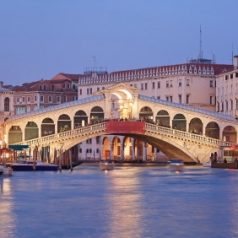 By Ian Packham
Built across more than 100 islands, Venice is one of the world's most iconic cities. It can be overcrowded, it can be expensive, it can be too hot or too wet – but it never disappoints.
Easily reached by air or rail – including the luxurious Venice Simplon-Orient-Express – it lies close to the Alps on northern Italy's Adriatic coast.
There is no obvious best time to visit Venice. Spring and summer enjoy the best of the weather, though the city can be uncomfortable when temperatures soar. Winter can be especially beautiful, with the chance of crisp temperatures and clear skies combined with few tourists.
Festivals – both religious and cultural – are scattered across the calendar, making this a genuinely year-round destination.
Tourist numbers peak in spring and early summer, which can mean extended queuing times at the city's most popular sights. Temperatures range between 17-20°C in May and June, peaking in the low twenties.
The weather can be unpredictable at this time of year. You can expect an average 12 hours of sunshine a day, but up to 11 days a month affected by rain. Rainfall is fairly constant throughout the year, though May and June are notorious for showers.
Tourist numbers and hotel prices drop in July and August, at least until the annual Venice Film Festival beings in late August or early September. It's hot and sticky at this time of year, with peaks of 28°C. Mosquitoes can also become bothersome, and the canals a little smelly. The chance of rainfall drops slightly to nine days a month, while sunshine remains steady at 12 hours a day.
July is also the time of the Redentore festival, which ends with a massive fireworks display and the creation of a bridge of boats across Guidecca Canal.
Both summer and autumn span the Biennale festivals, of art (in odd years) and architecture (in even years), which last between June and November. The weather towards autumn sees temperatures drop from 20°C in September to 14°C in October, peaking at 18°C. Rainfall remains unchanged from the late summer, while sunshine dips to an average seven hours daily. However, between October and January there is an increased risk of street flooding, since it is the time of acqua alta – higher sea levels.
Winter continues to offer sunny days, though winds coming from the Alps can be harsh. Temperatures between December and February average 5°C, and peak only a couple of degrees higher. The amount of rainfall actually falls compared to the other seasons of the year, averaging eight days of rainfall per month. More importantly, sunshine drops to three hours a day.
Winter ends on a high, with Venice's annual Carnivale, the city's biggest festival. Taking place in February or early March, it is the city's mardi gras celebration before the start of Lent. Tourists and locals alike enjoy 10 days of masked balls and costumed revelry. Easter, 40 days later, is also a festive time and the beginning of the tourist high season and spring's improved temperatures.
Unique in construction and hosting world-renowned sights, Venice has plenty to offer visitors, while the city's annual festivals provide a reason to visit at almost any time of year.
Last updated: 23 June 2020
Find out more about our recommended short breaks and honeymoons in Venice.
View Larger Map