Best time to visit Tunisia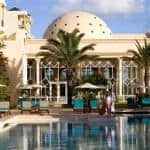 By Ian Packham
The Foreign Office has no warnings against visits to the main tourist areas of Tunisia. However, a state of emergency was imposed in November 2015 and is still in force. A terrorist attack in Sousse in June 2015 targeted tourists and, while security in cities and tourist resorts, has been greatly improved, the UK government says: "terrorists are still very likely to try to carry out attacks in Tunisia, including against UK and Western interests … you should be vigilant at all times, including around religious sites and festivals."
This means that tour operators can still operate to Tunisia, and you will be covered by your travel insurance. Please see the latest Foreign Office travel advice.
About Tunisia
The smallest country in North Africa, but with 800 miles of Mediterranean coastline, Tunisia offers visitors a wealth of experiences. In the north, Tunis – the country's cosmopolitan capital – is only a short distance from ancient Carthage and beach resorts, while the far south is home to the majestic Sahara Desert.
The north
Tunisia's north enjoys a typical Mediterranean climate with hot dry summers and mild winters. Alongside the 12 hours of sunshine each day during July and August come temperatures that reach 35°C. These temperatures can become debilitating for exploring Tunis or the Roman amphitheatre at El Djem (also spelt El Jem), and even for soaking up the sun in the resorts of Port El Kantaoui, Hammamet and Skanes. The summer months are also the tourist high season, seeing a rise in prices as well as visitor numbers.
A better time to visit Tunisia's north is spring or autumn. Between April and June the countryside is covered in beautiful wildflowers. Temperatures average 16°C in April in destinations including Sousse, with peaks of 21°C. Temperatures rise steadily to an average of 23°C in June, reaching a high of 29°C. Throughout these months the north enjoys 11 hours of sunshine, while rainfall is limited to an average of seven days each month.
The autumn months of September and October offer cooler temperatures after the heat of summer, with averages of 23°C and 10 hours of sunshine. The winter months (lasting from November to March) see temperatures average 12°C and drop no lower than 10°C. Levels of sunshine average seven hours a day, with rainy days limited to 13 per month at their height between November and January.
The south
Destinations including Gabès, Matmata, and the island of Djerba (or Jerba) have a similar, but warmer climate to the north. Temperatures on Djerba average 18°C in April, two degrees warmer than Tunis. By June temperatures average 24°C, while in July and August they peak at over 40°C, before dropping to a mild 15°C during the winter months.
The wettest months in this region are May to August, with an average of 10 rainy days. On either side of these months the chance of rain drops by half. The region enjoys around 10 hours of sunshine a day throughout the year, seeing a slight drop to nine hours during August and September. The best months for sunshine are April and May, which receive 12 hours on average each day.
The Sahara
Destinations in Tunisia's deep south – including the Sahara Desert around Douz and Tozeur – should also be avoided during the summer months. Between June and September temperatures vary little, with averages ranging from 29-32°C. However, temperatures regularly peak closer to 40°C.
Though the temperature remains fairly constant in the Sahara region between October and March, the sandstorms that develop from January mean the region is best visited between October and December. Temperatures at these times range from a high of 23°C in October, to 12°C in December and January (before rising again to reach 17°C in March). Levels of sunshine average 10 hours a day throughout the period, and there is little risk of rain, averaging only three days each month.
Tunisia provides visitors with a rich mix of cultures and natural environments, as well as the chance to relax on beaches, less than three hours by air from the UK.
* Did you know you can save up to 40% on holiday prices? See all the latest deals.We publish new deals most weeks and you can get them delivered to your inbox by entering your email address below.
Last updated: 28 September 2018