Best time to visit the Seychelles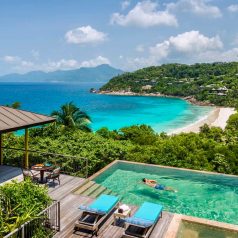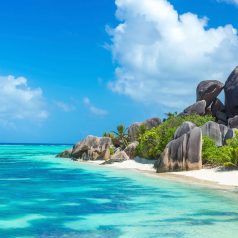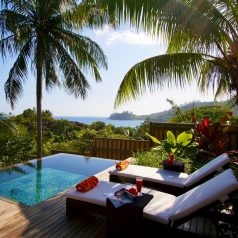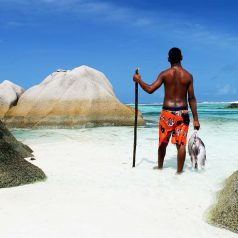 By Amy Donegan
Thanks to its dependable warm, tropical weather the Seychelles make a great year-round destination.
Due to their southern equatorial position in the Indian Ocean, the islands' climate is largely dictated by trade winds. Temperatures reliably average between 23-30°C throughout the year.
Between November and March, the Northeast winds bring warmer, more humid weather. Heavier rain showers are more likely to occur during this period, but don't be put off – the sun is never away for too long, and the short bursts of rain provide the islands with their spectacular, lush vegetation. These winds also bring calmer seas and gentle cooling breezes.
The Southeast winds bring cooler temperatures, and generally, less rainfall between May and September. At this time of year, the stronger winds are perfect for surfing, sailing and windsurfing. The drier weather also makes it the best time for hiking and walking, especially during July and August (typically the driest months).
The transitional months of April and October are usually the hottest, calmest periods of the year – temperatures in April regularly reach average highs of 30°C. These conditions are great for diving and snorkeling, as they provide warmer sea temperatures and good visibility. April and October are also the best months for birdwatchers – October marks the migration of thousands of birds from the islands.
The Seychelles are home to an array of different species. The best time for turtle-spotting is between October and February. December also provides a good opportunity, since this is when the females arrive on shore to lay their eggs. If you visit between January and March, you are more likely to see the hatchlings.
Due to its location, the Seychelles offer some of the whitest, sandiest beaches in the world. Its dependable, warm temperatures make any time of the year suitable for a trip to the beach.
The Seychelles make a great year-round holiday destination – the best time to visit depends upon your choice of activity.
See where our editors recommend for holidays and honeymoons in the Seychelles. Also find the cost of a honeymoon in the Seychelles.
* Did you know you can save up to 40% on holiday prices? See our latest travel deals and enter your email address below to get updates every fortnight.