Best time to visit Thailand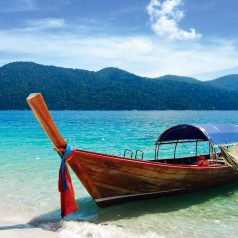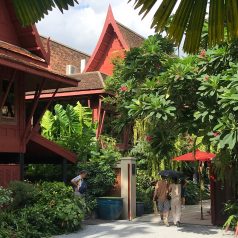 By Ian Packham
Q. When is the best time to visit Thailand?
A. Thailand's climate is complex, making trip planning tricky. When the sun is shining on the beaches of the west coast, it's likely to be pouring with rain on the east coast. The climate in the capital, Bangkok, is quite different, with a period of extreme heat and another of possible floods which you may want to avoid. The north is different again, with cool winters and wet summers.
If that sounds like bad news, don't be deterred, because Thailand is one of the world's most exciting and friendly destinations, and whenever you visit, you'll be able to find great weather somewhere.
Quick links
Beaches – Monsoon season – Bangkok – The north
The beaches
The islands of Ko Samui, Ko Phan Ghan and Ko Tao are on the east of the Thai peninsula in the Gulf of Thailand. They enjoy excellent weather with little likelihood of rain from January through to August. Temperatures average 30-35°C with a refreshing sea breeze. Perfect!
Nick Pulley, founder and managing director of Selective Asia, says: "I tend to suggest people focus on the shoulder months of June, July and August, when the weather is still good but the crowds have diminished." During this time you might experience a few short showers.
When is monsoon season in Thailand?
Rain and humidity increase from September to November during the southwest monsoon. As well as the obvious disadvantages, "the peak of the rains means higher sea levels and much less sand on the beaches limiting beach space in resorts," says Nick. It's not a great time to visit Ko Samui, Ko Phan Ghan and Ko Tao.
Weather in the Andaman Sea resorts of Phuket, Phi Phi, Khao Lak and Krabi on the west of the Thai peninsula is out of phase with the Gulf of Thailand despite being separated by only 80 miles. The region enjoys warms temperatures (26-32°C) and low humidity between November and March. April and May see an increase in both, with temperatures peaking at 36°C. The monsoon season lasts from June to October, with rainfall peaking in September.
So in short, go to the east coast between January and August. Go to the west coast between November and March.
Bangkok
Bangkok's dry season runs from November to May. A cooler period of little rain and temperatures around 26°C lasts until mid-January. Humidity is also at its lowest, making it a more comfortable time to wear clothing that covers shoulders and knees, appropriate for visiting religious sites in the capital and an hour's drive north in Ayutthaya.
Temperatures begin rising from mid-January, peaking during April and May when humidity reaches 80% and temperatures regularly rise over 40°C. If there is an advantage to visiting Bangkok at this time it is to experience Songkran. The celebration of Thai New Year sees locals throwing water (and sometimes chalk) on passers-by as blessings. It's a lot of fun.
Although the wet season officially lasts from June to October, a shoulder period exists between June and July with temperatures between 28-34°C and short showers lasting no more than two hours. However, Bangkok is prone to flooding in August and September when the rain is almost constant. Try to avoid spending any time in the capital then.
The north
"Chiang Mai and Chiang Rai are the predominant destinations in the north. They sit in a mountain valley so temperatures are lower than in Bangkok," says Nick Pulley. The higher altitude keeps temperatures between 15°C and 25°C between November and March. Temperatures can be low enough in the evenings to require a light jacket.
Chiang Mai's Three Kings Monument and Thapae Gate host weekend night handicraft bazaars, and are also good locations to witness November's Yi Peng festival when thousands of Chinese lanterns are released to rid locals of bad luck. Within days is the Loi Krathong festival, an ancient appeasement of water spirits that sees 'crowns' decorated with flowers and candles floated on rivers and waterways.
For bespoke touring holidays in Thailand we recommend Experience Travel Group. It combines expertise, experience and great ideas. Also find our recommendations for tours of Thailand for single travellers.
Last updated: 6 December 2019
* Did you know you can save up to 40% on holiday prices? See all the latest deals.We publish new deals most weeks and you can get them delivered to your inbox by entering your email address below.