Best time to visit Goa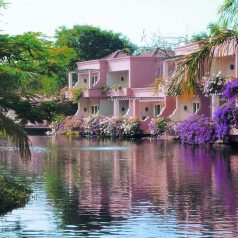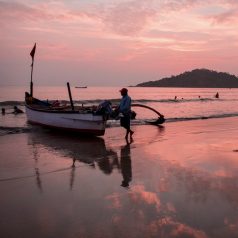 By Lizzie Frainier
Goa is one of the most exciting and best value winter sun destinations. But there's more to the smallest Indian state than 100km of dreamy beaches. You'll find festivals, colonial architecture, dramatic landscapes, and exotic wildlife. You can snorkel, visit churches like the Bom Jesus Basilica, or join a nature tour to spot langur monkeys, crocodiles and wild boars.
The weather varies drastically throughout the year. The high season is November to March, a perfect time to escape the British winter and spend long hours in the sunshine. There is practically no rain during this period and the Arabian Sea is calm enough for swimming. January and February are the best months with 9 to 10 hours of sunshine daily and an average of 28°C. It is not too humid, and the temperature cools off in the evening.
Goa's Carnival takes place each year in February or March. In 2016, the Carnival falls on 6-9 February. Carnival is celebrated in cities across the globe, but the version held in the Goan capital of Panjim is particularly vibrant and colourful with music, costumes, and floats.
December is also a very popular time to visit, with similar temperatures, and the added bonus of Christmas. Goa was a Portuguese colony for more than 400 years, and has a rich mix of Indian, Hindu and Christian cultures.
Katie Bushnell, of The Goa Experience, says: "Christmas in Goa is really quite a magical time of year with all sorts of celebrations, feasts, and firework displays. The use of light is a special part of many Goan festivals and this can be seen and experienced first-hand during the Christmas period." This is an ideal time for family visits. While December is one of the most expensive times, it's still cheaper than other winter sun destinations.
In April to June, the temperature rises slightly to a maximum of 33°C and the humidity level increases significantly in preparation for the monsoon season from June through September. The monsoon brings between 13 and 22 days of rain per month. There are also heavy undercurrents at sea making swimming less safe than in winter and the hours of sunshine drop to an average of five per day. The extreme weather in this tropical monsoon climate means that the British summer is a bad time to go.
Another option is to visit in November when charter flights restart and the monsoon season has just finished. This allows for vibrant green landscapes with lush rice paddy fields and rivers flowing at their fullest. You can also visit the second highest falls in India, the Dudhsagar Waterfalls.
See our recommended winter sun holidays in Goa.