Best time to visit Egypt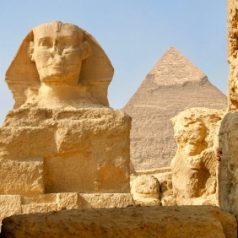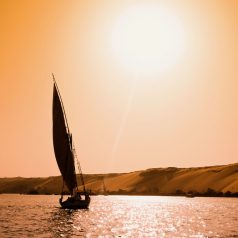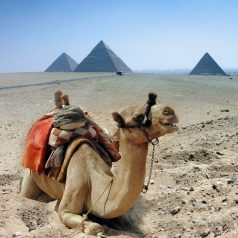 By Ian Packham
Egypt has been welcoming visitors since the earliest days of tourism. Peel back 4,500 years of history at the Pyramids of Giza, sail on the Nile at Aswan, or soak up the sun on Sinai's Red Sea coast. Egypt won't let you down. But when is the best time to visit?
During the summer months, from the beginning of June to the end of August, destinations throughout Egypt enjoy 13 hours of sunshine, but are also very hot. Temperatures in the south, such as the cities of Luxor (for the Valley of the Kings) and Aswan, regularly top 40°C. In the slightly cooler north, temperatures peak at 35°C in Cairo and 30°C in Alexandria on the Mediterranean coast. Cairo's heat is accompanied by high humidity that can make visiting the pyramids of Giza, a short drive from the city, an uncomfortable experience.
The summer currently coincides with Ramadan, the Muslim month of fasting. Though a special time to visit – with a celebratory atmosphere that includes firework displays and street decorations – Ramadan can mean erratic opening times for restaurants and tourist sites. Outside of hotels, bars tend to remain closed for the whole month.
A more comfortable time to visit, ideal for sunbathing, exploring and Nile cruises are spring (March to May) and autumn (September to November). The skies remain clear during these months, with a minimum 10 hours of daily sunshine in both the north and south. Temperatures average 22°C in March and November and 28°C for the remaining months in the south. In the north, temperatures are a little lower, averaging 16°C in March and November and 22°C for the remaining period, with highs of 26°C.
The Red Sea resorts – including Sharm El Sheikh, Hurghada and Taba Heights – are at their best during the extended spring and autumn seasons. You'll find temperatures of 25°C in March, rising to 33°C in May. July and August can be a little too hot for some visitors (37°C) while the winter months of  December and January see temperatures of 22°C, with negligible rain. At this time it's warm enough to sit out in the sun, though the sea will be decidedly chilly. Note: in 2016 the Foreign Office was advising against air travel to Sharm. Check the latest information.
Even during the winter months of December to February, Aswan and Luxor sees temperatures of 26°C and 10 hours of sunshine, making these the south's peak months for tourism.
In comparison, the winter is considered low season in Alexandria and Cairo. The climate remains mild, with temperatures averaging 20°C, and dropping no lower than 10°C, but both Alexandria and Cairo are often overcast during the winter months, with limited sunshine. Alexandria also receives more rain than anywhere else in Egypt, with 10 rainy days per month in winter, which can result in local flooding.
Egypt is a unique destination, home to some of the world's cultural wonders. But it's also a great place for a beach holiday or a week of winter sun on the Nile. Overall, we think the best time to visit Egypt is between September and May.
See our holiday ideas for Egypt, and our honeymoon suggestions.
Ramadan dates
Ramadan dates in 2022:  2 April – 1 May
Last updated: 23 June 2021
* Did you know you can save up to 40% on holiday prices? See all the latest deals.We publish new deals most weeks and you can get them delivered to your inbox by entering your email address below.