Best time to visit Costa Rica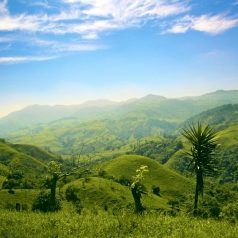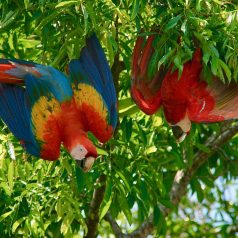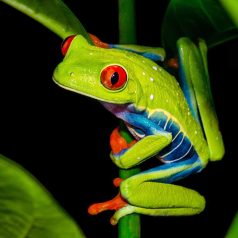 By Lizzie Frainier
Costa Rica is a beautiful country whose abundant wildlife is a huge draw for tourists. In terms of weather, it's never going to be clear blue skies and sunshine for days on end, so this isn't the destination for you if you're looking for a beach holiday. It is likely to rain, but the time of year will affect how much rain you find.
Regional expert Mary-Anne Nelson says "Locals even describe the weather there as 'the wet season' and 'the very wet season.'" So pack a raincoat and you'll be ready to enjoy all the beautiful greenery and wildlife Costa Rica has to offer.
Other than rainfall, the climate is fairly steady throughout the year with constant warm temperatures. Each month sees an average of around 7 hours of daily sunshine and temperatures of 23-25°C. However, there are only 8 days of rainfall in March compared to 24 days of rainfall in July, August and September.
December, January and February are generally the drier months and so are one of the best times to go. These winter months are Costa Rica's high season, and a more expensive time to visit. Just after Easter is a great time to go as the parks are a lot less busy, prices lower, and the rainy season of June through to October has not yet started. Typically it is clearer in the morning and the rain comes in the afternoon. However, the weather really depends on the El Niño current and can vary drastically from year to year. For example, 2015 was a very wet year and even during the months that are normally drier, there was a lot of rain.
However, there are many microclimates in Costa Rica which vary depending on elevation and location. The different sides of the mountain range have quite different weather patterns – this is partly because of the Caribbean Sea and the Pacific Ocean which are relatively close together. The temperatures are warmest along the coast, and coldest on the mountaintops. If you do have to go in July or August because of school holidays, then the Pacific coast generally has better weather. The Caribbean side has more humid and wet weather. September and October should really be avoided as there can be tropical storms, and there will most certainly be lots of rain, as much as 21cm per day.
There is no one particular time to see the wildlife, as they are in abundance throughout the year. In terms of comfort though, the winter months are best for not getting too wet. In order to see the turtles hatching though, mid-July to August is the best time. Mary-Anne Nelson says: "Even though it is rainier, you can see the turtles at night in Tortugeuro during the summer months, which is a really great experience and worth getting a bit wet for."
* We recommend Rainbow Tours for holidays , family holidays and honeymoons in Costa Rica.
Last updated: 16 November 2020