Best time to visit Australia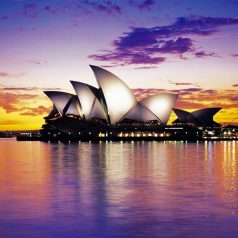 By David Wickers, Sunday Times Travel writer
Australia is well renowned for its endless blue skies and bright sunshine. Visitors should however be aware that the seasons are reverse of those in the Northern Hemisphere and that Australia can broadly be divided into two climatic zones.
The tropical north (Far North Queensland, the Top End and the Kimberley) has two distinct seasons. The 'green' season runs from November to May with the heaviest rainfalls usually in January – March. Temperatures range 24°-33°C (75°-91°F) and may be accompanied by high humidity.   It is a spectacular time to see the region's rainforests and waterfalls. The 'dry' season is characterised by clear blue skies and warm sunshine, averaging between 16°–26°C (61°-79°F) and is perhaps the most comfortable time to enjoy the tropics.
Australia's Southern States largely enjoy a temperate, Mediterranean style, climate. Warm summers and cool winters can usually be enjoyed without extremes. The further South you travel, the more distinct the four seasons become, with the country's most southern reaches and highlands experiencing frosts and winter snow falls.
Summers by the beach in Sydney, clear blue skies over Kakadu in the Australian winter months, spring wildflowers in Western Australia or the Autumn colours around Canberra – Australia's geographical and climatic diversity make any time a good time to visit. However Spring (September to November) and Autumn (March to May) are perhaps the best times to visit when combining travel to both the Northern and Southern parts of the country.
The Bureau of Meteorology provides information on current weather conditions and general climate information specific to each part of the country.
In keeping with Australia's climate and relaxed lifestyle, dress is informal on most occasions. In the tropics lightweight casual clothing is suitable at all venues, all year round. In the southern temperate regions, layers are the best solution for warm days and cool nights; and smart casual clothing is the norm almost everywhere.
Warm clothing is recommended for visiting the southern States between May and September.  "Must Packs" include: comfortable walking shoes, swimming costume, hat, sunglasses, high protection factor sunscreen, a cardigan or jumper (even the Red Centre can become quite cool of an evening) and of course your camera!
See our recommended holidays in Australia.