Best family camping holidays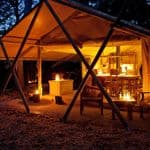 By Mark Hodson, Sunday Times Travel Writer and Editor of 101 Holidays
There's nothing quite like a camping holiday. It's a raw thrill to get back to nature and escape the cosy routine of our 21st-century lives. For adults there may be a nostalgia for their own childhood holidays, or perhaps for a golden era of innocence that never quite existed. For children it is the chance to run about in woods, play in streams and perhaps stay up late around a camp fire.
There are many different ways of camping, and options for all budgets. You can pack your own tent, rent a luxury tent, stay in a caravan or mobile home. You can do it in a field in Hampshire or venture abroad. Here are our recommendations for the best family camping holidays. Note: all the travel companies featured are personally recommended by our editors.

Camping holidays in Britain
As camping becomes increasingly popular at home, the number of options is growing rapidly.
If you don't want to pitch a soggy tent in a farmer's field, you need a spot of glamping. For example, head down to Crantock Beach near Newquay in Cornwall where you'll find Trevella Park, which has great facilities including a heated outdoor pool, adventure playground, fishing lakes and nature trails.
It previously offered only holiday homes but now has a range of safari tents and geodomes. All are equipped with comfy beds, duvets, furniture, decking and dining facilities. All geodomes have hot tubs and selected safari tents have ensuite toilets, showers and washing up facilities too. They sleep 4 – 6. See the latest offers.
If you want a more rural experience, but don't want to forgo comfort, check out these farm holidays for children in locations across the UK including Cornwall, Devon, Wales, Dorset and the Cotswolds. Most accept pets and some even have swimming pools, tennis courts and hot tubs.
See our editors' guide to the best unusual family holidays.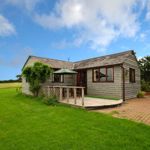 Camping holidays in Europe
You don't need to venture far across the Channel to find a huge choice of continental options. The French love their holiday parcs which are like huge well-organised campsites with a choice of accommodation including tents, mobile homes and even wood cabins. Usually they have a swimming pool, playgrounds, a restaurant and a shop, and many are close to great beaches. Siblu has one of the best selections.
See more of our editors' tips for the best family holidays in France.
Other ideas
Still haven't found what you're looking for? Here are some other ideas along similar lines.
How about a working farm holiday in the West Country? Like your own independence? Go boating on the Norfolk Broads – a lovely way to enjoy the gentle countryside of East Anglia.
If you're a single parent, see this selection of single parent holidays from Single With Kids.
Take a summer holiday in the French Alps. It's surprisingly good value, particularly if you opt to drive.
Last updated: 5 September 2018