Best cruises in February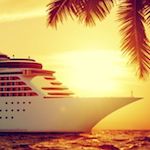 By Mark Hodson, Sunday Times Travel Writer and Editor of 101 Holidays
Ocean cruises in February
In winter most cruise ships head for the warm climes of the Caribbean (they migrate to the Mediterranean in summer). You'll find a huge range of Caribbean cruises with many different itineraries, styles of cruising, size of ships and – of course – prices.
Some of the best-value cruises sail out of Miami and are will typically visit the Bahamas, Cayman Islands and perhaps the Turks and Caicos islands. All of these are great destinations in February. Another option is to fly to Barbados or Antigua and explore the islands of the southern Caribbean, where you'll find a wonderful variety of excursions and slightly warmer weather.
If you want to view the best bargains, try Iglu Cruise. We also recommend Tropical Sky which has some good deals including cruise and stay holidays in the Caribbean, as well as South America and the Antarctic (February is a good time of year to visit both).
Another option is to set sail on a tall ship – you'll enjoy the flap of the wind of the sails and be able to dock at much smaller bays and ports than the big ships. Check out Star Clippers for routes in the Caribbean and through the Panama Canal.
For the over-50s, Saga has a great selection of ocean cruises on its own ships, some with single cabins and no supplements. If you're travelling alone – whatever your age – you should also check out the range of options afloat at Solos Holidays.
River cruises in February
Although it's arguably too cold for a cruise on the great European rivers, such as the Rhine and Danube, there are plenty of fair-weather alternatives. It's an optimal time of year to visit Egypt for a Nile cruise. Most journeys are between Luxor and Aswan which takes about three nights and includes visits to many breathtaking antiquities.
February is also a good time of year to visit Asia, where there's an ever-growing choice of scenic river cruises. You could explore the Mekong in Laos or the Ganges in India. Cox & Kings also has a stunning cruise on the Mekong in Cambodia. Many of these boats are very high-end with prices to match, although a four-day cruise on the Yangtze in China costs from as little as £395.
Other options in Asia include a luxury adventure in the little-visited region of West Bengal in India and – though it's not a river – Vietnam's Halong Bay.
America has some great river cruise options. Head south for good weather in February – the Mississippi is a great option, perhaps on a historic paddle steamer. More details from American Sky.
Trailfinders has a great selection of river cruises while G Adventures has some trips aimed firmly at the under-50 age group including some spectacular adventures on the Amazon.
Expedition cruises
The expedition cruise is a growing trend – think exciting itineraries to remote places where the drama of the location is just as important as the service and amenities on board. You might not get singing waiters and Broadway shows, but you'll experience some of the world's greatest scenery.
Among the best-known destinations are the Galapagos Islands off the coast of Ecuador and the Antarctic. February is one of the best months to spot whales and penguin chicks in Antarctica.
Exsus features a fabulous luxury sailing cruise among the remote islands of Indonesia.
Last updated: 10 August 2017