Recommended cruise specialist: Mundy Adventures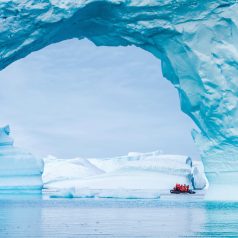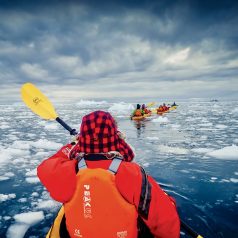 Mundy Adventures says
Mundy Adventures is the intrepid little brother of Mundy Cruising, and the UK's first expedition cruise specialist retailer. We specialise in travel by ship and have been doing so since 1970. We know our stuff.
Huge choice of ships
Polar adventures
Wildlife encounters
We offer adventure cruises throughout the world to suit all tastes and budgets but it's Antarctica which tops the charts when it comes to delivering incredible experiences. An expedition cruise to Antarctica is a truly remarkable adventure, a voyage to a pristine land of ice and snow, populated by an all-star cast of penguins, seals and whales.
Whichever ship and itinerary you choose, your Antarctic cruise will be enhanced by expert lecturers on board, specialising in subjects such as marine biology and the history of the early explorers.
A larger ship is more stable so may seem like the best option for an Antarctica itinerary. They also tend to have a faster cruising speed allowing them to make the crossing in less time. However, once operating in Antarctica, the maximum number of people that can go ashore is limited to 100, so ships with more than this number have to stagger the groups. Our expert team will help guide you to the right choice of ship to suit you.
For some travellers, luxury and comfort will be of the utmost importance. Our top picks for cruising the Antarctic in style are Silversea Expeditions, Ponant, Hapag-Lloyd and recent entrants to the luxury expedition cruise market, Scenic, who launched a new state-of-the-art expedition vessel with its own helicopter and submarine in 2019.
Our pick of the polar specialists offering more adventurous experiences include Aurora Expeditions, Lindblad Expeditions and Quark Expeditions. They offer additional activities (some of which carry an extra charge) such as camping out on the ice, cross-country skiing, sea kayaking, stand-up paddleboarding and even snorkelling!
Norwegian coastal specialists, Hurtigruten Expeditions, also have expedition ships that visit Antarctica, including their new hybrid-powered vessels MS Roald Amundsen and MS Fridtjof Nansen.
Antarctic cruises usually depart from Ushuaia in Argentina and travel as far south as the Graham Coast, just north of the Antarctic Circle. Longer voyages may also include the Falklands and South Georgia, which offer extraordinary wildlife viewing. Occasionally there are cruises setting off from Australia or New Zealand to the remote Ross Sea, a part of Antarctica that few travellers ever see.
Your meals, on board lecture programme and zodiac excursions are all included in your fare, and the luxury lines may also include alcoholic drinks and extras such as flights to Ushuaia from Buenos Aires or Santiago, cold weather gear and pre-cruise hotels.
By providing first-hand knowledge, personal service, insightful ideas and fascinating add-ons, our expert team will make your adventure holiday truly unique and special.
Find out more about our Antarctic expedition cruises.
Note: All the travel companies featured on this site are personally recommended by our editors. Companies pay us a flat annual fee, which funds the upkeep of our site, so we can keep it current and reliable. See more about how we work.
Copyright © 2022, 101 Holidays Ltd