Anniversary holiday ideas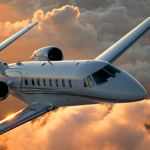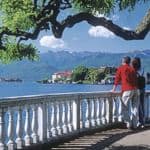 By Mark Hodson, Sunday Times Travel Writer and Editor of 101 Holidays
So you've put a lot of years into your marriage – it's about time you treated yourselves to a special celebration.
Whether you're coming up to a 10-year anniversary or looking for 25th wedding anniversary holiday ideas, we've got some great suggestions that will make you both feel a million dollars, and help give you the motivation to carry on for the next few decades!
The first thing to say is this is not a time for a cheap holiday. It's better to reduce the time you spend away and crank up the luxury dial. So, for example, if your budget is limited, I would recommend you spend a night or two at a 5-star hotel rather than a week at a 3-star hotel.
The ultimate short-and-sweet anniversary holiday treat is a short break by private jet which turns out to be surprisingly affordable, particularly if you take along a few friends or family members. You can take off from an airport close to your home, enjoy champagne and canapes on board, then land in France for a Michelin-starred lunch. Details from Jet Escapes.
Quick links
UK holidays – Europe – Long haul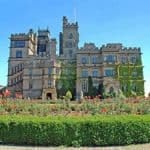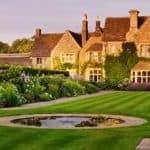 Anniversary holiday ideas in the UK
Of course you don't need to leave these shores. There are plenty of great wedding anniversary weekend breaks in the UK. If you are celebrating with a large group, you could rent out a historic house in England, Scotland or Wales with Olivers Travels, or rent a big house in the countryside. The Big Domain caters for groups of between 12 and 56.
Another option is the Cotswolds where this collection of luxury rentals range from cosy to huge. If you like a hike, how about one of these luxury cottages in the Lake District. For something more modest, rent one of these holiday cottages on Dorset's dramatic Jurassic Coast.
If it's just the two of you, go for a beautiful hotel in the countryside. I recommend The Torridon on the shores of a loch in the Scottish Highlands, and Maison Talbooth, a luxurious but informal 12-room hotel for foodies in Constable country on the border of Essex and Suffolk. If you like your wine, consider the beautiful Three Choirs Vineyards in Gloucestershire.
Other great hotels for anniversaries and special occasions include Lucknam Park Hotel & Spa near Bath, and Gilpin Lodge in the Lake District.
In the Welsh borders, we like Pen-y-Dyffryn, a charming Georgian country house hotel set in rolling hills, and the award-winning historic Castle Hotel in the unspoilt town of Bishops Castle.
If you'd rather do something more active and cultural, try Martin Randall which offers tours led by an expert in art, music or architecture. You could visit some of the Great Houses of England, or attend a classical music festival. These music and history events typically involve a weekend at a country hotel with performances of chamber music or expert history lectures.
For a more affordable range of art, music and history tours, take a look at The Cultural Travel Company, whether you're interested in Versailles or Pompeii.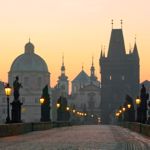 Wedding anniversary holidays in Europe
Take a short break to Nice on the Cote d'Azur, a great year-round destination with classy hotels, beautiful art museums and fascinating markets. Details from Cox & Kings. In the summer months, I recommend a luxury hotel barge in France, travelling through regions such as Burgundy, Bordeaux and the Canal du Midi. The barges sleep 4 – 20 people and include gourmet meals, fine wines, an open bar and shore excursions.
If you want a real luxury treat, how about a journey on the Venice Simplon-Orient-Express. From London you can take a four-day trip that includes the overnight train down to Venice, Budapest, Verona or Vienna.
There's also romance to be had on a river cruise in Europe on a small luxury boat motoring through idyllic countryside, visiting historic cities and cultural treasures. The Danube is the most popular river and brimming with romance.
If you only want to be away for a few days, take a mini-cruise from a UK port such as Southampton or Newcastle. You could explore the Scottish Isles, visit exciting cities such as Bruges and Amsterdam, or taste the high life on Cunard's Queen Mary II. Check out the latest offers.
In Spain, try one of these wine and gastronomy breaks including a choice of walking tours and road trips along with one-day wine tours in classic destinations including Barcelona, Rioja, Andalusia and Ribera del Duero.
Tiny Luxembourg has 12 Michelin-starred restaurants and it's packed with historic sites. Stay at the five-star Hotel le Place d'Armes in the heart of the Old City.
Another great place for ideas is The Healthy Holiday Company's month-by-month guide where you'll find spa retreats, hidden beaches and charming hotels off the beaten track. For boutique hideaways in glamorous locations, also try i-escape.com.
Or indulge in some classic Italian hospitality of one of the country's most stylish resort hotels. I recommend the Verdura Golf & Spa Resort, part of the Rocco Forte collection, in Sicily, and Forte Village Resort in Sardinia.
You could get tickets to a special event in Italy such as the Carnival of Venice in February, or an open-air performance at the Verona Opera Festival during the summer. Or perhaps just indulge your senses with a short break in Paris.
Long haul options
You could treat yourselves to a dream holiday in the Seychelles perhaps staying in one of these boutique hotels or luxury resorts.
The island of Bermuda has a quirky colonial style combined with sensational white (and pink!) sand beaches. It works very well in our summer with direct flights and easy onward connections to New York.
Still hungry for more ideas? Check out more great holidays for couples and Annabelle Thorpe's selection of the best 101 Short Breaks.
Wedding anniversaries by year
1st wedding anniversary – Paper
2nd wedding anniversary – Cotton
3rd wedding anniversary – Leather
4th wedding anniversary – Linen
5th wedding anniversary – Wood
6th wedding anniversary – Iron
7th wedding anniversary – Copper
8th wedding anniversary – Bronze
9th wedding anniversary – Pottery
10th wedding anniversary – Tin
11th wedding anniversary – Steel
12th wedding anniversary – Silk
13th wedding anniversary – Lace
14th wedding anniversary – Ivory
15th wedding anniversary – Crystal
20th wedding anniversary – China
25th wedding anniversary – Silver
30th wedding anniversary – Pearl
35th wedding anniversary – Jade
40th wedding anniversary – Ruby
45th wedding anniversary – Sapphire
50th wedding anniversary – Gold
55th wedding anniversary – Emerald
60th wedding anniversary – Diamond
75th wedding anniversary – Platinum
Got a "big" birthday coming up and looking for inspiration? See our guides to the best 30th, 40th, 50th and 60th birthday holidays – and, now, 70th!
Last updated: 19 December 2018