Winter sun holiday destinations
By Mark Hodson, Sunday Times Travel Writer and Editor of 101 Holidays
What are the best holiday destinations for winter sun? Here you'll find expert independent advice on where to find the best deals in the sun this winter.
In our view there's nothing to quite match the excitement of taking off from the UK on a miserable winter's day, leaving the sun still struggling to get out of bed, and just a few hours later finding yourself on a tropical beach.
But although winter sun holidays are hugely popular, there is also strong demand for chilly destinations, whether that's skiing, viewing the Northern Lights or just finding a cosy country hotel with an open fire and great food.
Cheap winter sun holiday destinations
The Canary Islands are just four hours flying time from the UK – and you can expect 21ºC in November and 19ºC in January with seven hours of daily sunshine. Tenerife and Lanzarote are our favourite islands.
If you want somewhere more unusual, remote and great value, try the smaller Canary Islands such as La Palma (which has direct flights from the UK), the gorgeous La Gomera reached by ferry from Tenerife or tiny La Graciosa just north of Lanzarote. Find where to go in the Canaries.
In the same part of the world, the beautiful island of Madeira is a superb winter destination within 4 hours flying time thanks to direct flights with British Airways. The rugged landscape is ideal for walking, or you can simply lie back and soak up the sunshine. Stay at either a luxury hotel or one of the beautifully-restored countryside quintas.
Egypt's Red Sea resorts are all less than five hours' flying time from the UK, and are classic winter sun destinations. Even in January you'll find 22ºC, but go in November or March and the temperature is a steady 25ºC with 10 hours of sun.
Egypt is not just about sunbathing, of course. If you want to see the Pyramids, Luxor and the Valley of the Kings, I recommend a Nile Cruise to view some of the greatest historical sites on Earth.
I also love The Gambia on the West coast of Africa where you'll find great-value hotels, lovely beaches and wildlife excursions – just a six-hour flight from the UK. I took my family there last January and we enjoyed long days of sunshine and 30ºC temperatures.
The Indian State of Goa has tremendous beaches, a great winter climate and it's cheap, whether you opt to stay in a beachfront hotel or a luxury homestay (check out Sol de Goa and Casa Anjuna).
Florida can be very good value, particularly when you hit those discount shopping malls. Try a fly-drive to discover the highlights of the Sunshine State, or check out some cheap deals in Orlando.
Check out my guide to the cheapest long haul destinations.
Caribbean holiday destinations in winter
A winter break in the Caribbean is a real treat: you'll find steady temperatures around 28ºC – 30ºC, low humidity and lots of sunshine. You could choose the quiet charm of Grenada or the celebrity stardust of Barbados. The soft sandy beaches and lush scenery of Tobago and Jamaica provide the ideal backdrop for a lazy winter sun holiday.
As long as you avoid the peak season of Christmas and New Year, you can find some great prices. Some of the best deals are in Cuba where you can flop on a beach or, if you are more adventurous, take a self-drive tour. Other options include this 11-night Highlights of West Cuba tour that features more simple but characterful accommodation.
Other hotels to consider include the elegant Round Hill and Sandals Royal Plantation in Jamaica, and the Calabash and Laluna on the small friendly island of Grenada.
On St Lucia – another beautiful island with lush volcanic peaks and charming fishing villages – for something really special, we recommend Anse Chastanet and its 'big sister' Jade Mountain.
For a more active winter sun experience in the Caribbean, join a tall ship cruise with Star Clippers.
Find more ideas for cruise holidays, or see our detailed selection of the best Caribbean holidays.
More tropical islands for winter sun
For a taste of winter sun paradise, head to the Indian Ocean and the idyllic island of Mauritius (30ºC in January with 9 hours of sun). The temperature is similar in the Maldives (8 hours of sun) and the Seychelles (6 hours of sun). With perfect beaches, stunning hotels and first-class service, they're the perfect antidote to wintry weather.
The Cape Verde islands (26ºC) off the coast of west Africa are great value and just six hours flying time from the UK. There are six islands where you can stay, all with different scenery from Sao Vicente – the cultural heart – to volcanic Fogo and Santo Antao, the greenest island. See the latest special offers.
The islands of Thailand offer amazing beaches, great food and excellent value. It's best in winter to stick to the west coast islands such as Phuket rather than Ko Samui, where winter is the rainy season.
Hawaii is a fabulous destination with stunning surf beaches, awe-inspiring volcanic landscapes and a colourful local culture. You can join an escorted tour of the islands, take a small ship cruise to see the highlights or laze on a perfect beach in Kaua'i.
Asia and the Middle East
You can fly to the Arabian Gulf in just over six hours and find guaranteed sunshine, endless sandy beaches and stunning hotels. Expect temperatures of 25ºC in January, rising to 29ºC in March.
For glamour, shopping and mouth-watering restaurants, try Dubai. If culture and natural beauty are your priorities, head to neighbouring Oman where you'll find desert, medieval forts, remote beaches and mountains. One of the best hotels in Oman is the Six Senses Zighy Bay. See the latest special offers.
In the same region, Jordan is a glorious country and ideal for a touring holiday in winter. Avoid the depths of winter if you want hot tempertures.
In Bali you can expect 30ºC temperatures and 8 hours of sunshine. Try the family-friendly resorts of Sanur and Nusa Dua or stylish Seminyak. You can combine Bali with other gems in Indonesia, one of Asia's most exciting destinations. Explore pristine marine parks with some of the world's best snorkelling, visit spectacular temples and enjoy wildlife encounters such as Orang-Utans and the dragons on Komodo Island.
For good-value beach holidays with a heavy dose of culture we also recommend Sri Lanka (31ºC and 9 hours of sun).
If you've been to Asia before – perhaps Thailand or Vietnam – your next stop should be Burma. It's not only a beautiful and fascinating country with natural and man-made wonders (such as the temples at Pagan), but the Burmese people are wonderfully warm, welcoming and gentle.

Wrap up warm
There are plenty of chilly winter destinations worth considering. You could treat yourselves to a ski trip. For families we recommend Esprit Ski which has 27 years experience of making sure you and your little ones have a wonderful winter break in the Alps. However, if you want to ski in real style, try The Lodge, Verbier or head to Colorado in America. One of the best value options on the slopes is a chalet holiday (check out these late deals).
Go north for a glimpse of the magical Northern Lights in Iceland or Norway. You'll also have a good chance of seeing them while staying at Sweden's Ice Hotel. Or treat the kids (or grandkids) to a visit to Lapland to meet Santa and enjoy a range of activities from husky sledding to snowmobiling.
One of the world's most under-rated holiday destinations is Canada. In winter you can explore the majestic unspoilt landscapes of the Yukon – and see the Northern Lights – or go dog-sledding and snowmobiling in the Rockies. There's also an Ice Hotel in Quebec.
If you want to get away from modern commercial Christmas celebrations, head for a traditional Christmas market in Europe. You'll find cosy markets in Cologne, Munich and Prague, along with hymn recitals, ice staking and mulled wine. Lesser-known cities such as Freiburg, Koblenz and Wiesbaden are even more traditional.
Adventure holidays in winter
A safari is a great winter sun holiday. Choose between classic safaris in Kenya or Botswana. Kenya offers affordable prices and a great selection of game drives plus horse-riding and walking safaris. If you want a challenge, how about climbing Mount Kilimanjaro.
India is one of the world's great destinations. Take a private tour of Rajasthan with TransIndus or set off on a luxury tiger safari with Audley Travel. In winter you can expect mild comfortable temperatures of around 25ºC.
In the Southern Hemisphere, Argentina and Brazil are both amazing countries packed with treats, and at their best in the European winter. Chile is particularly attractive if you're in search of natural wonders. See our full guide to holiday destinations in South America.
In North America, you can track wolves in the wintry snows of Yellowstone National Park. Or if you prefer guaranteed sunshine head to Las Vegas and the Grand Canyon.
For something completely different, consider a volunteering holiday in a choice of destinations including Costa Rica, Thailand, New Zealand and India. It's a chance to combine unique travel experiences with voluntary work on a local community or wildlife project.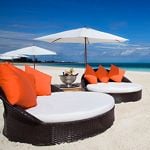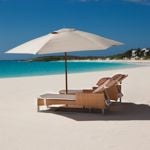 Here's a bit more detail about some of our favourite winter holiday destinations, by The Sunday Times travel writer David Wickers.
The Gambia
Most visitors to The Gambia hover on the 25 miles of beach, with comfortable hotels, lots of restaurants and a scattering of craft markets. But turn inland and you'll enter into a living diorama of raw and real Africa, with 4WD trips to mud brick villages and rural schools easily arranged. The bird watching is brilliant, with 550 species on display, more per acre of land than any other country in the world, and the standard of accommodation is much improved with charming  eco-lodges and luxury hotels such as the sumptuous Coco Ocean. You can also get some great winter sun holiday deals in the Gambia.
Egypt
In Egypt, the charming town of Luxor combines wonderful winters with outstanding cultural sites, topped by Karnak, the largest ancient monument in the world, and the Valley of the Kings. Then take a Nile cruise visiting several temples along the way. Short of time? Try a short break in Cairo.
Florida
Apart from an occasional cold snap, capable of knocking the pips out of the oranges, Florida's winter weather is mostly warm and sunny. Families will have to include Orlando or risk mutiny, ideally followed by days on the Gulf Coast at a resort such as St Pete Beach or Sanibel. The best value place to stay in Orlando is International Drive or stay close to the parks of Walt Disney Resort or Universal Orlando. A more exciting option for couples would be to combine two or three days in Miami's hip South Beach with a drive down the Florida Keys to Hemingway's beloved Key West (the route I took on my own honeymoon). Other beach options include Captiva Bay on the Gulf Coast and Club Med's Sandpiper Bay.
South Africa
With overnight flights in both directions and no jet lag, South Africa is even worth it for a weekend (head for Cape Town). But with a whole week to play with visitors to the Rainbow Nation can effectively combine a spectrum of different holidays on the one trip, from the cultural rewards of cities and indigenous heritage to scenic attractions and vineyards, and from wildlife safaris to the idle treats of world class beaches. Try this classic self-drive holiday. See my pick of the best Africa holidays.
Mauritius
The hotels on Mauritius, with their armies of smiling, attentive staff, are among the best on the planet for two very different but highly intertwined amenities, spas and children's clubs; the kids, therefore, will be entertained while you get lost in a dream of seaweed wraps and aromatic rubs.  The weather in (our) winter is warm but prone to tropical downpours but these tend to be short and sharp rather than grey and drizzly and are unlikely to spoil the fun. Find the best family hotels in Mauritius and the latest special offers.
Thailand
A golden triangle of Thailand, blending cultural treasures with coastal pleasures, would start with Bangkok, home of the Grand Palace, the Golden Buddha and trips by long tailed boat along the lattice work of canals (or 'klongs'), the 700 year old city of Chiang Mai, home to 300 temples as well as being the gateway for visiting the hill tribes of northern Thailand, each with its unique language, distinct customs and blend of beliefs, then Phuket or another island of your choice for a final flop on the sands.
Hawaii
It's a long way to America's Pacific Ocean playground but – boy – is it worth it. There's a lot more to Hawaii than surf and sunshine – these unique volcanic islands are as varied as they are stunningly beautiful. You could laze on the perfect beaches on Kaua'i but I recommend seeing a selection of islands, perhaps on a small ship cruise or a two-week escorted tour.
Tenerife
One in every ten Brits bound for the promise of sun this winter will be in Tenerife, just a four-hour, non-stop flight away. The island is packaged in hundreds of bundles, from cheap and cheerful to costly and classy. Aside from beaches, don't miss a trip to the end of the world landscapes of the Las Canadas Teide national park, bang in the middle and dominated by the two mile high, Fuji-like volcano. Our favourite hotels include the Abama Golf & Spa Resort. Another great option in the Canaries is Lanzarote which has some great villas with pools.
Kenya
You could just go to Kenya just for the soft, pearly white beaches which stretch for 300 miles of Indian Ocean coastline. But the relatively short flight time and minimal jetlag – it shares a time zone with Istanbul – makes a marriage of beach and bush even feasible for a week. Try this selection of family holidays in Kenya.
The Maldives
The Maldives are the most dreamed about islands in the world. Unlike the Caribbean, there is little difference between one island and the next. All share the same natural template, of a low-lying coral island with a deep green heart of palms fringed by a glaring white beach and surrounded by a lagoon of the most fabulous pale lime and azure. But the significant difference between lies in the resorts. Think of the Maldives as an archipelago of individual hotels rather than islands – everything from the stylish and funky NIYAMA to the romantic hideaway of Soneva Gili by Six Senses. Families should head to the One&Only Reethi Rah. Honeymooners should see our sister site, 101 Honeymoons.
Australia
Although most of us would suffer from hypothermia at the mere thought of a dip in the sea on Christmas morning, enjoying a swim and a sunbathe on the beach before lunch epitomises the pleasure of spending our winter in Australia's summer. And if turkey in the tropics doesn't sound right you can always toss a few king prawns on the Barbie. Australia has its own golden triangle – Ayer's Rock, the Great Barrier Reef and the Sydney Opera House, all of which can be easily combined into a two-week itinerary.
Last updated: 23 November 2015
Also see our holiday weather guide.