Where is hot in April
By Mark Hodson, Sunday Times Travel Writer and Editor of 101 Holidays
April is a perfect time to get away for some early holiday sun. It's spring across the Mediterranean where you can expect warm temperatures and a friendly welcome, as the tourist season kicks off in earnest. It's also a great time to explore destinations in the Middle East, Arabian Gulf and North Africa – regions that will get uncomfortably hot in the summer months.
If you want to head further afield, the weather in the Caribbean is perfect with temperatures around 30°C and 8-9 hours of daily sunshine.
In 2015, Easter Sunday falls on 5 April. Find more Easter holiday ideas. If you're travelling solo, see our pick of the best singles holidays in April.
Note: all the travel companies featured on this page are personally recommended by our editors.
Where is hot in April in the Mediterranean
You can find warm weather in April across the Mediterranean – temperatures in the low 20s and about 6 hours of daily sunshine. Nights will be cool, as will the sea temperature. For the hottest weather, your best bet is to head south. So we would recommend Crete rather than Corsica, simply because it is a little further south.
If you want somewhere sunny, warm and packed with historical sites, try Malta. The Greek island of Paxos is also a relaxing backwater with a very special atmosphere – it doesn't even have an airport.
The Aegean coast of Turkey also enjoys superb weather early in the season. Go before the summer crowds descend. In Spain, you can find fabulous white sand beaches on the Costa de la Luz. Again, you won't find too many other tourists at this time of year.
Other sunny spots include the dreamy Italian island of Sardinia – where we recommend Forte Village Resort – and Halkidiki in mainland Greece where we like Sani Resort.
April is a great month to take a city break in the Mediterranean. Best choices include Dubrovnik in Croatia, Sorrento on the Amalfi Coast of Italy, Seville in Andalucia and Palma, Mallorca.
Find more Mediterranean holiday ideas or see our guide to the best city breaks in spring.
Mid haul holidays
If you want somewhere a bit warmer, but don't want to fly long haul, you could try the Red Sea coast of Egypt which has world-class diving and good-value hotels. Expect temperatures around 29°C with near zero chance of rain.
Jordan offers amazing scenery, rich culture and welcoming people. The rock-carved ancient city of Petra is a must-see and can easily be combined with the Dead Sea and the beautiful desert wilderness of Wadi Rum.
The Arabian Gulf will be very hot in April – a little too warm for vigorous sightseeing but fine if you're staying in a luxury hotel. There is no shortage of those in Dubai, Oman and Abu Dhabi.
Alternatively, take a city break to Cairo. Cairo gets temperatures of 28°C in April with 10 hours of sunshine. Other short break options include Istanbul, a fabulous bustling city on the cusp of Europe and Asia, and Marrakech which is just three hours away. For all holidays to Morocco, we recommend the small family-run tour operator Lawrence of Morocco which has more than 45 years of experience creating great holidays.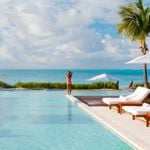 Long haul holidays
April can be a great time to visit the Caribbean. Easter is popular – and prices reflect that – but if you can avoid the school holidays you will find great deals. Popular choices include Barbados (average temperatures 30°C; 9 hours of sunshine a day) and Jamaica. However, if you prefer a low-key Caribbean experience we recommend the small, laid-back islands of Grenada and Tobago. Diver should head for the Cayman Islands.
Check our recommendations of the best Caribbean holidays and find details on Caribbean weather in April.
It's also a great time to be in Bermuda where summer is starting, but the rainy season has yet to strike. Stay at Cambridge Beaches or – if you're on a budget – Grotto Bay Resort.
The islands of the Indian Ocean are hot in April: take your pick between theMaldives, Mauritius and the Seychelles. The Maldives are ideal with April with temperatures of 31°C and 8 hours of daily sunshine. Mauritius can expect a little rainfall with temperatures around 28°C.
In Asia, April is a good month to visit Vietnam, where the beach resort of Nha Trang enjoys temperatures of 35°C. In Thailand, both Koh Samui (32C; 8 hours of sunshine) and Phuket (33°C; 8 hours of sunshine) are great. Sri Lanka is hot in April – a great to explore this amazing, friendly country and kick back on its stunning beaches. This is also a good time to enjoy the beaches and forests of Borneo.
Spring is a wonderful time to be in America, particularly in the South and Mid West, which both get oppressively hot in summer. You could start in Las Vegas, heading out to the Grand Canyon where you could stay on a ranch. If you want to explore the national parks, take an escorted tour or an exciting fly-drive trip.
You could explore the Wild West in Wyoming, or discover the beauty of Texas, Georgia, the Carolinas. In Florida – the "Sunshine State" – you could stay at a boutique beach hotel in Miami, drive down to the Florida Keys, or rent a private home with pool in Orlando.
You'll find great weather in California where you could drive the Pacific Coast Highway or motor from California to Las Vegas.
See more holidays in April and visit our sister site for tips on honeymoons in April.
Compare months
Hot holidays in April